MPs urged to reject migrant clause in Data Protection Bill debate
The bill faces its last Commons reading today, with activists set to seek a judicial review if amendment remains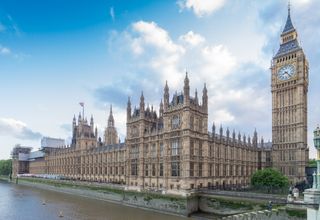 The government faces the threat of a judicial review if it doesn't scrap a clause from the Data Protection Bill that will deny three million EU citizens access to their Home Office records, privacy activists warned today.
The bill, which aims to incorporate the EU's General Data Protection Regulation (GDPR) into UK law, is being debated in the House of Commons today, where the Open Rights Group and the3million, a grassroots organisation representing the EU citizens resident in the UK, hope the amendment will be thrown out.
If it isn't, the groups have repeated their warning that they will seek a judicial review, arguing that the clause, which denies immigrants access to data that public bodies deem is relevant to "effective immigration control", is unlawful and contradictory to the bill.
"The Data Protection Bill is supposed to be about giving people greater control over their data, but it contains an exemption for immigration cases that does exactly the opposite," said Nicolas Hatton, co-founder of the3million argues is unlawful and contradictory to the bill.
"Everyone should be entitled to know how the Home Office and other government agencies are using their records, and that is why the3million support removing this shocking exemption."
Such a clause, opponents fear, would mean immigrants wouldn't be able to question the Home Office's case for deporting them, leaving them unable to defend their right to remain in the UK.
But the Open Rights Group and the3million are asking for support to fund their legal challenge.
The bill faces its third reading in the House of Commons today, the final chance for MPs to debate its contents.
If the exemption remains, the Open Rights Group warned it could affect those seeking refuge in the UK, those affected by the Windrush scandal and the three million EU citizens who will have to submit their applications for a new immigration status after Brexit.
Jim Killock, executive director of Open Rights Group, claimed the government could use the exemption to cover up mistakes with immigration and deportation.
"People will need their personal records to prove that they are entitled to live in the UK. This is a matter of natural justice," he said.
"Using medical and educational records to trawl for potential suspects is equally worrying, as the government seeks to surveil the population in every way it finds convenient. Mistakes will be made, and lives disrupted or worse."
Other amendments to the bill that MPs will debate include one that would establish a "Leveson two" inquiry into the misuse of personal data by the media. English media organisations that refuse to sign up to an officially recognised regulator - the only current one is Impress - could face punitive legal costs.
A related amendment tabled by the Labour MPs Tom Watson and Liam Byrne proposes to force publishers that haven't signed up to the regulator to pay the legal costs of claimants who make legal proceedings against a news outlet, even if the publisher wins the case.
Their proposal has prompted a robust response from media outlets, such as the Guardian, whose owner,Guardian News & Media, has written to all MPs warning that the proposed amendment on section 40 would "further erode press freedom and have a severe chilling effect".
Picture: Shutterstock
A daily dose of IT news, reviews, features and insights, straight to your inbox!
Bobby Hellard is ITPro's reviews editor and has worked on CloudPro and ChannelPro since 2018.
In his time at ITPro, Bobby has covered stories for all the major technology companies, such as Apple, Microsoft, Amazon and Facebook, and regularly attends industry-leading events such as AWS Re:Invent and Google Cloud Next.
Bobby mainly covers hardware reviews, but you will also recognise him as the face of many of our video reviews of laptops and smartphones.
He has been a journalist for ten years, originally covering sports, before moving into business technology with ITPro. He has bylines in The Independent, Vice and The Business Briefing.
Contact him at bobby.hellard@futurenet.com or find him on Twitter: @bobbyhellard
A daily dose of IT news, reviews, features and insights, straight to your inbox!
Thank you for signing up to ITPro. You will receive a verification email shortly.
There was a problem. Please refresh the page and try again.