3D printer shipments doubles in first half of 2015
Worldwide shipments of 3D printers hits 80,000 units in 2015 so far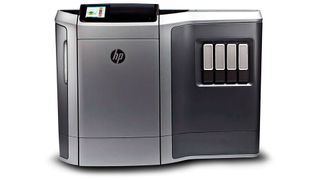 Shipments of 3D printers increased by over 50 per cent worldwide to over 80,000 units in the first half of 2015, according to independent analyst firm Canalys.
The combined sales of 3D printers, materials, and services rose by 21 per cent to reach almosst $1.8bn, and the company predicted the worldwide market will reach $20.2bn by 2019.
XYZprinting, a Taiwanese firm with an EU headquarters in the Netherlands, was responsible for 22 per cent of these shipments, making it the world's largest 3D technology vendor. The company has innovated the 3D printing market by focusing on consumer-oriented, cost-effective printers and equipment.
Global sales and marketing director at XYZprinting, Gary Shu, said, "As a smaller vendor we are disrupting the market by providing low-cost solutions without compromising on quality. This data reflects the ongoing demand for the technology among consumers and businesses; a clear indication of the direction in which 3D printing is moving. It's an exciting time for the industry."
The technology has proved increasingly popular with consumers and businesses, and appears to be breaking into educational fields, according to Shu. Recent advances in the medical field have also proven the potential power of 3D printing, not to mention the possibilities in manufacturing, and even fashion.
Analyst Joe Kempton commented, "This follows a trend in the 3D printing industry where many small and medium-sized businesses are experimenting with switching from larger, more established players to smaller local vendors, which promise the same product quality and substantially lower prices."
A daily dose of IT news, reviews, features and insights, straight to your inbox!
A daily dose of IT news, reviews, features and insights, straight to your inbox!
Thank you for signing up to ITPro. You will receive a verification email shortly.
There was a problem. Please refresh the page and try again.