The best desktop PCs for 2017
We take a look at the best desktop units around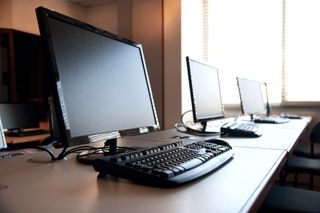 In many ways, laptops and ultrabooks have taken over modern businesses, with sleek aluminium clamshells dominating offices everywhere.
However, there are some instances where a desktop just can't be replaced. If you're in the market for a new PC, here's our list of the best desktop units around, including the best all-in-ones, the best performance models and the best compact PCs.
Best all-in-one desktops
Apple 27in retina iMac (2015)
Swipe to scroll horizontally
| | |
| --- | --- |
| CPU | 3.2GHz quad-core Intel Core i5-6500 |
| RAM | 8GB |
| GPU | AMD Radeon R9 M390 |
Price when reviewed: 1,599
For all-in-one desktop units, it honestly doesn't get much better than Apple's iMac range. The 2015 model, complete with a 27in retina display, is a seriously impressive piece of kit. On top of its undeniably impressive design values, the 27in iMac also packs a predictably hefty amount of power.
The catch - as with any Apple product - is the price. At around 1,500, the 27in retina iMac isn't cheap, but if you're willing to shell out, you're unlikely to find a better-performing all-in-one device.
Asus Zen AiO Z240ICGT
Swipe to scroll horizontally
| | |
| --- | --- |
| CPU | 2.8GHz quad-core Intel Core i7-6700T |
| RAM | 16GB DDR4 |
| GPU | Nvidia GeForce GTX 960m |
Price when reviewed: 1,500
For those that loathe the idea of using a Mac, the Asus Zen AiO provides a compelling Windows alternative, with a spec that packs a punch. It is powered by an Intel quad-core i7 with the option of Hyper-Threading, allowing the option to multitask across each of its four physical cores as well as four virutal ones. This provides a serious performance boost for complex tasks, able to easily handle video and photo editing tasks or 3D designing, all on a 3840 x 2160 display.
Although it's slightly cheaper than the iMac, it is still a pricey machine, but if you're after a genuine Mac alternative the Zen AiO is certaintly one of the best Windows all-in-one machines.
Lenovo Ideacentre AIO 700
Swipe to scroll horizontally
| | |
| --- | --- |
| CPU | Quad-core 2.7GHz Intel Core i5-6400 |
| RAM | 8GB |
| GPU | 2GB Nvidia GeForce GT 930A |
Price when reviewed: 700
Apple has pretty much cornered the market when it comes to all-in-one PCs, but that's not to say that there aren't incredibly attractive Windows-based options around. The Lenovo Ideacentre AIO 700 is one such option, with an eye-catching design, excellent performance and a strong array of ports.
The Full HD screen can't quite match up to the retina displays of recent iMacs, but then that's hardly surprising given that it's less than half the price. It's not perfect, but if you're looking for a Windows all-in-one, you could do an awful lot worse than this stylish and functional machine.
Best performance desktops
Scan 3XS GW-HT20
Swipe to scroll horizontally
| | |
| --- | --- |
| CPU | 3GHz Intel Core i7-6950X CPU @ 4.2GHz |
| RAM | 32GB |
| GPU | 8GB PNY Nvidia Quadro M5000 |
Price when reviewed: 4,080
For those who don't quite need to push the upper limits of hardware performance, the Scan 3XS GW-HT20 is an excellent compromise between price and power. It can't quite match up to the Armari Magnetar in terms of raw power, but it's substantially more affordable.
The GW-HT20 also features a veritable slew of ports and connectors, as well as plenty of room for expansion should you wish to add in extra drives or components. With excellent performance for animation and 3D modelling, it's an excellent mid-range workstation.
Chillblast Fusion Projection 3
Swipe to scroll horizontally
| | |
| --- | --- |
| CPU | Quad-core Intel Core-i5 6600K |
| RAM | 16GB |
| GPU | >4GB Nvidia Quadro K2200 |
Price when reviewed: 1,367
Although it's primarily known for putting together beasty gaming rigs, Chillblast can also use its expertise to produce seriously capable enterprise-grade workstations. While it's not the most powerful workstation around, the Fusion Projection 3 is certainly a step up from your average desktop.
Unlike some other beefed-up performance PCs, the Fusion Projection 3 comes in comfortably under 1,500. Not only that, but it's got heaps of space for any upgrades of additional components, and it also comes with one of Chillblast's exceptional five-year warranties. An excellent choice for graphic designers and CAD editors.
Armari Magnetar M44-AW1200G2
Swipe to scroll horizontally
| | |
| --- | --- |
| CPU | 2 x 2.6GHz Intel Xeon E5-2697Av4 |
| RAM | 128GB |
| GPU | 8GB PNY Nvidia Quadro M5000 |
Price when reviewed: 9,596
The Armari Magnetar comes at an undeniably eye-watering price - including VAT, you won't see much change out of ten grand. If you've got the cash, though, you'd be hard pressed to find more power anywhere.
With twin enterprise-grade Intel Xeon processors and a whopping 128GB of RAM, the Armari Magnetar is one of the fastest desktops we've ever seen, and it absolutely demolished our benchmarks without breaking a sweat. It'll be overkill for all but the most demanding tasks, but if you need the absolute best in performance - and you can stomach the price - this desktop delivers.
Best compact desktops
Mesh Elite Voyager Mini CS
Swipe to scroll horizontally
| | |
| --- | --- |
| CPU | Quad-core 4GHz Intel Core i7-6700K |
| RAM | 16GB |
| GPU | 4GB Nvidia GeForce GTX 970 |
Price when reviewed: 999
The Mesh Elite Voyager Mini CS is slightly stretching the definition of a compact PC, and if you're looking for something to sit unobtrusively on a desk, you might be disappointed. However, this is eminently forgivable given the amount of power on display.
Fitted with a powerful Intel Core-i7 chip running at a 4GHz base clock speed, this PC definitely isn't mini when it comes to performance. It's got a very well-rounded complement of ports, including four USB 3.0 and two USB 3.1 inputs. If you don't mind sacrificing a little extra space, the Mesh Elite Voyager Mini CS is one of the most impressively powerful compact PCs around.
Raspberry Pi 3
Swipe to scroll horizontally
| | |
| --- | --- |
| CPU | 1.2GHz quad-core ARM Cortex-A53 |
| RAM | 1GB |
| GPU | Broadcom BCM2837 |
Price when reviewed: 30
The Raspberry Pi may have originally been made to teach children how to program, but it's actually turned out to be a surprisingly capable machine in its own right. Since its launch in 2012, the Raspberry Pi Foundation has refined its design, to the point where the third iteration can now be legitimately used as a thin-client desktop.
As well as a 1.2GHz CPU and 1GB of RAM, the Pi 3 also has 4 USB ports, an Ethernet port, and even Wi-Fi and Bluetooth capabilities. It's not going to win any prizes for speed or performance, but it's certainly powerful enough for basic, day-to-day tasks. Besides, it's hard to complain when it's the size of a credit card and costs less than a round of drinks.
Dell Inspiron 3050 Micro Desktop
Swipe to scroll horizontally
| | |
| --- | --- |
| CPU | 2.41GHz dual-core Intel Celeron CPU J1800 |
| RAM | 2GB |
| GPU | Intel HD graphics |
Price when reviewed: 199
Small-form-factor Windows PCs can often be a mixed bag, especially once you get down to the lower price points. Fortunately, the Dell Inspiron 3050 Micro Desktop bucks this trend, offering perfectly acceptable performance for under 200.
There are some caveats, naturally; you'll have to uninstall some of the pre-packaged Dell software in order to get the best performance, and the tiddly 32GB storage allocation means you'll want to have either an external hard drive or a cloud storage subscription to hand. All things considered, however, the Inspiron 3050 is an excellent compact desktop at a very agreeable price.
Get the ITPro. daily newsletter
Receive our latest news, industry updates, featured resources and more. Sign up today to receive our FREE report on AI cyber crime & security - newly updated for 2023.
Adam Shepherd has been a technology journalist since 2015, covering everything from cloud storage and security, to smartphones and servers. Over the course of his career, he's seen the spread of 5G, the growing ubiquity of wireless devices, and the start of the connected revolution. He's also been to more trade shows and technology conferences than he cares to count.
Adam is an avid follower of the latest hardware innovations, and he is never happier than when tinkering with complex network configurations, or exploring a new Linux distro. He was also previously a co-host on the ITPro Podcast, where he was often found ranting about his love of strange gadgets, his disdain for Windows Mobile, and everything in between.
You can find Adam tweeting about enterprise technology (or more often bad jokes) @AdamShepherUK.