Best business smartphones 2023: The top handsets from Apple, Samsung, Google and more
The best smartphones on the market today that are packed with business-focused features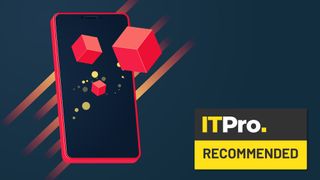 Increasingly, the smartphone is a central part of your business life. With cloud software syncing everything from email to spreadsheets between devices, your smartphone is often your desk away from desk.
That means you need a business smartphone with the power to handle anything you throw at it, a sharp screen and battery life that won't let you down when you need it. And because phones are for pleasure as well as work, a quality camera is also something to look out for.
What to look for in a business smartphone
When shopping for a smartphone, it's easy to be lured into thinking that you should simply go with whichever device boasts the highest specs - but this isn't always the case, and in some instances, more technically advanced devices can actually offer a less satisfying experience.
For example, while a super-powerful processor may seem attractive, most flagship phones have far more CPU power than the average user needs, so unless you're planning on using your phone to handle extremely demanding tasks like professional videography, you may find that a mid-range processor offers better value for money. It may also result in better battery life thanks to less power-hungry components, which applies equally to screen technology.
The higher a display's resolution and refresh rate, the more charge will be needed to power it, which can quickly sap your battery. While most devices with a high refresh rate also include dynamic optimisations to mitigate this, it's nonetheless worth bearing in mind. Generally, you should aim for a resolution of between 1080p and 1440p, and a refresh rate of at least 60Hz, which will ensure the best blend between battery life and user experience.
Regardless of how long the battery lasts, however, you should make sure to look for devices that include fast-charging support, as this will inevitably come in handy at some point. Wireless charging is also a nice feature to have, but unless you own a wireless charging pad, or your work has them dotted around the office, it's unlikely to be a feature you use very often.
You should, however, make sure that your chosen phone supports Wi-Fi 6 and 5G; these technologies may still be comparatively nascent, but skip this functionality and you may need to upgrade sooner than planned as it becomes more widespread.
FAQ
Are iPhones or Android phones better for business use?
There's a certain amount of animosity that can sometimes be observed when it comes to Android vs iPhone; Android fans contend that Apple devices are needlessly expensive, prone to failure and restrictive to use, while iPhone devotees insist that Android devices are cheaply-made, poor quality hardware brimming with malware.
All of these arguments have grains of truth behind them, but on balance, it's iOS that comes up trumps for business. As the dominant platform, it tends to be prioritised by software developers, and although high-end manufacturers like Samsung and Google can offer experiences that compete with Apple's smartphones, the wider Android ecosystem does contain more than its fair share of duds.
However, the simple fact is that in most cases, Android and iOS are equally capable for business users. The software required for business smartphones - enterprise collaboration apps, document management systems, device management tools, and so on - are all available across both platforms, and as long as organisations don't try and cut too many corners on the price of the unit itself, device quality is unlikely to be an issue.
How often should I update my employees' company smartphones?
Smartphone technology moves at a seemingly breakneck pace, and every year manufacturers are touting more and more impressive specs and features. This leaves businesses with a dilemma: do they invest more money in upgrading employees' devices every year or so, or do they sweat them for a longer period and risk missing out on the latest capabilities?
The key thing to bear in mind is that many of the features these newer smartphones boast are geared towards personal use, as opposed to business. While an improved camera is nice for taking holiday snaps, it doesn't make much difference for most workers' day-to-day use. With this in mind, it's better to invest in buying higher-end devices and sweating them for a longer period of three to five years, which will offer better long-term value.
Should I get a 5G business smartphone contract?
5G has been around for a number of years now, but its introduction somehow doesn't seem as revolutionary as previous generations of mobile broadband. Many contracts will now include 5G connectivity as standard, but it's still worth paying a bit extra to secure a business smartphone contract that supports the latest standard - assuming your corporate devices do as well.
When employees are on the road - or working flexibly from a third location - the added speed and stability that 5G can offer is an excellent way to ensure consistent productivity, and sharing a 5G connection via hotpot can even be used as a backup broadband connection for PCs and laptops in the event of a connection failure.
Best business smartphones 2022
Apple iPhone 14 Pro
Swipe to scroll horizontally
| | |
| --- | --- |
| Pros | Cons |
| Smooth video capabilities | USB Lightning port |
| Snappy processor | Row 2 - Cell 1 |
There are four models of the latest iPhone, but if you really want the best of Apple, it is the Pro and Pro Max models that usually have the most premium features. The iPhone 14 Pro, for instance, which is the more affordable of the two, comes with an always-on display, the Dynamic Island notification system and the all-new A16 Bionic processor. The latter has been developed with a 4nm process no less.
The A16 chip produces benchmark scores that are far ahead of practically every other mobile processor - for multi-threaded workload scores in Geekbench 5 it hit 5,497 - and this is showcased in its smooth performance and its wonderful photographic enhancements. If it's a phone with excessive amounts of processing power, the iPhone 14 Pro should be at the top of your list.
But it isn't just pure power; the display is sumptuous with vibrant colours and a smooth 120Hz refresh rate. With a calibrator, the 14 Pro showcased 97% of the sRGB gamut colour space and 72.2% for DCI-P3. The display is also ridiculously bright, hitting a peak of 1,997cd/m2 under an HDR video playback test. And its always-on display is as good as any offering Android-based offering thanks to Apple's ProMotion technology which lets images and graphics display at just 1Hz.
Now we could argue that there isn't much change year-on-year, particularly with the design, but there is still enough here to make the iPhone 14 Pro stand out. And that's without even mentioning the camera system and its silky-smooth video capabilities. The iPhone 14 Pro comes with a new 'Action Mode' setting which captures footage at 2.8K and 60fps. Its squared-off edges, the Dynamic Island, and the monster processor are very much Apple-only elements and are arguably worth the £916 price tag.
Swipe to scroll horizontally
| | |
| --- | --- |
| CPU | Apple A16 Bionic |
| RAM | 6GB |
| Display | 6.1in LTPO Super Retina XDR OLED, 120Hz, HDR10 |
| Battery | 3,200mAh |
Price when reviewed: £916 exc. VAT
Read our full Apple iPhone 14 Pro review for more information.
Google Pixel 7 Pro
Swipe to scroll horizontally
| | |
| --- | --- |
| Pros | Cons |
| Sleek design | Occasional glitches |
| Innovative camera software | Row 2 - Cell 1 |
Google's Pixel 7 Pro had the difficult task of following on from the Pixel 6 and Pixel 6 Pro, which was something of a game changer - for Google, at least. However, the 7 Pro has managed to take the best bits of the 6 and made them better; the software is snappier, the battery lasts longer, the cameras are that little bit crisper, and the design is far sleeker than ever before.
The camera system, however, is the key element for Google as it has managed to bring some truly marvellous capabilities to market. From its Magic Eraser tool to the unblurring technology, the Pixel 7 Pro has more functionality than most and its end results are crisp and clean. It may lack the telephoto lens of an S22 Ultra or Huawei's P50 Pro, but it certainly takes them on for image enhancement algorithms.
The underlying technology here is also a big part of Google's success with its in-house Tensor G2 chip. The phone is able to process lots of machine learning and image editing tasks in real-time on the device to give the user such crisps results. The Pixel 7 Pro may not match the likes of the iPhone 14 Pro or the S22 Ultra for pure benchmark scores, but it makes up for it with tailored power usage.
With the Pixel 7 Pro, it is also worth considering the price. Now it isn't a bargain, as such, because it still costs over £800 pounds, but in comparison to the iPhone 14 Pro and the S22 Ultra, it is a more affordable device. In our review, we did still note some software glitches, particularly when closing apps. However, the phone as a whole is very impressive and full of innovation. It could well be, pound for pound, the best Android phone around.
CPU
Swipe to scroll horizontally
RAM
8GB
Display
6.7in LTPO AMOLED, 120Hz, HDR10+
Battery
5.800mAh
Price when reviewed: £833 exc. VAT
Read our full Google Pixel 7 Pro review for more information.
Samsung Galaxy S22 Ultra
Swipe to scroll horizontally
| | |
| --- | --- |
| Pros | Cons |
| Beautiful display | Expensive |
| Excellent processor | Row 2 - Cell 1 |
| S-Pen support | Row 3 - Cell 1 |
If you want a big phone - like literally the biggest you can get - then Samsung's Galaxy S22 Ultra is in a league of its own. At 163.3mm tall it is less phablet and more pocket behemoth. But the biggest Galaxy device comes with the top range of specs, such as a 108MP wide lens, a mammoth 6.8in screen and also a handy stylus.
The pen is there largely because Samsung has incorporated all the best bits of its more business-centric Note series into the S22 Ultra - the Note has been binned off, for now. So this is no longer just Samsung's big consumer device, it also has features for workflow and productivity.
If we take the split screen mode, as an example, that larger screen space allows users to really work across two different apps. This is made seamless by the navigation controls that provide simple ways to launch and exit the applications. Admittedly, the experience is a little better on the Galaxy Fold 4, where there is even more screen real estate, but the foldable is overlooked here because it can't match the S22 Ultra in all departments.
Samsung displays are more often than not the best in class and the S22 Ultra is another fine example of that. With our calibrator, the Ultra showcased 100% of the sRGB gamut colour space, higher than the likes of the iPhone 14 Pro (97%). And it was also blindingly bright at 1,680cd/m2. It was a fantastic display to use for both work and pleasure.
The only problems one may have with the S22 Ultra are its size and its price. Not everyone wants a 6.8in handset (you need clown pockets) and right now we don't all have over £1,000 to spend on a phone. However, if you want the biggest phone money can buy, there is nothing that competes with this.
Swipe to scroll horizontally
| | |
| --- | --- |
| CPU | Exynos 2000 (4nm) |
| RAM | 8GB, 12GB |
| Display | 6.8in AMOLED HDR 10+ |
| Battery | 5,000mAh |
Price when reviewed: £1,149 exc. VAT
Read our full Samsung Galaxy S22 Ultra review for more information.
Honor 70
Swipe to scroll horizontally
| | |
| --- | --- |
| Pros | Cons |
| Great display | Camera software could be better |
| Long battery life | Row 2 - Cell 1 |
If you're on a budget, but you still want some of those top-tier features, the Chinese brand Honor has something of interest. The company's Honor70 smartphone is a midrange affair with its sub-£500 price, but it comes with some surprisingly impressive features. These include a liquid-like 120Hz display and a super-sensor main camera. It really is the bargain of the year.
Honor used to be a subsidiary of Huawei, which does go some way to explain why the 70 looks similar in design to the P50 Pro (practically matching camera setups). But that is a plus, if anything because both phones are beautifully constructed, with subtly curved edges, bright displays and stylish camera bumps.
Its 6.7in FHD+ OLED display is surprisingly good - considering the price - with a silky-smooth 120Hz refresh rate. For almost half the price of the latest iPhone, the 70 is more than a match covering 97.8% of the sRGB colour space (iPhone 14 Pro 97%). The device is a great budget option for those that play lots of games or watch CGI-heavy content, but more simply, it is just a great display full stop.
For power, the Honor70 is packing a modest Snapdragon 778G+ chip which can be paired with either 8 or 12GB of RAM. Now, this isn't as spectacular as other smartphones on this list, but that is part of the reason why this is such a bargain. Its multi-tasking score in GeekBench 5 was 2,909, topping the Google Pixel 6 Pro.
This is, in our view the best budget phone of the year; you get a big, bright display, a decent set of cameras and a fairly good processor, all for less than £500. And that is without mentioning the battery life - it lasted 18hrs and 12mins in our looped video test, which is pretty good for a device with a 120Hz refresh rate.
Swipe to scroll horizontally
| | |
| --- | --- |
| CPU | Qualcomm Snapdragon 778G+ |
| RAM | 8GB or 12GB |
| Display | 6.7in FHD+ OLED |
| Battery | 4,800mAh |
Price when reviewed: £480 exc. VAT
Read our full Honor 70 review for more information.
Sony Xperia 5 IV
Swipe to scroll horizontally
| | |
| --- | --- |
| Pros | Cons |
| Great battery life | Expensive |
| Pro camera setup | Row 2 - Cell 1 |
Not everyone wants a big, 6.7in smartphone and something a little compact can be more appealing. This is where the Sony Xperia 5 IV comes into play with its narrow form factor. The 5 IV is the smaller version of the Xperia 1, which is typically launched earlier in the year. Sony simply takes the same specs and condenses them into a handset that is only 8.2mm thick and 67mm wide.
Despite that narrow build, the 5 IV packs a brilliant 6.1in OLED display with a 21:9 aspect ratio and a 120Hz refresh rate. The size is great for your thumb, as it can actually reach all parts of the display, but also good for streaming movie content as the aspect ratio takes away those annoying black bars. What's more, it's also very vivid with 99.9% of the sRGB colour space covered under our calibrator. This is a display that matches the likes of the S22 Ultra and the iPhone 14 Pro but in a smaller way.
Another of its big plus points might also be off-putting to some; there is a fantastic triple-camera system on the 5 IV, but it is geared more towards the professional photographer rather than the point-and-shoot crowd. What we mean is that photos aren't as heavily processed as one would find on an iPhone but there are more DSLR-style controls in the Pro setting. Simply put, if you want to take the best shots, you might have to learn about ISO and white balance, and so on.
Still, it's hard to ignore the plus points of the Xperia 5 IV; stunning display, long battery life (20hrs 22mins), and a rather professional camera setup. All for under £1,000 (just under, that is). If it's a small phone you're after, this is highly recommended by the IT Pro team.
Swipe to scroll horizontally
| | |
| --- | --- |
| CPU | Qualcomm SM8450 Snapdragon 8 Gen 1 (4 nm) |
| RAM | 8GB |
| Display | 6.1in OLED 120Hz |
| Battery | 5,000mAh |
Price when reviewed: £949 exc. VAT
Read our full Sony Xperia 5 IV review for more information.
How we test
We measure the effectiveness of a smartphone in a number of ways; to test the quality of the display, we'll use a colour calibrator and the open source DisplayCal app to measure how much of the sRGB colour gamut it covers, as well as the Delta-E rating. This tells us how much of the colour spectrum it's able to represent, and how accurate those colours are. We'll also test the maximum brightness and contrast ratio.
Performance testing is carried out using the Geekbench 5 benchmark app, which gives separate results for single-core and multi-core operations. For phones that don't support this app, we'll use a different benchmarking app, then run that same app on a phone which does support Geekbench, and then use that as a basis for comparison.
To test the battery of a smartphone, we'll charge it to 100%, use the calibrator to set the brightness to 170cd/m2 (or as near as possible) and then play a looped video in flight mode until the battery runs out. This gives us a figure that can be compared across models, but to assess real-world longevity, we track how long the battery lasts on average during our testing period.
A daily dose of IT news, reviews, features and insights, straight to your inbox!
After a false career start producing flash games, Alan Martin has been writing about phones, wearables and internet culture for over a decade with bylines all over the web and print.
Previously Deputy Editor of Alphr, he turned freelance in 2018 and his words can now be found all over the web, on the likes of Tom's Guide, The i, TechRadar, NME, Gizmodo, Coach, T3, The New Statesman and ShortList, as well as in the odd magazine and newspaper.
He's rarely seen not wearing at least one smartwatch, can talk your ear off about political biographies, and is a long-suffering fan of Derby County FC (which, on balance, he'd rather not talk about). He lives in London, right at the bottom of the Northern Line, long after you think it ends.
You can find Alan tweeting at @alan_p_martin, or email him at mralanpmartin@gmail.com.
A daily dose of IT news, reviews, features and insights, straight to your inbox!
Thank you for signing up to ITPro. You will receive a verification email shortly.
There was a problem. Please refresh the page and try again.