Coinbase launches Bitcoin-powered debit card
The Visa-powered card will convert digital currencies into fiat currencies at point of purchase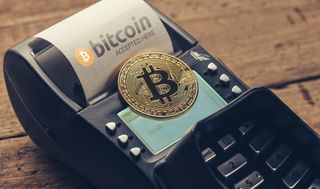 A cryptocurrency exchange platform has partnered with Visa to launch a debit card allowing UK users to pay for goods and services using digital currencies like Bitcoin and Ethereum.
The Visa-powered debit card, known as Coinbase Card, will allow users to select a cryptocurrency wallet to associate with the tool through a designated iOS or Android app. People can then make payments via contactless or using chip and pin, as well as make cash withdrawals from ATMs.
The Coinbase Card will essentially behave in the same way as conventional debit cards supplied by banks, with users' cryptocurrency converted to established currencies instantly upon transactions being made.
The designated app, meanwhile, allows users to link a cryptocurrency wallet with the debit card, and also offers instant receipts as well as transaction summaries and spending categories, among other features.
All cryptocurrencies supportedon the Coinbase platform, including Bitcoin, Ethereum and Litecoin, will also be supported on the debit card.
Although hype around digital currencies, predominately led by Bitcoin's emergence into the mainstream, has ebbed and flowed in recent years, blockchain-powered cryptocurrencies have never been widely adopted as an actual form of payment.
Instead, cryptocurrencies are often used by investors as speculative assets given their tendency to violently fluctuate in the market.
Within the space of 12 months in 2017, for example, Bitcoin's price swung from a low of $700 to a peak of near-$15,000, before crashing again in the start of 2018.
Only last week the price of Bitcoin surged 20% due to a mysterious mass investor who purchased roughly 20,000 BTC for unknown reasons across several exchange platforms. This had a knock-on effect for Ethereum and Ripple, which also saw smaller increases in their valuation.
This volatility has been the major obstacle blocking cryptocurrencies from being used as a form of payment for goods and services, not just for consumers but business users.
Moreover, while the technology to make cryptocurrency payments has existed before now, this has conventionally relied on businesses accepting cryptocurrency as payment, which the vast majority have shied away from.
But the launch of Coinbase's cryptocurrency debit card, the first such card of its kind in the UK and EU, eliminates this barrier to some degree. Although users will be paying using their own cryptocurrency funds, these will be instantly converted, with transactions completed in conventional currencies like the pound and euro.
The Coinbase Card is only available in the UK for now, but the exchange platform plans to expand its support to other European counties within the coming months.
A daily dose of IT news, reviews, features and insights, straight to your inbox!
Keumars Afifi-Sabet is the Features Editor for ITPro, CloudPro and ChannelPro. He oversees the commissioning and publication of in-depth and long-form features across all three sites, including opinion articles and case studies. He also occasionally contributes his thoughts to the IT Pro Podcast, and writes content for the Business Briefing. Keumars joined IT Pro as a staff writer in April 2018. He specialises in the public sector but writes across a breadth of core topics including cyber security and cloud computing.
A daily dose of IT news, reviews, features and insights, straight to your inbox!
Thank you for signing up to ITPro. You will receive a verification email shortly.
There was a problem. Please refresh the page and try again.