Ofcom research reveals tech advancements have disadvantages for disabled people
Lack of tech use could mean a lack of full participation in modernising society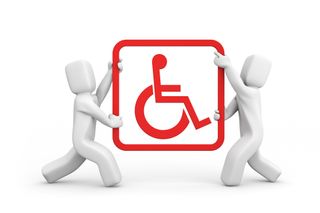 People with disabilities are being left behind by the technology industry, according to Ofcom's 2019 Access and Inclusion research report.
The report found that those with disabilities use technology at a much lower rate than non-disabled people: just 53% have a smartphone in their household, in comparison with 81% of non-disabled people, and 67% use the internet compared with 92% of people without disabilities.
As such the report highlights that there's a disparity between disabled and non-disabled people when it comes to the use of technology and the services it can deliver.
Ofcom noted that this division in technology use means disabled people are likely to struggle further with being involved in modern society.
"The research compares aspects such as affordability, take-up and engagement with phone, TV and postal services across different groups of people, and looks at how people's age, income or disabilities can affect how they use some services and technology," Ofcom said.
"Disabled people are less likely use most communications services and technology. Those who are not online may not be able to participate as fully in society as they would wish."
With more public services being turned into digital services, the lower use of technology by people with disabilities could see them get left behind when it comes to accessing public services through online portals and apps.
Ofcom simply noted the challenges faced and the gap in tech use between disabpeld and non-disabled people; it did not suggest solutions to the issue or make any calls for government or industry response.
The report also found that older people are beginning to change how they use communications services. Less than one in five of those over 75 use a smartphone, but more members of this demographic are using mobile phones as opposed to landlines.
And the study also found that some people can have difficulty paying for communications services; 17% of young people between the ages of 16 and 24 and 33% of people with long-term mental illness were the most likely to have trouble paying. In contrast, only 2% of those over 75 said they couldn't afford those services.
"The most financially vulnerable people" were found to be less likely to have a mobile, broadband, landline and pay TV.
A daily dose of IT news, reviews, features and insights, straight to your inbox!
A daily dose of IT news, reviews, features and insights, straight to your inbox!
Thank you for signing up to ITPro. You will receive a verification email shortly.
There was a problem. Please refresh the page and try again.