Inside Europe's most technologically advanced stadium
From edge computing to next-gen connectivity, tech is built into the fabric of Spurs' new £1 billion stadium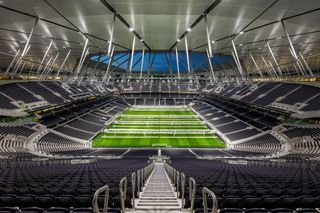 The spectacular view from the pitch at Tottenham Hotspur's sparkling new 62,062 capacity stadium in North London makes the repeated delays and 1 billion cost of the venue seem worth the considerable effort.
Modern football stadiums have been criticised for lacking the atmosphere and character of their predecessors. These were pitfalls that Tottenham was keen to avoid when it moved from the much-loved, but outdated and compact White Hart Lane.
The club ensured that no stone was left unturned in the quest to build the perfect footballing venue, with unprecedented attention paid to elements like acoustics, AV equipment, and stand structure.
The desire was not only to improve the experience but to change behaviour by encouraging fans to arrive early and stay later, boosting matchday revenue and easing traffic flow in and around the ground.
From an early stage, technology was central to achieving this vision.
Integrated network
In many ways, Tottenham was fortunate to be building a stadium at a time when technology has never been as important to everyday life, with digital transformation being embraced by businesses in all sectors.
This allowed Spurs to integrate a high capability network built by HPE Aruba into the stadium design from the start, rather than add it retrospectively as in other recent sporting venues. This network provides the backbone for virtually every single technical innovation in the stadium - from turnstiles and CCTV cameras to Point-of-Sale (POS) systems at retail outlets and PCs in the back office.
"The network's been the core of our entire technology journey here," explains Spurs' IT director Sanjeev Katwa. "Because our technological backbone is resilient, robust and scalable, it allows us to roll out new technologies."
"I think we're changing technology in stadiums and I think our venue is the best stadium in the world. We chose our partners on capabilities, unlike some football clubs who have signed up partners for commercial reasons. It wasn't easy to win our business as we were [focussed] on new technologies."
Fan experience
Walking around the arena, there are obvious examples of technology at work. There are as many as 1,800 LG screens dotted around the site, each of which can display zone-specific content thanks to the IPTV platform used. On the stadium concourse this might be a safety message or classic match action, while in the home dressing room, it might be an individual tactical briefing.
In addition to football, Tottenham Hotspur Stadium will host two NFL games every year. The NFL brings its own technical requirements and has influenced the lighting, audio and vision equipment. This includes four of the largest big screens in Europe and a Harman speaker system that wasn't even commercially available when it was procured.
The network monitors all food and drink areas to assess for spikes in customer activity
Every piece of technology aims to improve the fan experience. There are 65 food and drink outlets, including the longest bar in Europe, but these will inevitability get busy on matchday. All retail locations are cashless in a bid to speed up service, while intelligent signage will direct fans to other bars and toilets.
Fans can connect to 1,641 Wi-Fi access points (some of which are located under seats) to access the Internet and the official application, which provides navigation services thanks to the presence of 700 Bluetooth beacons.
The theory is that unprecedented choice in catering, entertainment and speedy service will make fans spend more time and money in the stadium.
"Technology has enabled those new revenue opportunities," explains Katwa. "I think we offer a lot of choice in terms of catering so we hope people will come early and stay later. We're opening up three hours before kick-off to aid revenue but also to improve the flow of people around the building.
A dedicated app allows customers to see what facilities are nearby and how to get to them
"We are 100% cashless in catering, retail and even programme sales. I think spend-per-head will go up because people are 'card happy' in London and don't generally have cash on them. If you're having a good time and your team is winning, you're probably going to spend more.
"The challenge we have is to change fan behaviours. People have been coming to this area to watch Tottenham for many years and they have [habits]. I think the year we had at Wembley has helped us change that."
Smart stadium
Uniquely, fans can actually see a data centre in action from the stadium concourse - albeit behind some pretty heavy glass. It's too early to tell whether server racks and cables will divert the attention of supporters away from their half-time pints, but Katwa sees it as a significant symbolic statement.
A working data centre is on display in the stadium's concourse
"It's a pretty bold step but for us but it says that technology is at the heart of the building," he says.
These servers analyse data collected from around the stadium after every match to allow the organisational team plan for future events. This can help ensure the right amount of staff, food and beer is available and to see how fans behave during games.
Much of the data collected is actually analysed at the network edge rather than the core data centre, allowing it to be processed in real time and driving further efficiencies across the operations teams.
Even PCs and POS terminals are monitored in this way. The club uses HP's Devices-as-a-Service (DaaS) platform to proactively monitor hardware in order to optimise performance and enable proactive maintenance. After all, any reduction in bar capacity means less revenue for the club.
Overcoming obstacles
The club is happy with how things have turned out, but naturally, there has been a lot of hard work and challenges to overcome.
Katwa says one of his team's biggest obstacles was one that will be of no surprise to anyone involved in any multi-year project, let alone one that involves building a new stadium - the ever-evolving technology landscape.
Katwa (pictured right) says the stadium is ready to add more functionality in the coming years
"We set out with a particular vision, but that vision changed because the technology changed as well," he says. "Some of our product choices changed as this project evolved."
But he is equally keen to point out that the network that powers the innovations included in the final build is futureproof, meaning the groundwork is there for upcoming developments. Katwa says he has the full support of the Chairman and the Tottenham board for his work and hopes that all-mobile ticketing will be enabled very soon, for example.
"We're not going to stand still - we've got some great infrastructure to do some great things."
The connected future
Solving the project's biggest challenges - getting all four mobile operators involved with improving coverage at the stadium - was naturally one of Katwa's proudest moments.
"We went with a neutral host solution. We obviously approached each individual operator, as that's what you do, and we found that some operators didn't want one of their rivals [involved]. Our vision was that we wanted all fans to have the same experience and we were very successful to get all four.
The stadium is now one of the most technologically advanced event facilities in Europe
"What we found with our test events, which were an under-18s game and a Legends game, is that there were a lot more people on their phones. Hopefully, during [first team matches] people are focussed on what we are here for: winning games."
"[Improved mobile coverage has] actually supported us operationally too. Most stadiums use radios to communicate with staff but because we get a good mobile phone signal, we can call and message, so we have another way of working.
"Data transfer has been great on the Wi-Fi and mobile has been pretty good as well. We're really excited about how this will grow in the future."
The response to the new stadium from supporters and the media has been overwhelmingly positive, with the club riding the wave of momentum in its pursuit of Champions League glory. But even if the team should fall short on the pitch, Spurs can lay claim to having the most technologically advanced stadium in Europe, if not the world.
Get the ITPro. daily newsletter
Receive our latest news, industry updates, featured resources and more. Sign up today to receive our FREE report on AI cyber crime & security - newly updated for 2023.