Integral launches 512GB microSD card
The card overtakes SanDisk's 400GB offering as the world's biggest microSD card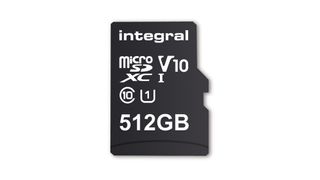 British firm Integral has become the new king of smartphone storage, releasing the world's biggest microSD card with a total storage capacity of 512GB.
The new card surpasses the previous record holder SanDisk, which claimed the title with a 400GB model back in August last year. Sandisk's 400GB card is still faster than Integral's higher-capacity unit, however, with a maximum data transfer speed of 100MB/sec compared to Integral's 80MB/sec maximum.
"Consumers have been clear in their call for increased storage, as mobile devices have become essential to many in everyday life," said James Danton, marketing manager for Integral.
"The need to provide extended memory for smartphones, tablets and a growing range of other mobile devices such as action cams and drones has been answered. As a company, we are very proud to be the first to achieve the 512GB capacity milestone in microSDXC, worldwide".
The release marks a watershed moment in mobile storage, as users are now able to outfit their smartphones with a storage capacity equal to (if not greater than) most laptop SSDs. The new card also meets the V10 video speed class standard, meaning that it's capable of recording and playing back 4K video with no issues.
This is worth noting, as although cloud storage has become mainstream in recent years, the continuing advancement of smartphone camera technology has let to users generating higher and higher quantities of data on a regular basis.
Integral's new microSD card will go on sale next month, and while the company currently hasn't released any pricing, it's all but guaranteed to fetch upwards of 200, as SanDisk's smaller card generally commands a price of around 220.
A daily dose of IT news, reviews, features and insights, straight to your inbox!
Adam Shepherd has been a technology journalist since 2015, covering everything from cloud storage and security, to smartphones and servers. Over the course of his career, he's seen the spread of 5G, the growing ubiquity of wireless devices, and the start of the connected revolution. He's also been to more trade shows and technology conferences than he cares to count.
As reviews and community editor, he's responsible for leading IT Pro's wide-ranging product coverage, and is an avid follower of the latest hardware innovations. He's never happier than when tinkering with complex network configurations, or exploring a new Linux distro.
In addition to managing the IT Pro Panel and working with the community of IT leaders that make it up, he co-hosts the IT Pro Podcast, where you can hear him ranting about his love of strange gadgets, his disdain for Windows Mobile, and everything in between.
You can find Adam tweeting about enterprise technology (or more often bad jokes) @AdamShepherUK, or you can email him at adam.shepherd@futurenet.com.
A daily dose of IT news, reviews, features and insights, straight to your inbox!
Thank you for signing up to ITPro. You will receive a verification email shortly.
There was a problem. Please refresh the page and try again.