Labour manifesto pledges better broadband for UK
But is there much difference between Labour's and the Tories' plans for digital government?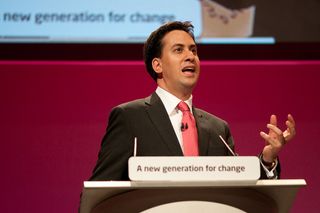 Labour will use digital technology to transform public services and make the UK better connected for businesses and people, according to its election manifesto.
Broadband
The party has pledged to provide affordable, high speed broadband across the country by 2020, cutting out mobile not-spots' to connect the remotest parts of the UK.
It will work with comms regulator Ofcom as well as telcos to achieve this, hoping to drive up private sector investment in better mobile infrastructure.
The statement of intent follows the Coalition's Broadband UK project, under which BT is rolling out fibre across rural parts of the UK.
However, BT admitted in February that the goal to connect 95 per cent of the UK by 2017 may slip.
Broadband was just one of many tech policies outlined in Labour's manifesto, which outlined how technology may improve quality of life for UK citizens.
Digital skills
The report committed to helping more people become digitally savvy, reading: "We will support community-based campaigns to reduce the proportion of citizens unable to use the internet and help those who need it to get the skills to make the most of digital technology."
But there was no mention of shadow Cabinet Office minister Chi Onwurah's aim to use technology to benefit what she claims is the 10 per cent of the population marginalised by their inability to use computers or the web.
Non-profit entrepreneur campaign group Coadec said: "It's slightly surprising that there is only one line on digital skills in the manifesto.
"It's also worth noting that this appears to focus on the most basic digital skills (those unable to use the internet') rather than skills across the spectrum, including more the advanced skills that startups need."
Small business and start-ups
The body sounded a more positive note on Labour's plans to give small businesses tax cuts in the form of reduced business rates.
"These moves are welcome," Coadec said. "But we would argue the focus shouldn't be on small business' but on high growth small businesses, including digital start-ups, as this is where the greatest macroeconomic value is added."
Small businesses are set to get more investment under Labour, with the creation of the British Investment Bank if the party wins a majority on 7 May.
It will seek to improve access to finance for SMBs by supporting a network of regional banks.
Government IT and open data
Under the Coalition, the government has made much progress cutting down on legacy IT contracts that have been overly expensive while often underdelivering.
The Government Digital Service (GDS) has driven digital transformation and introduced smaller contracts with smaller suppliers through the Digital Marketplace, to encourage competition.
Labour would support more inclusion of SMBs while also reaching out to large suppliers who feel unfairly treated by Cabinet Office minister Francis Maude.
It also aired support for an open data by default policy, though the Conservatives have also underlined the importance of open data to them by making GDS chief Mike Bracken their Chief Data Officer, too.
Kable analyst Jessica Figueras said there is little to make Labour's vision for digital government distinct from that of the Tories.
"There's very little different in the big areas," she told IT Pro. "I just can't really see much change."
She referred to the party's Zero-Based Review of public spending, releasedlast year, saying it identified many failings in IT but didn't outline how Labour would set things right.
"There was a lot of criticism of performance of this government in terms of digital and IT, but very little commitment to doing things differently," she said.
Digital devolution
But Labour does want to tweak things - Onwurah has voiced her support for the GDS, but wants to see it used to transform services for vulnerable people.
Meanwhile, Labour has accused it of avoiding large-scale, important change.
The party's Digital Government Review, compiled by volunteer experts last year, suggested GDS could take a role in developing local government.
And the manifesto read: "We will use digital technology to create a more responsive, devolved, and less costly system of government."
Kable's Figueras said: "The one area we will see some change is a big part of the picture, devolution, particularly regional devolution.
"More budget and more power will go to city areas. Labour would build regional digital hubs [to support digital transformation]."
However, on the topic of GDS driving digital transformation among local authorities, she added: "There's already a big push in local government to share services and collaborate but when it comes to digital there's a lot of resistance to the idea there should be centralisation of digital capability."
A daily dose of IT news, reviews, features and insights, straight to your inbox!
A daily dose of IT news, reviews, features and insights, straight to your inbox!
Thank you for signing up to ITPro. You will receive a verification email shortly.
There was a problem. Please refresh the page and try again.