HPE launches new AI-powered services
Tech giant also adds deep learning to its latest servers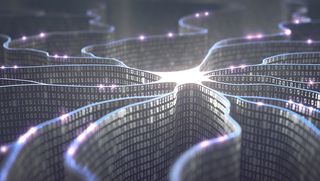 Hewlett Packard Enterprise (HPE) has unveiled a number of AI and deep learning services aimed at helping enterprises fix vital infrastructure and best support their business with AI.
Digital Prescriptive Maintenance Services and Artificial Intelligence Transformation Workshop, both of which are delivered through its Pointnext professional services division, focus on making the most of AI for existing infrastructure and business initiatives.
The former, HPE said, uses prescriptive maintenance to suggest and automate fixes for problems within industrial systems before they cause damage. This is as opposed to predictive maintenance, which just detects what equipment is likely to fail.
Using services from Pointnext combined with technologies and reference architectures from HPE and various partners, Digital Prescriptive Maintenance Services "captures all relevant data sources in the enterprise, including real-time and batch data from IoT devices, data centers and the cloud", HPE said, and then uses supervised and unsupervised learning to improve its performance over time.
The Artificial Intelligence Transformation Workshop, meanwhile, is intended to help organisations identify where they can best use AI within their business and adopt the technology rapidly.
"Global tech giants are investing heavily in AI, but the majority of enterprises are struggling both with finding viable AI use cases and with building technology environments that support their AI workloads. As a result, the gap between leaders and laggards is widening," said Beena Ammanath, global VP of artificial intelligence at HPE Pointnext.
On the deep learning side of things, HPE has introduced the Apollo 6500 Gen10 System, which is optimised for deep learning and can, the company claims, carry out model training three times faster than previous generations, thanks to the server's support for eight Nvidia Tesla V100 GPUs.
Additionally, HPE has added a Deep Learning Performance Guide to its Deep Learning Cookbook, which was released last year.
"Deep learning relies on high performance computing to identify patterns and relationships within massive amounts of data - however, traditional high performance systems are unable to keep pace with these requirements," said Pankaj Goyal, VP of hybrid IT strategy and AI at HPE. "The HPE Apollo 6500 Gen10 System is purpose-built to enable organisations of all sizes realize the benefits of deep learning faster than ever before."
Main image credit: Bigstock
A daily dose of IT news, reviews, features and insights, straight to your inbox!
Jane McCallion is ITPro's Deputy Editor, primarily covering security, storage and networking for ITPro, CloudPro and ChannelPro.
Jane joined ITPro and CloudPro in July 2012, having previously written freelance for a number of business and finance magazines. She has also covered current affairs, including the student, public sector workers and TUC protests and strikes in central London while studying a Masters in Journalism at Goldsmiths, University of London.
Prior to becoming a journalist, Jane studied Applied Languages at the University of Portsmouth.
A daily dose of IT news, reviews, features and insights, straight to your inbox!
Thank you for signing up to ITPro. You will receive a verification email shortly.
There was a problem. Please refresh the page and try again.