Microsoft announces the Surface Go – a budget Surface tablet perfect for back to school
Microsoft's budget Surface Go tablet starts at an wonderfully low £379.99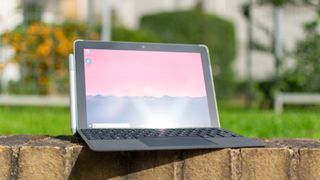 Microsoft has just announced the Surface Go, a budget Microsoft Surface tablet aimed at students and those who want some versatility from their 10in tablet.
Rumours around a budgets Microsoft Surface device have been floating around for a little while now, with the latest rumour suggesting a Friday 13 July announcement. Perhaps because this information leaked out to the public, Microsoft has now officially announced its new tablet as the Microsoft Surface Go and priced it at a very tempting 379.99.
Available for pre-order starting today although the listing isn't currently live on the Microsoft Store at time of writing the Surface Go will be available for purchase from 2 August.
But just what is the Surface Go? We've poured over every detail Microsoft has given us about its new affordable hybrid tablet and distilled it down into its core parts for you below.
Microsoft Surface Go release date: What you need to know
Rumours had previously stated that a new, cheaper Surface tablet would be coming to market around the second half of 2018. We now know that to be the Surface Go and it'll land on 2 August 2018. It's currently available for pre-order on the Microsoft Store in most European countries and will expand to others within the coming weeks. An LTE-enabled model will then follow later in the year.
The new line is aimed at students and light users, rather than power-hungry people who want a high-end laptop in a 2-in-1 form-factor. Because of this, it's August release window is an incredibly smart one as it picks up right when people are looking to purchase "back to school" goods.
Microsoft Surface Go price: How much will a budget Surface cost?
Prices for the Surface Go start at $399 (around 300) but no upper limit has currently been stated. We'll get a better picture of the price for a Surface Go once UK pricing is officially announced once pre-orders go live on the Microsoft Store.
Going by the price of current Surface devices, it's unlikely we'll see a top-end configuration of the Surface Go hit the Surface Pro's 749 starting point.
It's also not clear if the Surface Go comes with the new Surface Go Signature Type Cover and Surface Pen or if they're added extras like with the Surface Pro.
Microsoft Surface Go specs: What features does the new budget Surface have?
A confirmed list of specs and configurations for the Microsoft Surface Go hasn't yet emerged but, thanks to the announcement blog post, we do know some general top-line specs. Available in both a Wi-Fi and LTE configurations (LTE coming along later in the year), Surface Go will be powered by the 7th Gen Intel Pentium Gold Processor 4415Y. This is stated to give you up to nine hours of battery when performing "the most critical tasks".
As it's essentially geared for running Office, doing some light photo editing and streaming content on Netflix or YouTube, it's not really going to be a complete powerhouse. For the target market, that shouldn't matter too much, but Microsoft has still pushed for parity with other Surface family members by supporting a Type Cover for Surface Go, the Surface Pen and Surface Mobile Mouse. You'll also get the friction kickstand found on the Surface Pro so it's definitely still firmly within the Surface family of devices.
In terms of connectivity, Microsoft has stated that it comes with the Surface Connect charging and docking port alongside a USB Type-C connector "for data, video and charging". There's a headphone jack and a microSD card reader too.
Earlier rumours also suggested that the 10in Surface Go will sport a 1,800 x 1,200-pixel multi-touch screen and be 20% lighter in weight at just 562g. So far, Microsoft hasn't disclosed details pertaining to screen and weight but they'll appear online in due time once pre-orders open up.
It's believed that the base $399 Surface Go will also start with a configuration of4GB RAM and 64 GB storage, with the top-level Surface Go hitting 8GB RAM and 256GB storage.
Microsoft made no mention of what version of Windows 10 this runs but, as it hasn't specifically stated it, it's likely you'll be working with Windows 10 Home instead of the pared-down Windows found on the Surface Laptop.
A daily dose of IT news, reviews, features and insights, straight to your inbox!
A daily dose of IT news, reviews, features and insights, straight to your inbox!
Thank you for signing up to ITPro. You will receive a verification email shortly.
There was a problem. Please refresh the page and try again.