Commvault GO 2018: Commvault adds new HyperScale hardware for startups, MSPs and enterprises
Two additional units for remote offices and larger enterprises will sit alongside the firm's 'mid-sized' range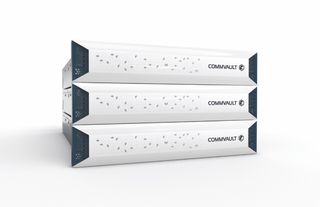 Data protection specialist Commvault has added two new hardware units to its family of HyperScale backup appliances aimed at remote offices as well as managed service providers (MSPs) and large enterprises.
Complementing the company's existing 48 to 144TB unit for mid-sized businesses, the HS3300 and the junior Remote Office Appliance will now provide firms of all sizes hardware integrated with Commvault's software portfolio.
Announcing the products at Commvault's third annual flagship GO conference, CEO Bob Hammer branded them key to the firm's broader simplification strategy.
The Commvault HyperScale Appliance (HS3300) offers enterprises between 174 and 262TB of capacity in a single fully-converged appliance that integrates server, and storage with the company's Complete Backup and Recovery product. Moreover, the scale-out infrastructure can deliver the same "cloud-like" scale and flexibility of the mid-sized model.
The Remote Office Appliance, meanwhile, is aimed for customers looking to implement a backup and recovery unit in remote and branch offices, with either 5TB or 15TB usable capacity. It allows data to be protected locally while being managed centrally, if used by larger enterprises, but can also be used by startups and mid-sized companies.
The smaller appliance, in particular, "really hits home" for the company's ambitions to grow in EMEA nations, according to VP for channel Bruce Park speaking at a press roundtable following the keynote address.
"This is where we have a lot of very small, disparate countries and environments, and this gives you that scale-out architecture in more environments," he said, which was echoed by the company's EMEA VP for technologies Mark Jow.
Jow explained the key reason for launching a smaller 5 to 15TB appliance centred on feedback from its partners and customers that the then-smallest device was yet far too big to support protection for remote branches in a cost-effective way.
"We recently secured a deal with a company in Spain," Jow outlined, "who uses appliances extensively, and the smaller appliances to support 3,000 branches, 7,000 stores, 7 million customers, so again that low-end appliance gives us the ability to scale."
The new hardware was announced in tandem with changes to Commvault's software portfolio, which is overseen by a centralised Command Centre integrated with machine learning and AI technologies to increase the scope for automation.
"Protecting and managing data while simplifying hybrid IT environments consisting of dozens of applications, multiple clouds and petabytes of data, is a significant business and data challenge enterprises are facing today," said senior analyst with Enterprise Strategy Christophe Bertrand.
"With these two new appliances, Commvault is expanding their appliance portfolio choices and investing in solutions designed to meet these specific challenges, in order to extend its ability to provide enterprises with complete coverage for their data needs, and use data to improve business outcomes."
A daily dose of IT news, reviews, features and insights, straight to your inbox!
Keumars Afifi-Sabet is the Features Editor for ITPro, CloudPro and ChannelPro. He oversees the commissioning and publication of in-depth and long-form features across all three sites, including opinion articles and case studies. He also occasionally contributes his thoughts to the IT Pro Podcast, and writes content for the Business Briefing. Keumars joined IT Pro as a staff writer in April 2018. He specialises in the public sector but writes across a breadth of core topics including cyber security and cloud computing.
A daily dose of IT news, reviews, features and insights, straight to your inbox!
Thank you for signing up to ITPro. You will receive a verification email shortly.
There was a problem. Please refresh the page and try again.