Commvault GO 2018: Commvault Command Centre will use AI to slash backup times
Machine learning integration reduced a customer's notifications during backup from more than 48,000 to just six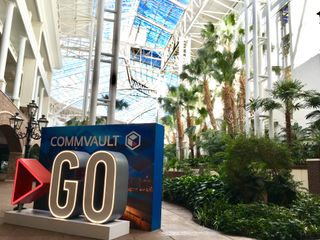 Data protection and backup company Commvault is integrating AI and machine learning into its data management platform to coincide with a complete revamp of its user interface.
Rolling out to customers in December, the Commvault Command Centre will use machine learning to analyse and automate data management tasks across an organisation, as well as providing added visuals and analytical functions.
The increased automation will take a number of forms including AI-powered text messaging, voice command, and the complete takeover of conventionally tedious tasks.
The new user interface will be made available to all customers across Commvault's entire software portfolio, with a range of dashboards spanning recovery, operations, storage, and further modules.
"Our goal, in a changing world of cloud, ransomware attacks, expanding compliance regulations, and digital transformation mandates, was to change our users' expectations about data management outcomes," said CEO Bob Hammer, likening Commvault's influence in its own industry to that of Netflix, Google and Amazon.
The company's announcement came at its third annual flagship conference Commvault GO, hosted this year at the Gaylord Opryland hotel and convention centre in Nashville, Tennessee.
"This morning Al [Bunte] and I will talk about applying sophisticated technology, automation and the creative use of machine learning and artificial intelligence to deliver automated outcomes in data management," Hammer continued.
"Self-driving backup is like having a complete team of digital managers focused on achieving these critical outcomes - performing a multitude of tedious tasks, providing sophisticated analysis, automating operations and driving real-time reporting."
The new AI implementation comprises autonomous operations, which cuts the average backup time from 40 minutes to four, dynamic recovery, speeding up disaster recovery time, and intelligent anomalies, and reducing the alerts to only those necessary.
The system is said to be able to learn and change with each backup, and adjust to each organisation's environment.
Hammer, who was joined on stage by COO Al Bunte, was keen to stress the company's outcome-driven strategy, and its renewed focus to meet customer demands. These included a thirst for simplicity, and a more intuitive user experience, and simplified quoting model.
Bunte highlighted a real-world example in which a mid-sized organisation with 450 virtual machines, and 35 physical servers, as well as a handful of other enterprise systems, could typically generate more than 48,000 events during a backup process.
Sifting through these could prove time-consuming, especially as employees would need to establish which events needed action, which could be ignored, for how long, as well as which events were irrelevant entirely.
Typically, the best dashboards can reduce some 48,284 events to a few hundred, Bunte continued, but using analytics and machine learning, Commvault's platform managed to reduce this to just six actionable anomalies.
"Knowing your data" and making the most of vastly-simplified systems were also among the key themes to emerge from the keynote address, which are made more pertinent in light of the EU's General Data Protection Regulation (GDPR).
Commvault's other key announcements included two new hardware appliances for enterprises and MSPs to complement its existing HyperScale offering, as well as an analytics platform dubbed Commvault Activate.
A daily dose of IT news, reviews, features and insights, straight to your inbox!
Keumars Afifi-Sabet is the Features Editor for ITPro, CloudPro and ChannelPro. He oversees the commissioning and publication of in-depth and long-form features across all three sites, including opinion articles and case studies. He also occasionally contributes his thoughts to the IT Pro Podcast, and writes content for the Business Briefing. Keumars joined IT Pro as a staff writer in April 2018. He specialises in the public sector but writes across a breadth of core topics including cyber security and cloud computing.
A daily dose of IT news, reviews, features and insights, straight to your inbox!
Thank you for signing up to ITPro. You will receive a verification email shortly.
There was a problem. Please refresh the page and try again.