Apple faces lawsuit over MacBook Pro display flaw
Class-action lawsuit claims Apple sold MacBooks while it was aware of the so-called "flexgate" issue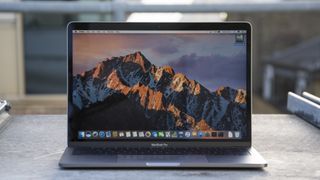 Apple has been hit with a class-action lawsuit that claims the company was aware of a design flaw that caused display issues on some MacBook Pro models.
The lawsuit, filed at the District Court for the Northern District of California, claims Apple was aware of the so-called "stage light" or "flexgate" issue that caused backlight problems on MacBook Pro models manufactured in 2016 and 2017.
As reported by Apple Insider, the issue was first discovered in 2018 and manifests as dark patches along the bottom of the ‌MacBook Pro‌'s display. Additionally, some users claim that opening their ‌MacBook Pro‌ beyond a certain angle turns off the screen entirely.
Repair company iFixit investigated the problem in 2019 and discovered that it occurred to due a flex cable that connects the display to a constoller on the logic board beneath the MacBook Pro's Touch Bar. iFixit claims these cables were defective and would deteriorate over time.
Apple seemingly fixed the issue by extending the length of the flex cable in the 2018 ‌MacBook Pro‌. The company also launched a free repair programme in May 2019, but this only applied to 13in ‌MacBook Pro‌ models released in 2016.
Others affected by the issue were forced to pay for the issue to be fixed, which was often very expensive because it usually involved replacing the entire display.
The lawsuit, which seeks seek damages, court fees and a judgment requiring Apple to identify and declare all defective MacBook Pro laptops, claims that the company violated consumer protection laws by continuing to sell the MacBook Pros while it was aware of the flex cable issue.
"Apple was aware of the issues with the backlight screen and the defective flex cable, in light of the comments posted by consumers on Apple's discussion forum and that those comments were deleted after they were posted," the lawsuit reads.
Apple has yet to comment on the lawsuit.
A daily dose of IT news, reviews, features and insights, straight to your inbox!
Carly Page is a freelance technology journalist, editor and copywriter specialising in cyber security, B2B, and consumer technology. She has more than a decade of experience in the industry and has written for a range of publications including Forbes, IT Pro, the Metro, TechRadar, TechCrunch, TES, and WIRED, as well as offering copywriting and consultancy services.
Prior to entering the weird and wonderful world of freelance journalism, Carly served as editor of tech tabloid The INQUIRER from 2012 and 2019. She is also a graduate of the University of Lincoln, where she earned a degree in journalism.
You can check out Carly's ramblings (and her dog) on Twitter, or email her at hello@carlypagewrites.co.uk.
A daily dose of IT news, reviews, features and insights, straight to your inbox!
Thank you for signing up to ITPro. You will receive a verification email shortly.
There was a problem. Please refresh the page and try again.