Taiwan's TSMC plans five additional US-based chip plants
New plan expands upon the chip maker's plans to build one factory in Arizona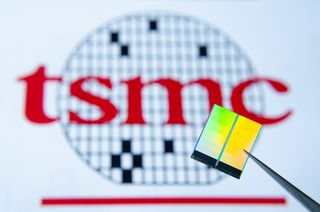 (Image credit: Shutterstock)
One year ago, the Taiwan Semiconductor Manufacturing Company (TSMC) announced plans to build a $12 billion chip factory in Arizona.
Now, TSMC, the world's largest contract chipmaker, is hatching plans to build five more chip plants on the same site, according to a new report from Reuters.
"Three sources familiar with the matter… told Reuters that up to five additional fabs for Arizona are being planned," the news service reported. One TSMC supplier told Reuters the plan is to build six factories in the next three years.
The first Arizona factory TSMC plans to build this year is relatively small. The company plans to produce 20,000 chips per month that have 5-nanometer transistor technology from this factory.
TSMC manufactures most of its chips in Taiwan, but it has factories in the state of Washington and China. The Arizona project represents a major expansion of TSMC's plans to shift some manufacturing to the US.
The news comes during a global semiconductor shortage that's expected to last at least through the rest of this year, if not longer. The COVID-19 pandemic contributed to the chip shortage, which has escalated recently and left automakers and tech manufacturers scrambling for supplies.
Reuters reported that TSMC is expanding its Arizona plans in response to a request from the US government.
The Biden administration pledged to address the chip shortage and is working with businesses to fix bottlenecks in semiconductor supply. That development came after semiconductor industry leaders in the US wrote to the president, asking him to fund chip manufacturing and research in the administration's economic recovery and infrastructure plan.
It's not yet clear what, if any, US government funding TSMC will receive to build more chip factories in Arizona.
The Semiconductor Industry Association (SIA) warns that the US share of global semiconductor manufacturing capacity has decreased from 37% to 12% since 1990. This is primarily due to government subsidies in other regions and stagnation in federal investment. Last year, Congress proposed legislation to increase domestic investments in the semiconductor industry.
A daily dose of IT news, reviews, features and insights, straight to your inbox!
A daily dose of IT news, reviews, features and insights, straight to your inbox!
Thank you for signing up to ITPro. You will receive a verification email shortly.
There was a problem. Please refresh the page and try again.