Best business keyboards for 2023: Top choices for homeworkers and the office
From writers to coders, choosing one of the best business keyboards is a worthwhile investment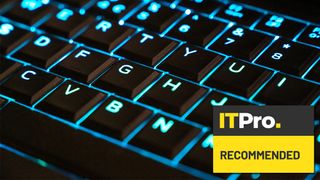 What makes the best business keyboard? That's not an easy question to answer, because there are so many variables involved in choosing the device that can have a massive impact on the speed at which you work.
Do you go for wired or wireless? Should you stick with a regular membrane keyboard or risk annoying colleagues with the louder, but enormously satisfying, mechanical boards? Do you want a full-size keyboard or something that's going to save you valuable desk space?
The good news is we've got all the options covered here, so no matter how you answered the questions above, we've got strong picks to cover all office scenarios.
The keyboard is an oft-overlooked part of the computer setup, but getting the right model can really light the afterburners on your productivity. Read on to find out what to look for when buying a keyboard and our reviews of seven of the leading business keyboards on the market.
What to look for
The first decision to make when looking to purchase a keyboard is whether you are going wireless or sticking with traditional wired keyboards. What wireless keyboards lack in reliability, sometimes failing to connect at crucial moments, they make up for in convenience, particularly for those with laptops on stands in combination with business monitors.
Businesses going down the wireless route will just have to make sure to check port compatibility, as the best business laptops increasingly lack USB-A sockets and you don't want to have to pair your big keyboard purchase with a bulk order of adaptors.
Those who seek tactile, precise typing are likely to seek out a mechanical keyboard. They provide a satisfying experience and suit touch typists particularly well, though in a large office environment, their loud noise profile could quickly add up to more than a small annoyance. There are some exceptions here, with manufacturers pairing mechanical switches with dampeners, though this is by no means guaranteed.
Another important consideration is the size of keyboard needed. Most laptops have been missing the numeric layout for some time, and those whose jobs involve a lot of numeric entry might opt in for a larger keyboard to take back the number pad. Firms that favour hot-desking, on the other hand, could get more out of lightweight keyboards that can easily survive moves or commutes.
There are also bells and whistles that we'd categorise as "extras" with which some keyboards have been equipped. These include special hotkeys for turning off cameras or muting one's mic, and some are even programmable to give users more flexibility - perhaps you want to assign yours to a special function in a favoured IDE, or make it open a particular application.
FAQs
What's the difference between mechanical and 'ordinary' membrane keyboards?
The majority of keyboards, particularly those on the cheaper end, are membrane keyboards. These operate through the application of contacts to a rubber membrane, which happens each time a user presses a key and is often associated with a 'mushy' cushioned feel.
Mechanical keyboards, in contrast, operate through the use of a physical switch beneath each key. These come in a range of different types, with brown keys trending towards the quietest on the market, while blue keys are louder but provide a more tactile feel. Users can often choose to swap these out after purchase, and this can be done on a DIY basis or by specialist teams.
Do all keyboards work with any computer?
All of the keyboards on this list will work with any PC or Mac, though the user experiences of each may vary.
The vast majority come in a Windows layout, meaning that the keys are printed with labels such as the Windows logo, but some do come with Mac layouts printed by the manufacturer. Others provide both, depending on the demands of the business. It's worth noting that keyboards with the Windows layout will work for Macs, but users will have to remember which key corresponds to what on that OS.
Software is also worth bearing in mind. Keyboards may come with applications or drivers that allow for the customisation of macro keys or backlighting colours, for example, but this is not guaranteed to work on both PC and Mac. It's always best to check this on a case-by-case basis prior to purchase.
How long do wireless keyboard batteries last?
All wireless keyboards will run out of power sooner or later, but how long a wireless keyboard will last between recharges varies enormously and depends on several factors. Keyboard manufacturers rarely state the size of the battery inside the unit, but as a rule of thumb, the bigger the keyboard, the longer the battery will last.
The other major factor is backlighting. If a wireless keyboard is fully backlit at maximum brightness, the battery might only last a day or two before it needs recharging. If you switch the backlight off completely, that battery may last weeks or even months between recharges.
In most office environments the backlight isn't needed, so we'd avoid switching it on to preserve battery life. Some keyboards only engage the backlight when hands are directly over or touching the keys, which can also help to prolong the life of the battery.
Can I use a wireless keyboard if my computer doesn't have Bluetooth?
All laptops should be fitted with a Bluetooth radio. Many desktop PCs will offer Bluetooth too, but if your computer isn't Bluetooth-equipped, you can still benefit from a wireless keyboard.
For example, many Logitech keyboards come with a tiny USB radio dongle, which uses the same 2.4GHz wireless band as a Wi-Fi router. You plug the dongle into the PC's USB socket and it connects automatically to the keyboard. That same dongle can sometimes be used to connect a wireless mouse, too.
Don't assume an existing wireless dongle will be compatible with the latest keyboards and mice, though. Check the specs on the manufacturer's website carefully.
Logitech MX Mechanical
Best for the office
4 Stars
Swipe to scroll horizontally
| | |
| --- | --- |
| PROS | CONS |
| Decent typing action on well-spaced keys | Doesn't feel like a true mechanical |
| Great features for those using multiple PCs | Keycaps collect grubby marks |
| Clever, subtle backlighting | Punchy price |
Logitech's MX Mechanical is an attempt to bring mechanical switches to its laptop-keyboard-like MX Keys range. It involves compromises, but the more you use the MX Mechanical, the more it grows on you.
First impressions aren't fantastic. Logitech is only offering the UK layout with its Tactile Quiet (Brown) key switches. While nearby colleagues may appreciate less clatter than you would normally expect from a mechanical keyboard, it doesn't have that true mechanical feel. The keycaps also have a very unappealing habit of picking up fingerprint smudges, which isn't great for anyone who regularly scoffs greasy sandwiches at their office desk.
However, once you've used the keyboard for a good while, its quality shines through. Quite literally, if you consider the individually backlit keys. There's no RGB light show here because the keyboard is intended for office work, not gamers' bedrooms, but there are six different light patterns to choose from, the best of which lights the key that you've just pressed. It actually comes in handy for realising you've mistyped a password, for example.
The degree of backlighting you choose has a major impact on the longevity of the MX Mechanical's rechargeable battery. Go for the full-on light show and you can expect the battery to last 15 days before it will need recharging from the supplied, if short, USB-C cable. Keep the lights off entirely – and you don't really need them in an office environment – and the battery will see you through ten months, according to Logitech.
The keys are perfectly spaced, with no obvious compromises. We were clattering away at our full typing speed in no time at all. There's a number pad on the right and a full row of function keys, which double up as shortcuts for features such as muting your mic, taking screenshots and accessing the emoji menu. A dedicated key to lock your computer in the top-right corner is another nice touch for the office.
As with all of Logitech's MX keyboards, it can be paired with up to three devices, with dedicated keys to switch between them – invaluable if you regularly use a phone or tablet in your workflows alongside your PC. Logitech's clever software even lets you cut and paste between computers. You can also re-assign any of the shortcut keys for specific applications, too. So, if you never use the calculator key and want to assign that to a particularly awkward keyboard shortcut in Photoshop, say, you can.
Overall, the Logitech MX Mechanical is a highly accomplished keyboard that has plenty of features for professional users. It's not the most satisfying mechanical action on test here, and its price is the wrong side of punchy, but we'd be more than happy to use this as our everyday office keyboard.
Swipe to scroll horizontally
| | |
| --- | --- |
| Keyboard type | Mechanical (brown switches) |
| Wireless | Yes (Bluetooth and LogiBolt provided) |
| UK layout | Yes |
| Windows/Mac | Both |
Price when reviewed: £142 (exc VAT)
Logitech MX Keys Mini
Best for compact desks
4 Stars
Swipe to scroll horizontally
| | |
| --- | --- |
| Pros | Cons |
| Light enough to slot into a laptop bag | No height adjustment |
| Delicate, quiet typing action | No numberpad |
| Won't swallow desk space | |
Not every office comes with giant desks or even wants a number pad on the side of their keyboard. The Logitech MX Keys Mini is a superb choice for someone who wants a compact keyboard that you might even sling in a laptop bag and take on business trips.
It's certainly slender enough to sling into a laptop bag without zips bursting. Measuring only 296 x 21 x 132mm (WDH) and weighing a slice over 500g, it's suitable for life on the road. And with dedicated keys to switch easily between three different devices, you could easily use the MX Keys Mini as a Bluetooth keyboard for your tablet too, potentially allowing you to leave keyboard covers at home.
Battery life won't be a problem on business jaunts, either. With full backlight, Logitech claims the battery will last ten days, rising to an impressive five months if you can live without the lights. Unlike the Logitech MX Mechanical, there are no fancy backlighting effects – it's the whole keyboard or nothing. However, ambient light sensors adjust the backlight accordingly, while proximity sensors only switch the backlight on when your hands hover over the keyboard, which is a clever battery-saving touch.
The keyboard itself is pleasing to type on. The laptop-like scissor-switch keys have just the right amount of travel and don't make enough noise to irritate office colleagues. Each keycap is concave, cupping your fingertips and helping to avoid typos caused by your finger sliding onto an adjacent key. Despite its dinky dimensions, there are no great compromises on the key layout: the half-size cursor keys are the biggest concession, but no worse than the keyboard on a MacBook Pro, for instance.
Talking of layouts, the MX Keys Mini has both Windows and Mac layouts printed on the keycaps, and the device comes in three different colours: graphite, pale gray and a stark 'Rose' pink.
As with the MX Mechanical, the top row of keys doubles as both Function keys (F1, F2 etc) or handy shortcuts – it's easy to switch between two. Media controls, a mic mute button and buttons dedicated to adjusting the backlighting brightness are among the sensibly chosen shortcut keys.
What's not to like here? Not a whole lot. There's no option for keyboard height adjustment, though the keyboard has just the right degree of incline in our view. Despite its lightweight design, rubber feet preventing it sliding across the desk for all but the most heavy-handed of typists.
If you'll never need the number pad and you want a keyboard that's equally suited to desk work or in a laptop bag, the Logitech MX Keys Mini is a superb choice. At a shade under £100, you shouldn't have too much trouble sneaking it past an expenses claim, either.
Swipe to scroll horizontally
| | |
| --- | --- |
| Keyboard type | Scissor-switch |
| Wireless | Yes (Bluetooth and LogiBolt, not provided) |
| UK layout | Yes |
| Windows/Mac | Both |
Price when reviewed: £83 (exc VAT)
Razer Pro Type Ultra
Best for power users
4 stars
Swipe to scroll horizontally
| | |
| --- | --- |
| Pros | Cons |
| Authentic mechanical feel without the clatter | Not best suited for Macs |
| Powerful software | Software demands registration |
| Stunning looks | |
Razer is best known for its gaming keyboards and combo gaming productivity devices such as the Razer Book 13. The Pro Type Ultra will not disappoint in this regard, packing some serious productivity features that make it a good option for any high-performance business users.
This mechanical marvel is fitted with 'Razer Silent Keyboard Switches'. Silent is a bit heavy on the hyperbole – there's a gentle clack when you're typing away, and the mechanical Keychron K7 is even quieter. Still, it has that authentic mechanical feel without the associated noise.
There's a joyous, old-school feel to the typing action. There's plenty of travel under each key, each press landing with a satisfying thunk, and there's ample space between each key on this full-size board with number pad. We were up to our full typing speed almost instantly, and with 10-key rollover you can be confident every keystroke will be registered. The soft feel of the concave keycaps is complemented by a faux leather wrist west that spans the entire breadth of the keyboard.
The keyboard does work with Macs, but you can only access the full feature set with the accompanying Windows-only software. Indeed, the backlighting simply refused to come on until we'd tweaked the settings in the Windows software. The keycaps are Windows-only too, so you'll be relying on muscle memory if you do decide to pair it with a Mac.
That Synapse 3 software unlocks many of the keyboard's power features, including the option to reassign keys to specific functions, to open applications or to run macros. That comes in useful for anything from accessing obscure functions in Excel to creating keyboard shortcuts for games, although it has to be said that the Synapse 3 software could be more user-friendly. And whilst we're griping about the software, compulsory registration just to access the software feels like an unnecessary data grab.
Packaged software controls backlighting, an ideal feature for typing in dim environments without strain (beyond its aesthetic benefits). Sliders let you control the brightness of the backlight and for how long the backlight should remain on when idle, though it only comes in white.
Connectivity options are strong here, too. The Pro Type Ultra can be connected to up to three different computers via Bluetooth, but tucked away in a flap on the underside of the keyboard is a 2.4GHz wireless USB dongle if you prefer. The supplied 2m USB-C power cable means you can also use it as a wired keyboard. Battery life is rated at up to 214 hours with the backlights off, but as little as 13 hours with the lights on at full beam.
Overall, the Razer Pro Type Ultra is a keyboard that leaves little to be desired. It's a delight to type on, it's rammed with features, and it looks striking.
Swipe to scroll horizontally
| | |
| --- | --- |
| Keyboard type | Mechanical |
| Wireless | Yes (Bluetooth and 2.4GHz wireless dongle) |
| UK layout | Yes |
| Windows/Mac | Windows |
Price when reviewed: £133 (exc VAT)
Keychron K7
Best for customisability
5 stars
Swipe to scroll horizontally
| | |
| --- | --- |
| Pros | Cons |
| Enormously customisable | Battery life is comparatively weak |
| Hot-swappable switches (on some models) | No supplied software |
| Great typing experience | |
There is definitely no shortage of options when it comes to the Keychron K7. At the point of purchase, you can choose between white or RGB backlights, three different types of switches (mechanical, optical and/or hot-swappable), and several different grades of switches (linear, clicky etc). Assuming you go for a hot-swappable model, you can always change your mind later on the switches, too.
Our review model came with the Low Profile Keychron Optical (Hot-Swappable) switch sockets, with Red switches. And given that we're testing keyboard designed for work, we opted for the white backlight rather than the full RGB show.
That configuration is sensational for getting down to business. The Red linear switches have a smooth action, but don't make an annoying clatter, partly because the optical switches have fewer moving parts. There's plenty of travel under each key (2.5mm in total), which is far more than the similarly sized Logitech MX Keys Mini.
It's a 65% keyboard which is definitely small and light enough to fit into a laptop bag, although it's not as slim as the MX Keys Mini. It doesn't feel the least bit cramped when you're typing on it, but there are a few compromises. The left shift key is small, and the number row doubles as both shortcut keys (ie. increase/decrease volume) and function keys. That means you need to press Fn1 + the number keys to access the shortcuts and Fn 2 + the number keys to activate the function keys, which takes a little getting used to. The MX Keys Mini has a dedicated row of shortcut/function keys, but the board is larger as a result.
The keyboard arrived in Mac UK layout, but there are 13 spare keycaps included in the box to convert to a Windows layout, by replacing the Option key with a Windows keycap, for example. Tools are supplied to remove the keycaps and the switches that lurk beneath them (if you have a hot-swappable model), but there's something to be aware of here. The video on Keychron's website shows someone removing the switches by using the tool to grip them from either side – in fact, you need to grip the switch from the top/bottom to easily remove it. We almost broke a switch before we realised this.
Of course, one of the benefits of hot-swappable switches is that, should one actually break, you can easily replace it with another, giving the K7 strong repairability credentials. Replacement switches are relatively cheap ($19 for 87 optical switches) and you can also buy a host of other accessories, including a wooden palm rest ($25), travel pouch ($25) and a new set of keycaps ($20).
Keychron also provides a braided USB-C charging cable in the box, which also allows you to use the device as a wired keyboard. Keychron pins battery life at up to 34 hours, which is the lowest on the list. Battery life isn't indicated in macOS's Bluetooth menu, either, but a red light on the back of the keyboard blinks when the battery dips below 15%. That LED is almost impossible to see from a normal typing position, mind.
The K7 can connect to up to three different devices, and there are two physical switches on the back of the keyboard for choosing between iOS/Mac or Android/Windows devices, and cable or Bluetooth mode. There's no software provided, with Keychron recommending Karabiner (Mac) or SharpKeys (Windows) if you want to remap keys.
The K7 is a compact delight. It's hugely customisable, perfect for working in tight desk spaces, and has the added benefit of being repairable if a switch breaks. It's seriously hard to fault, especially at this price.
Swipe to scroll horizontally
| | |
| --- | --- |
| Keyboard type | Optical or mechanical |
| Wireless | Yes (Bluetooth) |
| UK layout | Yes |
| Windows/Mac | Both |
Price when reviewed: £53 (exc VAT)
Kensington Pro Fit USB Washable Keyboard
Best for clean environments
3 Stars
Swipe to scroll horizontally
| | |
| --- | --- |
| Pros | Cons |
| Won't be ruined by liquid spills | Typing action is spongy |
| Can be cleaned with many chemicals | No shortcut keys or other niceities |
| Keenly priced | Wired only |
On the face of it, this keyboard looks as bog standard as they come. There's nothing in the way of frills: it's a wired-only keyboard, with an old-fashioned USB-A socket (which probably suits the market it's aimed at), and two plastic feet to allow you to adjust the typing angle, if you don't like your keyboards lying flat.
It's designed for a Windows audience and there are no dedicated shortcut keys for controlling volume etc; just a row of 12 function keys. There's a number pad on the right and that's your lot. However, avert your gaze to the top-right of the keyboard and you'll find an unusual label: washable.
This keyboard passes the MIL-STD-810H Method 504.3 Contamination by Fluids test, which according to Kensington means it can "be wiped down or cleaned with a wide variety of cleaners, disinfectants and solvents, including alcohol and bleach without affecting the product". Kensington lists the specific solvents it can be cleaned with on its website, but if you're looking for a shared keyboard that can be wiped clean after each use for sanitary purposes, this could suit you very well.
It's also a keyboard that should survive the more mundane spills of everyday office life. To put it to the test, we doused the left-hand side of the keyboard in Diet Coke and let it sit for a couple of minutes. We then rinsed the keyboard under a cold tap for a few minutes, squirted it with washing-up liquid to help remove any sticky residue, and then left the keyboard to dry upside down for a couple of hours.
When we plugged it back in it worked perfectly, in comparison to the majority of keyboards which would quickly perish under the same conditions. There is an important caveat to this ability: the waterproofing applies to the board, but not the USB connector. Users would be well-advised to never plug a damp connector into a port on their device.
When it comes to the typing experience though, this keyboard is far from exceptional. The waterproof membrane adds a spongy feel to the typing action. The keyboard also feels cheap and rattly in comparison to any of the others on test here. It's not terrible to work on, but if you're looking for a 9-5 office workhorse of a keyboard, we'd opt for any of the other models and take our chances with the Diet Coke cans and mugs of coffee.
This keyboard is the very definition of a one-trick pony, but that ability to wash off spills and disinfect the keyboard could be exceedingly valuable in many professional environments. At around £40 exc VAT, it's not going to punish IT budgets, either, and Kensington offers discounts to businesses buying in bulk.
If cleanliness is paramount or you simply need a keyboard that will shrug off a spilt latte, you'd be hard-pressed to find a keyboard better suited.
Swipe to scroll horizontally
| | |
| --- | --- |
| Keyboard type | Membrane |
| Wireless | No |
| UK layout | Yes |
| Windows/Mac | Windows |
Price when reviewed: £41 (exc VAT)
Microsoft Ergonomic Desktop
Best for RSI sufferers
3 stars
Swipe to scroll horizontally
| | |
| --- | --- |
| Pros | Cons |
| Designed to avoid repetitive strain | Has an enormous desk footprint |
| Cushioned palm rest feels great | Wired only |
| Some convenient shortcut keys for Windows | An 'Office' key that is a cheap marketing exercise |
If typing puts intolerable strain on your wrists, Microsoft's Ergonomic Desktop keyboard offers the now-familiar split keyboard design that's intended to minimise hand movement and keep your wrists straight. For those who type in pain, it could be a welcome relief, but there are caveats.
The split keyboard could prove a challenge for those who aren't very comfortable with touch typing, as the curved design will be an unfamiliar sight to most. In tests, our halving speed halved and typos abounded, so offices switching to this on a large scale may want to set aside a teething period of reduced productivity.
The keyboard is unfortunately also colossal, mostly due to the large palm rest included with the frame, and so will not suit the smallest desks. If you can find the space for it, however, the palm rest provides welcome comfort. It's a soft, supportive addition that will save you from the worst typing strain, and is adjustable so you can fit it to your most comfortable position.
Typing on the Microsoft Ergonomic Desktop Keyboard is not a spectacular experience. Beyond the unusual design, the keyboard falls back on familiar ground with a membrane design providing decent if squishy travel under each key. That said, it's by no means an outright bad design - though the left shift and return keys could do with being larger.
Without backlighting, the keyboard is not as easy on the eyes as it is on your hands. And as a wired-only entry, it may not be the best choice for those on the move. Given the size this may sound unsurprising, but it's an odd choice given the likelihood that those seeking a fully ergonomic setup are likely to have their laptop on a stand for which a wired connection could prove a hassle.
The keyboard comes with some shortcut keys at the bottom, with some set aside for Windows functions such as taking screenshots and searching one's device. An 'Office' key also provides instant access to frequently opened documents and apps - just in case businesses were looking to save a few seconds in the start menu.
Many of the shortcut buttons are programmable, including the three numbered shortcuts in the top left, which by default open the three left-most apps on your Windows taskbar. The software that Microsoft provides to customise your shortcut keys is on the wrong side of clunky, however. For example, if you want to tailor shortcuts for specific apps you have to navigate to the program's folder in Windows Explorer, which may well baffle many users.
The Ergonomic Desktop also comes with a wired mouse, but it's a very basic and lightweight affair that we'd substitute in a heartbeat. Overall, the Ergonomic Desktop is a keenly priced option for those who need that split-keyboard design to ward off injury. If you're looking for something more luxurious, Microsoft's own Surface Ergonomic Keyboard adds wireless, Surface Laptop-like keys, and a carpet-like Alcantara fabric to the palm rest for twice the price.
Swipe to scroll horizontally
| | |
| --- | --- |
| Keyboard type | Membrane |
| Wireless | No |
| UK layout | Yes |
| Windows/Mac | Windows |
Price when reviewed: £50 (exc VAT)
Das Keyboard 4 Professional
Best for perfectionists
5 stars
Swipe to scroll horizontally
| | |
| --- | --- |
| Pros | Cons |
| Robust build quality | Noisy for nearby colleagues |
| Immaculate typing action | Sharp edge digs into wrist |
| Delightfully weighted volume knob | Wired only |
If the Kensington keyboard is waterproof, the Das Keyboard 4 Professional feels positively bomb-proof. The anodised aluminium top panel feels like tank armour and there's no chance of this keyboard sliding from under the fingers of even the most heavy-handed typist. At 1.3kg, if you launch this out of the window in a fit of rage, you're risking doing more damage to the street below.
This is the most old-school mechanical of all the keyboards on test here. It's fitted with blue Cherry MX switches which have that glorious clacky sound and immaculate responsiveness. You don't have to press the key the entire way down to hit the activation point, and that audio feedback leaves you in no doubt the press has been registered. Nearby colleagues may not be quite as appreciative of the noise, mind. The quieter brown switches (which we've not tested) are a more considerate option.
The keyboard has full n-key rollover, which means you won't lose a single keystroke if you jam keys together quickly. There's a Mac version of the keyboard available, as well as the Ultimate edition which doesn't have any lettering on the keys for that 'stealth' look.
The Keyboard 4 Professional feels like it's almost tilted away from you straight out of the box, but an easily detachable foot bar puts it in a more natural typing position. We did find rubbing our wrists against the almost sharp metal edge at the front of the keyboard was uncomfortable, so you might want to consider a palm rest to go with it.
The standout feature of this keyboard is the dial in the top-right corner. This is a deftly weighted volume knob that feels like it's been lifted off high-end hi-fi equipment, although it's a shame its utility is restricted to turning up Zoom calls. It would have been great to use that dial for adjusting contrast in Photoshop or twiddling with exposure in Lightroom - something which Logitech's similarly-equipped Craft keyboard offers.
This is a keyboard for the purists. The media shortcut keys are restricted to the top-right corner, leaving a full row of 12 Function keys, as well as the number pad on the right. There's no messing around with potentially unreliable wireless connections, either: it's USB-A only, although Das provides a 2m cable, which should be plenty for even those using standing desks with a PC on the floor.
That USB connection unlocks another power feature: the two-port USB 3.0 hub on the rear of the keyboard, which Das claims offers transfer speeds of up to 5Gbits/sec. If your PC is tucked away on the floor, this could save you from having to bend down to plug in USB sticks or other peripherals. You might even use that USB hub to charge a phone, although the power throughput is limited.
The Das Keyboard 4 Professional is amongst the more expensive keyboards on test here, but its quality shines through. It's as solid as they come, a delight to type on, and it looks suitably subdued for work despite its similarity with more recreational keyboards. If you want a workhorse keyboard, this should be on your radar.
Swipe to scroll horizontally
| | |
| --- | --- |
| Keyboard type | Mechanical |
| Wireless | No |
| UK layout | Yes |
| Windows/Mac | Both (in separate versions) |
Price when reviewed: £117 (exc VAT)
Get the ITPro. daily newsletter
Receive our latest news, industry updates, featured resources and more. Sign up today to receive our FREE report on AI cyber crime & security - newly updated for 2023.
Barry Collins is an experienced IT journalist who specialises in Windows, Mac, broadband and more. He's a former editor of PC Pro magazine, and has contributed to many national newspapers, magazines and websites in a career that has spanned over 20 years.
Today, he's a contributor to Forbes.com, a columnist for PC Pro and ComputerActive, and is the co-editor of BigTechQuestion.com, a site dedicated to helping solve people's tech problems. You may have seen Barry as a tech pundit on television and radio, including BBC Newsnight, the Chris Evans Show and ITN News at Ten.
You can follow Barry on Twitter at @BazzaCollins, or email him at barry@mediabc.co.uk
Get the ITPro. daily newsletter
Receive our latest news, industry updates, featured resources and more. Sign up today to receive our FREE report on AI cyber crime & security - newly updated for 2023.
Thank you for signing up to ITPro.. You will receive a verification email shortly.
There was a problem. Please refresh the page and try again.