Best business monitors 2023: Upgrade to a proper screen
A range of the best business monitors for photo editing, office work, and more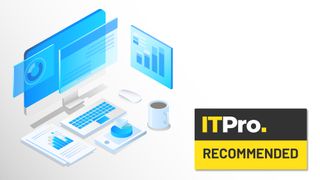 Many businesses fall into the trap of shirking the best business monitors available and end up providing staff with basic, cheap equipment. However a screen upgrade can be a wise investment that will pay dividends in the long run.
A good business monitor should have plenty of working space to keep staff productive, as well as strong brightness and contrast to keep them from squinting and struggling in bright sunlight. A sharper, clearer, and more colourful screen is even likely to make them more enthused and motivated.
There are other considerations, too. While colour reproduction may not be crucial to all departments, if you're putting together materials to be shared online or professionally printed, you'll want a screen that gives an accurate impression of how the finished product will look – otherwise you're putting your company's reputation on the line.
What to look for in a business monitor
Not all monitors are created equal, and different screens will be best suited for different roles. Businesses, especially, will find it difficult to find a one-size-fits-all solution given the variety of users they have to cater for. For example, anyone working with visual media, such as graphic designers, video editors, or digital artists, will need a screen that's perfectly accurate to ensure that the colours they're seeing when they work on a project match what it comes out looking like.
These professional-grade monitors are often calibrated to match certain industry-specific colour gamuts, and are incredibly precise.
However, these pro-level monitors tend to come with a hefty premium, and won't be necessary for employees who just need to work on emails, spreadsheets, and reports. While a certain level of colour accuracy is useful for providing a broadly pleasant viewing experience, these employees will see much more benefit from more general quality-of-life features, such as USB-C connectivity for docking laptops, or a built-in webcam to improve video calls.
Size and resolution probably won't be as important a factor for these employees, either. While a large display can be handy for multitasking by allowing multiple simultaneous windows, a 4K resolution is probably going to be overkill for most workers, and a 30+in monitor is going to be unsuitable for most remote workers. We feel a 24in to 27in display, with a 1080p resolution, should be more than enough to support the average workflow.
Depending on your preference, you may want to splash out on a monitor with a more impressive design aesthetic, but be wary of sacrificing practicality for appearance. It's much more important to make sure that your monitor has enough adjustability to give you the right viewing angle and position, particularly if you're buying multiple monitors to kit out a shared workspace.
Best business monitor FAQs
What ports does my business monitor need?
The answer to this question can depend on the hardware your workforce is using but something that is widely considered a must-have would be at least one HDMI port. It would be difficult to buy a monitor that was built at least in the last five years that doesn't feature one since it's essentially the most popular and most recognisable port for connecting devices to external displays.
Organisations undergoing a total IT refresh, for example, will most likely be purchasing laptops with USB-C connectivity, often used for both power delivery and connecting to monitors from the same cable. It's slowly becoming the new industry-standard connector and future-proofing purchases by purchasing monitors that not only support USB-C for display connections, but also for power delivery (check the spec sheets) could be a worthwhile investment in the long run.
Desktop PCs running high-end GPUs, for example, can sometimes rely on DisplayPort connections in favour of HDMI. The latter, more recognisable connector will almost always be found on modern GPUs, but there may be specific instances in which your staff need a DisplayPort connection and it's worth considering this and consulting each team before spending any money.
Are gaming monitors good for work?
As mentioned earlier, not all monitors are made equally and each model can vary wildly on the specifications it offers. Gaming monitors comprise a large part of the monitor market and are designed to deliver the best gaming performance at their respective price points. This means prioritising resolution and refresh rates, among other things, both of which your staff may not need the very best of.
For example, there are few cases where a regular office worker needs a 4K resolution. Monitors providing ultra-sharp imagery such as this often come at a premium, as do those that support high refresh rates. The type of panel that's used in the monitor can also dictate the price. TN, LCD, IPS, and OLED technologies offer different benefits at different price points and once again, it's important to fully understand the needs of your staff before ordering in bulk.
Gaming monitors are also designed, in many cases, with a specific aesthetic - one that appeals to the gaming community with programmable RGB light features and brightly coloured panels on the monitor's housing, for example. Such designs may not align with the office decor and might create an air of unprofessionalism throughout the building. For most, a reasonably priced and well-researched office monitor will be the ideal choice.
Does my business monitor's refresh rate matter?
A screen's refresh rate – measured in Hertz – essentially governs how many times per second the picture updates. This translates to smoother movement of on-screen objects. It's mostly used for gaming, where higher refresh rates mean greater frames per second, which gives more pleasant experiences as well as a potential competitive edge in games requiring fast reactions.
A high refresh rate monitor can give a smoother experience for general computing tasks too, but the effects are nowhere near as noticeable in day-to-day tasks. In fact, few office monitors offer super-high refresh rates, as there's just not that much demand for them. 60Hz has become the de facto standard for modern monitors, and while you should try and avoid anything below that, there's no real point to seeking out anything much higher unless your specific use case relies on it.
If you do decide to prioritise refresh rate, it's important to understand the differences between HDMI, DVI, and DisplayPort cables, as some ports and cables will be unsuitable.
Should I buy a business monitor with speakers?
Many monitors come with a set of integrated speakers, meaning that if you connect a device which doesn't have built-in sound outputs, you won't be reliant on headphones. However, while they're usually good enough to handle video calls and the like, most examples you'll find tend to be rather tinny, lacking in depth and clarity.
In some rare cases, a monitor's inbuilt speakers will be relatively good - but it's not worth expending much energy on tracking them down. Although it's useful to have them as a fallback when all else fails, a minimal investment in external speakers (even a cheap Bluetooth speaker) will produce infinitely better results.
What is the best size monitor for business?
As is the case in the consumer market, you will find that the most common size for business monitors is 24in or 27in, and for good reason. This range marks the sweet spot for pixels per inch, sizes that most users find comfortable to use at a desk while still offering excellent picture quality.
Anything larger than 27in starts to become unwieldy and difficult to accommodate on a standard desk, not to mention the added cost. If you go too far below 24in, you'll find the monitors become too small to function as a main display, or as a second display when connected to a laptop.
If you're struggling to decide between the two, a good rule to follow is supplying 24in for the majority of use cases, keeping the 27in for those in the creative sides of your business – the larger screens being a boon for anyone using suites like Adobe Creative Cloud.
Are curved monitors good for business use?
Perhaps an exception to the 24in/27in rule above is the curved monitor – such models tend to come in larger sizes to accommodate the curve.
Generally speaking, the only tangible benefit that curved monitors offer is a wider aspect ratio. This means you can fit more windows side by side on your screen, which curve around your field of view – which can be quite considerable if you're using upwards of 40in displays.
Another benefit is that home office users are likely to find curved monitors more accommodating than flat panels. This is especially true if you want a monitor positioned in the corner of a room, where a curved screen will feel right at home.
The best business monitors
Dell UltraSharp 25 USB-C
Swipe to scroll horizontally
| Pros | Cons |
| --- | --- |
| 1440p resolution | USB ports require Type-C connection |
| High colour accuracy | Fiddly OSD |
| Smart appearance | Row 2 - Cell 1 |
If you're looking for a high-performance office monitor, we think Dell's UltraSharp 25 is a compelling choice. As the name implies, it's slightly larger across the diagonal than the standard 24in size seen on most displays, and this combined with the slim bezels and high resolution makes it well-suited for multi-screen deployments. For the price, we feel you'll struggle to find a more colour-accurate monitor; in our tests, it reproduced 95% of the sRGB gamut and 89% of the DCI-P3 gamut, and we also appreciated the 366cd/m2 maximum brightness and the DisplayHDR 400 certification.
In typical Dell fashion, we found the design clean and solid - with support for portrait mode and 90 degrees of swivel - making it one of the best office monitors around for flexibility. Its docking capabilities are also very office-friendly, but we ran into a slight snag here; we had to connect to the monitor via USB-C rather than via the HDMI or DisplayPort option to use them, as there's no USB-B port. The button-based OSD is also somewhat fiddly and unintuitive - but these small niggles aside, the UltraSharp 25 is an excellent choice for businesses that want a high-end all-around productivity monitor.
Swipe to scroll horizontally
| | |
| --- | --- |
| Size | 25in |
| Resolution | 2,560 x 1,440 |
| Brightness | 366cd/m2 |
| Video Inputs | DisplayPort 1.4, HDMI, USB-C |
Price when reviewed: £288 exc VAT
Read our full Dell UltraSharp 25 USB-C review for more information.
Swipe to scroll horizontally
| | |
| --- | --- |
| Pros | Cons |
| Good colour accuracy | No speakers |
| USB-C connectivity | OSD buttons wobble screen |
| Highly adjustable | Row 3 - Cell 1 |
Office-appropriate doesn't necessarily have to mean boring, as the Dell UltraSharp U2720Q amply demonstrates. Intended as a general-purpose workhorse of a business monitor rather than a professional-grade screen for graphic designers, in our experience this 27in Dell nevertheless has strong credentials. In our tests, it hit 92.8% coverage of the sRGB colour gamut and 86.7% DCI-P3 gamut coverage, and features a range of colour temperature presets.
As with the UltraSharp 25 above, we found the stand to be nicely adjustable, but it also reproduced some of the same annoyances, including the somewhat fiddly OSD buttons and the reliance on using one of the two USB-C ports to access its three Type-A inputs. It also lacks speakers, although we found this significantly easier to overlook - especially if you're going to be using it in a shared office environment. If you want a straightforward and sober desktop screen that nonetheless doesn't skimp on quality, this is the best office monitor for you.
Philips Moda 27 (4K)
Swipe to scroll horizontally
| | |
| --- | --- |
| Pros | Cons |
| Outstanding colour accuracy | Not a budget buy |
| Clean design | Row 2 - Cell 1 |
| Slick OSD | Row 3 - Cell 1 |
Value for money is often a key consideration when shopping for monitors, but sometimes it's worth splashing out, and the Philips Moda 27 is a case in point. While it's certainly possible to pick up a comparably capable 4K monitor for significantly cheaper, this 27in unit has a lot going for it, including an incredibly slick design, a range of inputs (including four USB ports and a type-C port) and a polished, feature-rich OSD.
You're also getting an extremely high-quality panel, as evidenced by its performance in our tests. We measured a 93.6% coverage of the sRGB gamut, with an average Delta E of 0.54 and a maximum of 1.03. That was in the dedicated sRGB mode, which locks the brightness at a maximum of 279cd/m2, but we were able to reach 382cd/m2 using other presets. Colour accuracy is spot-on too.
Swipe to scroll horizontally
| | |
| --- | --- |
| Size | 27in |
| Resolution | 3,840 x 2,160 |
| Brightness | 382cd/m2 |
| Video Inputs | 1x DisplayPort 1.4, 2x HDMI 2.0, 1x USB-C (65W) |
Price when reviewed: £385 exc VAT
Read our full Philips Moda 27 (4K) review for more information.
Philips Brilliance 346P1C
Swipe to scroll horizontally
| | |
| --- | --- |
| Pros | Cons |
| Bright and accurate display | Default colour temperature is somewhat cool |
| Feature-rich | Row 2 - Cell 1 |
| Curved screen | Row 3 - Cell 1 |
Although curved screens aren't to everyone's tastes, we think the Philips Brilliance 346P1C may end up converting some people, thanks to its sleek design and outstanding technical capabilities. It's not often that VA panels can reproduce truly stunning colours, and whites in particular - that accolade is usually reserved for IPS panels - but the 346P1C absolutely delivered in our tests, with an average Delta-E of 0.92, 92% sRGB colour gamut coverage, and an astonishing maximum brightness of 463cd/m2.
Our main complaint is that the default 7108K colour temperature is a little on the cool side, but the sharp and speedy OSD allowed us to easily adjust it. Elsewhere, there a plenty of features, including automatic brightness adjustment based on ambient light, an integrated webcam with Windows Hello biometric logic capabilities, and support for multiple PCs at once via a picture-by-picture mode and integrated KVM switch. This allows you to make full use of the wide array of ports, including a 90W USB-C connection, Ethernet and four USB 3 ports.
Swipe to scroll horizontally
| | |
| --- | --- |
| Size | 34in |
| Resolution | 3,440 x 1,440 |
| Brightness | 463cd/m2 |
| Video Inputs | 1x DisplayPort 1.4, 1x HDMI 2.0, 1x USB-C (90W) |
Price when reviewed: £416 exc VAT
Read our full Philips Brilliance 346P1C review for more information.
Samsung Odyssey Neo G8
Swipe to scroll horizontally
| | |
| --- | --- |
| Pros | Cons |
| Incredible contrast performance | Expensive |
| Great SDR and HDR colours | Row 2 - Cell 1 |
| Plenty of adjustment options | Row 3 - Cell 1 |
When it comes to finding the right monitor for work, it may be worthwhile looking at displays marketed for gaming. Take the Samsung Odyssey Neo G8, for instance, a curved 4K display with 120Hz refresh rate that has all the visual quality to enhance your playtime. Many of its capabilities neatly transfer to business use cases.
If we start the display itself, the reasoning behind it being curved is to do with eye comfort as the shape of the screen is meant to match the shape of the eye so that it offers better viewing angles – so no straining to look at that app in the bottom corner, for example. And, with 32-inches of screen space, the is a lot of room for applications and windows that can be placed in areas you would otherwise need to move your head to see.
When it comes to image quality, the Neo can handle most work-related tasks, even mainstream creative and design work, though it is not colour-accurate enough for top-tier photography and graphic-based jobs. With our calibrator, the Neo produced 99.5% of the sRGB gamut colour spectrum, but just 80.7% for Adobe RGB coverage. Those that want more high-end colour accuracy should probably look at a panel like the Dell UltraSharp 25 USB-C or the Philips Moda 27 – both of which are almost half the price of the Samsung Neo G8.
Swipe to scroll horizontally
| | |
| --- | --- |
| Size | 32in |
| Resolution | 3,840 x 2,160 |
| Brightness | 192cd/m2 |
| Video Inputs | 2 x HDMI 2.1, 1 x DisplayPort 1.4 |
Price when reviewed: £1,083 exc VAT
Read our full Samsung Neo G8 review for more information
How we test business monitors
Picking the perfect monitor relies on a number of factors, not least of which is its technical proficiency. In order to accurately measure the quality of a display, every one we review is subject to a number of tests to measure its quality, using a colourimeter and the open-source DisplayCal measurement software.
First, we test the maximum brightness of the panel, as well as the uniformity of the brightness across a number of zones on the screen to check for deviation. We also measure colour reproduction across a number of colour gamuts - primarily the sRGB gamut for which most digital content is calibrated, but also the DCI-P3 and Adobe RGB gamuts where applicable. This is represented as a percentage, demonstrating how much of the given colour space is covered.
We then measure the accuracy of those colours, in the form of the average Delta-E. This indicates how close the actual colour displayed is to the intended target; the higher this figure is, the greater the deviation. Anything lower than one is considered perfect, and more than two means that the panel isn't really accurate enough for colour-sensitive work. In addition, we'll also track how close the panel gets to the ideal colour temperature of 6500K.
Get the ITPro. daily newsletter
Receive our latest news, industry updates, featured resources and more. Sign up today to receive our FREE report on AI cyber crime & security - newly updated for 2023.
Adam Shepherd has been a technology journalist since 2015, covering everything from cloud storage and security, to smartphones and servers. Over the course of his career, he's seen the spread of 5G, the growing ubiquity of wireless devices, and the start of the connected revolution. He's also been to more trade shows and technology conferences than he cares to count.
Adam is an avid follower of the latest hardware innovations, and he is never happier than when tinkering with complex network configurations, or exploring a new Linux distro. He was also previously a co-host on the ITPro Podcast, where he was often found ranting about his love of strange gadgets, his disdain for Windows Mobile, and everything in between.
You can find Adam tweeting about enterprise technology (or more often bad jokes) @AdamShepherUK.