Advertisement Feature
Why refreshing employee laptops is essential
It's possible to create a happy medium where the needs of employees and the business converge, but you don't need to do it alone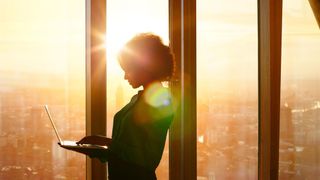 The humble laptop has been the backbone of business for many years, but the pandemic has turned this workplace workhorse into an integral part of an employee's relationship with their employer. This also means that how successful an employee is in their role can often depend on the technology they have access to.
In the old world of on-site technical support, it was possible to keep employees somewhat productive on aging technology. But with the mass shift to hybrid working, this is no longer sustainable. The pandemic clearly caught many businesses off-guard in this respect, with IT departments being forced to hastily equip a dispersed workforce with a whole variety of PCs.
According to research by Forrester in association with Intel, 77% of employees say that PCs are critical to their engagement and productivity at work, but as much as 50% consider their work devices to be out of date or insufficient for their needs. At a time when nearly 40% of companies anticipate the majority of their staff being hybrid at some stage in the future, this is a problem. There's a real danger that many department heads and decision makers may have blinded themselves to the benefits that generous hybrid working policies create, ignoring any resentment and frustration among employees at having to do battle with the very tools designed to help them.
Meeting employee needs
It's no secret that happy workers are productive workers, and there's nothing worse for sapping enthusiasm than forcing employees to deal with faulty machines.
Data has shown that being able to get on with work that an employee knows matters to the business is one of the biggest drivers of engagement. Likewise, there's a unique sense of frustration that's created when technology gets in the way of this work, whether that's small inconveniences or a complete hardware failure. These instances then stack up, creating a cycle of disengagement.
One source of frustration is the clear disconnect that exists between IT decision makers (ITDMs) and employees, according to a Forrester report sponsored by Intel. The strategies of ITDMs tend to focus on longevity and making the most of investments, at the expense of employee engagement. For example, the analyst house found that many ITDMs still regard the integration of devices and software as the most important factor in employee engagement, while employees report being happiest when they can easily access information critical to their role and have a device that works consistently.
This disconnect, whether the result of poor communication, lack of resources or poor business agility, has the potential to undermine your workforce and create burnout. This is especially concerning given that only 33% of employees in Forrester's report were extremely satisfied with the device given to them by their employer, and that only 30% felt its capabilities worked well with other teams.
Some companies have already started to address this disconnect, and have worked to create new strategies that result in higher spending on equipment – essentially viewing higher technology costs as an investment into their employee experience. According to an Intel-sponsored Forrester report, IT leaders have reported a five-fold return on these investments within the last few years, with every $1 spent translating to $5 in increased productivity, in addition to greater business agility and, in turn, customer satisfaction. Overall, a 5% increase in employee engagement is said to lead to a 3% increase in bottom-line revenue, according to Forrester.
This is what happens when ITDMs get it right and that's where laptops on Intel vPro®, An Intel® Evo™ Design come into play. These laptops simplify the process of equipping a workforce with solutions that meet the needs of every stakeholder. Intel has worked with manufacturers to create business-class, ultraportable laptops that are light, thin and optimized for today's hybrid office.
Employees need to feel like they truly matter in an organization, and this can be reflected in the PC technology they are given. This isn't to say that you necessarily need to supply your employees with the shiniest devices on the market – but they do need to be tailored to their roles. It's critical to listen to your employees when it comes to acquiring new technology, as it's easy to overspend and underdeliver.
As a baseline, the workforce should have access to modern, ultra-lightweight laptops. Employees need to be able to feel that their device is a work companion, and have the confidence that they can take it wherever they need to be – whether that's changing floors in an office building, catching a train or working from a cafe. Every Intel vPro, An Intel Evo Design-based laptop is built for this reality, and is packed with features to support the way your team really works, such as having multiple applications open at once, heavy media use or constant toggling. With lightning-fast responsiveness, smooth multitasking, seamless use of multiple popular enterprise applications and the ability for IT to offer remote support from anywhere, these laptops have all the features your team needs to be productive wherever they are.
When it comes to functionality, employees should be given a much greater say in the decision process. For example, 2:1 convertible laptops that can seamlessly go from laptop to tablet offer unparalleled flexibility, and are ideally suited to frontline workers. Laptops on Intel vPro, An Intel Evo Design include a wide range of devices and accessories for employees to choose from, safe in the knowledge that they all meet the needs of the business.
A question of security
Perhaps one of the most important things to get right in any business is cyber security. A data breach or ransomware attack can effectively destroy a business overnight; even if it were to recover from the initial attack, the lasting reputational damage can be difficult to overcome.
Keeping your team's laptops up to date is one of the most effective ways to protect your business. Not only do modern machines tend to come with better built-in security and are less vulnerable to historic hardware vulnerabilities, they also help limit the burden placed on employees to stay vigilant at all times.
In terms of the hardware itself, vendors are becoming better at baking in security measures that address the most challenging cyber security threats facing businesses today. Laptops on Intel vPro, An Intel Evo Design, for example, include application and data protection, advanced threat detection and protection against ransomware and crypto mining.
These defensive capabilities built into laptops significantly reduce the need for additional layers of security at the software level. The proliferation of cyber security software – such as two factor authentication or timed access to systems – may put IT departments at ease, but they can be a source of frustration for employees.
Research from the Harvard Business Review found that, over a 10 day study, 67% of employees violated one or more cyber security policies, but the reasons for doing so were all related to frustration over software getting in the way of them doing their jobs. Specifically, some claimed that they were more likely to violate the rules if they were worried following them would negatively affect productivity, while others said they would do so if the policies forced them to change how they worked.
Simply put, by rolling out Intel vPro, An Intel Evo Design-based laptops across your team, you're doing your part in providing the fundamental security that your business needs, without infringing on the everyday experience of your team members.
In a world of hybrid working, hardware has become one of the most important factors for establishing and maintaining a happy workforce. Achieving that medium where the needs of employees and business converge can be challenging, but it's fundamental for any businesses hoping to stay competitive in the modern world.
Learn more about Intel vPro, An Intel Evo Design and how it can benefit your team
Intel technologies may require enabled hardware, software or service activation. No product or component can be absolutely secure. Your costs and results may vary.
@Intel Corp. Intel, the Intel logo, Intel vPro® and other Intel marks are trademarks of Intel Corporation or its subsidiaries. Other names and brands may be claimed as the property of others.
Get the ITPro. daily newsletter
Receive our latest news, industry updates, featured resources and more. Sign up today to receive our FREE report on AI cyber crime & security - newly updated for 2023.
ITPro is a global business technology website providing the latest news, analysis, and business insight for IT decision-makers. Whether it's cyber security, cloud computing, IT infrastructure, or business strategy, we aim to equip leaders with the data they need to make informed IT investments.
For regular updates delivered to your inbox and social feeds, be sure to sign up to our daily newsletter and follow on us LinkedIn and Twitter.