Apple's iPhone 12 might suffer from 5G coverage issues in the UK
A reported lack of 700Mhz support could hand Three a major advantage over rival operators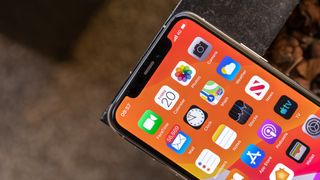 Apple's iPhone 12 could suffer from 5G coverage issues in the UK due to a lack of support for the 700MHz band.
That's according to "industry insiders" that claim the iPhone 12 models might not support the 700MHz band that the UK will rely on as it expands its 5G connectivity, as reported by The Telegraph.
According to early reports, all iPhone 12 models will have support for sub-6GHz, while the top-end iPhone 12 Pro Max will also support both 6GHz and mmWave 5G bands – however neither will support 'low band' frequencies, including 700MHz, insiders suggest.
This low-spectrum penetrates through walls and buildings, and will be used by operators to to extend the coverage to more distant parts, further away from the masts, which means those outside of major cities could be the worst affected by the ommission.
Simon Rockman, a 5G analyst quoted by The Telegraph, estimates that the rollout of 700MHz 5G band in the UK, which is due to be auctioned by Ofcom early next year, will be "quite quick" and could be a missed opportunity for Apple if it releases the iPhone 12 series without 700MHz support.
The report notes that if the iPhone 12 doesn't support the 700Mhz 5G band, network operator Three could be afforded a major advantage as it acquired large amounts of the 5G spectrum, so it would be better able to handle a lack of 700MHz support by using a range of other bands.
This would be reminiscent of the launch of the iPhone 5 in 2012, when EE was the only UK operator with enough coverage to offer the handset with 4G.
Apple is due to announce the iPhone 12 lineup in just two day's time on 13 October. Along with 5G, rumours claim the new handsets will feature an all-new design reminiscent of the iPhone 4, OLED screens, an A14X Bionic processor, and a new LiDAR camera sensor for improved depth-sensing.
A daily dose of IT news, reviews, features and insights, straight to your inbox!
Carly Page is a freelance technology journalist, editor and copywriter specialising in cyber security, B2B, and consumer technology. She has more than a decade of experience in the industry and has written for a range of publications including Forbes, IT Pro, the Metro, TechRadar, TechCrunch, TES, and WIRED, as well as offering copywriting and consultancy services.
Prior to entering the weird and wonderful world of freelance journalism, Carly served as editor of tech tabloid The INQUIRER from 2012 and 2019. She is also a graduate of the University of Lincoln, where she earned a degree in journalism.
You can check out Carly's ramblings (and her dog) on Twitter, or email her at hello@carlypagewrites.co.uk.
A daily dose of IT news, reviews, features and insights, straight to your inbox!
Thank you for signing up to ITPro. You will receive a verification email shortly.
There was a problem. Please refresh the page and try again.