How to pick the perfect tablet
We explain the key features to look for, and the decisions you'll need to consider when choosing your next tablet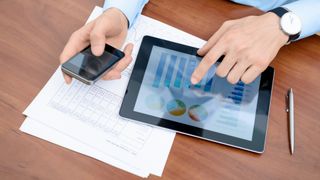 (Image credit: Shutterstock)
Sitting between the notebook and smartphone is the tablet, a trusty device that's as versatile as it can be stylish. Manufacturers, during the pandemic, benefitted from a surge in popularity for these devices, with tablet shipments rising from 40.5 million units in the second quarter of 2021 to 42.3 million in the third quarter, according to Statista.
Ever since a slump in early 2020, an astonishing rise in popularity is being attributed to the mass shift to remote working, in part. Home-workers are particularly attracted to the versatility of tablets, as well as the portability. Choosing the right tablet, however, can be a challenge and there are so many factors you need to consider when picking the best device for you and your needs.
How to pick the perfect tablet: Which platform?
The first question is whether you want an iPad, or something else. The iPad is a natural choice if you already have other Apple hardware; most iOS apps can be shared across an iPhone and an iPad, and when the tablet's connected to your phone it can even receive calls and send text messages. For Mac users, the iPad can serve as a second display, or work with a stylus to draw in Mac apps.
Even if you're not an Apple fan, there are good reasons to pick the iPad. It has the widest range of software and accessories, and it comes with two superb creative apps that Android can't match, namely GarageBand and iMovie. It also has a more mature multitasking system, so it may be better suited as a laptop replacement.
Android, though, has benefits of its own. There's a far wider range of tablets to choose from, starting at much lower prices – and Android tablets often have slots for microSD cards, so you can cheaply expand your storage. This isn't the case with an iPad.
While iPadOS wins out for high-end apps, the Google Play store still offers half a million games and can handle more or less any productivity task. You can write documents, consult spreadsheets, mark up PDFs, edit photos and videos, sync files to the cloud, fire off emails and join Zoom meetings – everything most people will need is here.
Remember, though, that not all Android-based tablets will give you the same software experience. Most manufacturers like to tailor the interface to give it their own flavour, while Amazon goes so far as to use a customised fork of Android for its Fire tablets. If you need a specific app or feature, check before you invest.
How to pick the perfect tablet: Displaying around
Tablet screens can range from from 7in, to a huge 13in, and obviously this has an impact on the size and weight of the device. Just as important, though, is image quality.
Thankfully, the days of dim, blocky screens are mostly behind us. A high resolution, too, ensures that text is clean and sharp, while if you want images to look colourful and lifelike then it's worth checking sRGB coverage and Delta E measurements. The former quantifies a tablet's ability to reproduce the full range of colours used online, while the latter measures tonal accuracy; an average of less than 1 means any deviations are too small to be perceived with the human eye.
Also relevant is a tablet's coverage of the DCI-P3 colour space, which includes a richer, wider range of colours than sRGB. You don't need this for everyday tasks, but it's used in digital cinema, so it can lend some extra depth to online media – and it's a plus point if you want to use a tablet for your own photo or video editing.
How to pick the perfect tablet: How fast?
If your priority is performance, then Apple is the way to go. Even the cheapest iPad beats any Android tablet for CPU-based computations, and gaming performance is just as impressive.
RELATED RESOURCE
Minimising downtime risk with resilient edge computing
Add value with on-premise edge computing
Not all tablet applications need this sort of power, though. If you're into photo and video processing then it can make sense to opt for a high-end chip, but browsing the web, watching videos and communicating with colleagues are relatively lightweight tasks. Most 3D titles let you dial down the detail settings so they'll play smoothly on any almost current hardware.
Don't go too low, though. The slowest processors can make Android feel annoyingly sluggish, and things get worse if the system's starved of RAM. We'd say 2GB is a viable minimum, while 4GB gives you a comfortable degree of headroom for multitasking.
How to pick the perfect tablet: Battery matters
A longer-lasting battery is always a good thing, but longevity isn't the whole story. Most devices with USB-C connectors support fast charging, which lets you fully recharge a depleted battery in a matter of hours – or grab a quick top-up in a few minutes before you head out the door. You may, however, need to replace the bundled charger with a high-wattage model to get the fastest recharge times.
Some tablets also support wireless charging. This can be more convenient than fiddling about with cables, but you'll need to buy a separate charging pad as it's never included. And bear in mind that a big-screen tablet won't sit nicely on a phone-sized charging pad.
How to pick the perfect tablet: Skype calls and snapshots
A tablet makes a wonderfully convenient platform for video calls, and, with front-facing cameras and integrated microphones, are primed to fire up Zoom, Teams or whatever app you prefer and instantly join and host calls.
Picture quality varies from one model to the next, however. Manufacturers often fit their tablets with fairly mediocre cameras, compared to the hardware found in high-end smartphones. The megapixel ratings provide a clue to the camera quality but if you want to be sure you'll look natural and detailed on calls – or if you hope to capture good-looking landscapes and portraits – we suggest you try out the camera before investing.
How to pick the perfect tablet: Sockets and sensors
While we're on the subject of video calls, headset users should note that traditional 3.5mm audio sockets are harder to find these days. It's a frustrating trend. We can see that omitting the headphone jack might make a phone slightly lighter and more compact, but that doesn't wash for a tablet. With these devices, you'll have to use Bluetooth, or an adapter that plugs into the charging port.
The charging port itself could be a minor point of contention too. Almost all tablets now use a standard USB-C socket, but Amazon's Fire 7 tablet sports an old-school microUSB port, while the base iPad still uses Apple's own Lightning connector.
As for wireless, you'll note that not all tablets have yet moved up to Wi-Fi 6 technology. This isn't a disaster, but Wi-Fi 5 tends to be slower. For mobile internet access you can choose an LTE model that connects to the 4G or 5G mobile network, but your tablet will need its own SIM and data plan. It might well be more cost-efficient to simply tether it to your phone.
A final feature to look for is a fingerprint reader, which lets you unlock the tablet and confirm your identity without having to enter a PIN or pattern. Several Android tablets also feature Face Unlock, so you can get into your tablet simply by smiling at it; you won't find this on an iPad, outside of the super-expensive iPad Pro models.
How to pick the perfect tablet: Accessories
You can use your tablet perfectly happily on its own, but a few accessories can sweeten the experience. The obvious one is a folding case, which not only protects the screen in transit but can prop up the tablet upright on a flat surface – useful for video calls, and for watching videos.
Many tablets support an optional stylus. You can use this as a more precise alternative to prodding buttons with your finger, or employ it more productively to jot plans or make notes on virtual documents. You can even handwrite instead of typing on the virtual keyboard: both Android and iPadOS and Android have remarkably good handwriting recognition.
The most transformative accessory is a keyboard, which turns your tablet into a mini-laptop. Some models have official snap-on keyboards; otherwise, you can always buy a standalone Bluetooth keyboard and pair it with your tablet. If the keyboard has a trackpad, you can choose to open and use apps with a traditional mouse pointer, rather than prodding the screen. Keyboard pricing can vary considerably, though: Lenovo includes one in the price of its £480 Tab P11 Pro, while Apple's Magic Keyboard costs £279 on its own.
How to pick the perfect tablet: Updates and support
Apple has an excellent track record when it comes to long-term software support, typically providing OS updates for many years after you've bought your tablet. For example, the latest iPadOS 15 release works on iPads dating back to 2017, and on iPad Air models going all the way back to 2014 – so while the company doesn't make any promises about future upgrades, you can expect to keep up with the curve for at least a few years.
On the Android side, Google releases a new edition of Android roughly every twelve months, but whether you'll get it depends on the manufacturer's own update policy. The Lenovo Yoga Tab 13, for example, is sold with the promise of an update to Android 12 when it becomes available, while Nokia states merely that its T20 will receive updates for a period of two years after launch. You can normally expect one or two OS upgrades during the life of a product – and most manufacturers will continue to offer security updates even after they've stopped rolling out major platform updates.
Since Amazon's Fire OS is officially a separate platform to Android, it follows its own upgrade cycle, which happens to be rather slower. The current Fire OS 7 dates back to 2019, and is still underpinned by Android 9 – although it's so heavily customised by Amazon that you'd never know.
Get the ITPro. daily newsletter
Receive our latest news, industry updates, featured resources and more. Sign up today to receive our FREE report on AI cyber crime & security - newly updated for 2023.
Darien began his IT career in the 1990s as a systems engineer, later becoming an IT project manager. His formative experiences included upgrading a major multinational from token-ring networking to Ethernet, and migrating a travelling sales force from Windows 3.1 to Windows 95.
He subsequently spent some years acting as a one-man IT department for a small publishing company, before moving into journalism himself. He is now a regular contributor to IT Pro, specialising in networking and security, and serves as associate editor of PC Pro magazine with particular responsibility for business reviews and features.
You can email Darien at darien@pcpro.co.uk, or follow him on Twitter at @dariengs.