Multi-cloud vs hybrid cloud – what's the difference?
With no shortage of cloud providers, we take a look at two of the most popular options for businesses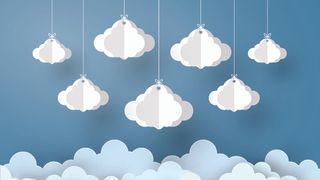 (Image credit: Shutterstock)
Digital transformation efforts are underway across almost every industry, with the demands placed on businesses by the COVID-19 pandemic fuelling these projects. The accelerating pace of change has come in parallel with a shift to remote and hybrid working, and greater availability of devices and technologies, meaning cloud computing is playing a more pivotal role in business than ever before.
The cloud has been essential to helping big businesses as well as small companies keep their IT infrastructure up-to-date, bolster security, and devise new ways to engage their customers.
Some of the biggest tech companies have been central to these efforts, including Google, Microsoft and AWS - with Oracle, IBM and VMware also providing cloud services. It's a wide field, with various competing forces vying for new business. As such, these entities themselves are also undergoing digital transformation efforts and reorganisations in order to stay relevant.
This is great for businesses, given the variety of options from which they can choose, with customers generally given more flexibility to fine-tune their IT estates in the ways which suit them best. In this respect, hybrid cloud and multi-cloud setups have become more and more popular since they allow businesses to deploy their apps and services as they see fit. The difference between these two regimes, however, is the involvement of private and public cloud services. We refer to private cloud as in-house and on-premise infrastructure, or managed services, while public cloud is offered by providers such as AWS and Azure.
Hybrid cloud
RELATED RESOURCE
The care and feeding of cloud
How to support cloud infrastructure post-migration
This is a combination of public and private clouds, with services and applications divided across the breadth of the infrastructure. Businesses can make use of hybrid cloud if they would prefer to host certain functions on a private network, while others might be more appropriate for a public cloud environment. Payroll software, for example, could be hosted on the public cloud, while sensitive data is perhaps best suited to a private cloud environment. These sorts of arrangements offer flexibility and another layer of security, as well as better latency sometimes, with private clouds tending to offer smoother connections.
Spinning up some cloud instances for a time-limited project and turning them off when no longer required may be relatively inexpensive compared with provisioning extra capacity in an on-premise data centre. Long-term storage, however, can often be cheaper in a private cloud than in a public cloud, so businesses will need to dip into both depending on the circumstances. Local laws may also restrict what kinds of information might be stored in a third-party service, too, meaning organistions often appreciate the flexibility that hybrid cloud configurations offer.
Hybrid cloud used to be quite a niche model, with some industry watchers claiming it was just a step on the way to the full public cloud. Increasingly, however, it's becoming mainstream: A recent survey from RightScale estimated that the number of enterprises with a hybrid cloud strategy grew to 58% in 2019, up from 51% in 2018.
Pros
The hybrid cloud gives companies the reassurance that sensitive information, such as intellectual property or customer data, can still be stored and maintained within their own data centres. For organisations with lots of "cold" data - information that's accessed infrequently - it may also be cheaper to use a hybrid approach than full public cloud.
Cons
It can be technically more difficult to manage hybrid approaches, as it requires IT teams to allocate a lot of time and effort to planning, configurations, deployment, and maintenance of two different platforms. What's more, there's the tricky task of adapting in-house systems to work alongside third-party ones. Hybrid infrastructure also has its security issues, causing more major incidents than on-premise workloads or cloud-hosted applications. 51.8% of organisations view hybrid cloud storage as less secure, according to a 451 Research report.
Multi-cloud
Multi-cloud is notably different to hybrid cloud, as it typically describes the use of many public cloud environments instead of a mix of private and public. An application in a multi-cloud environment, for example, might run all networking and compute activities in AWS while utilising Microsoft's Azure database services.
This is rapidly on the rise in the business world, despite being a complex way of operating. As much as 85% of organisations are thought to be utilising a multi-cloud business model in some form, with 76% of them choosing multiple hybrid clouds, just to confuse things further, according to an IBM survey.
Pros
Companies can operate and innovate at speed, without being tied to one provider. When tied to one host, you might find that it won't have the best of everything, which could limit your ambitions, although it will be great for some things.
Companies won't necessarily become dependent on one provider's technology, helping to reduce the risk of vendor lock-in.
Cons
The obvious problem with a multi-cloud environment is the 'multi' part, as the more platforms you use the more complicated it gets. This could lead to mismanagement and result in increased costs and disrupt your business, not to mention, the more clouds you use, the more you'll need to secure.
Get the ITPro. daily newsletter
Receive our latest news, industry updates, featured resources and more. Sign up today to receive our FREE report on AI cyber crime & security - newly updated for 2023.
Bobby Hellard is ITPro's Reviews Editor and has worked on CloudPro and ChannelPro since 2018. In his time at ITPro, Bobby has covered stories for all the major technology companies, such as Apple, Microsoft, Amazon and Facebook, and regularly attends industry-leading events such as AWS Re:Invent and Google Cloud Next.
Bobby mainly covers hardware reviews, but you will also recognise him as the face of many of our video reviews of laptops and smartphones.