How do I best support my remote workers?
We speak to the companies that help to make remote working a reality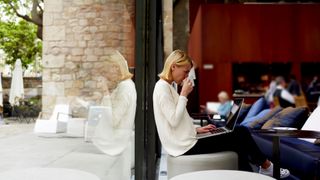 Back in distant 2019, remote working was becoming an increasingly popular choice for businesses. It was a model that could reduce office numbers and expenses, and also allowed employees more flexibility and the opportunity to redress their work-life balance. Then the 2020 COVID-19 pandemic hit, and a nice-to-have option suddenly became a necessity for many companies.
The Office of National Statistics reported that, by April, 46.6% of people in employment engaged in some form of remote working and, of those, 86.0% did so as a result of the COVID-19 pandemic. Many workers and businesses had to make a quick pivot to a working-from-home model in March, and a sizable proportion of office buildings remain largely empty and are likely to do so until 2021.
RELATED RESOURCE
Five lessons learned from the pivot to a distributed workforce
Delivering continuity and scale with a remote work strategy
This has undoubtedly marked a dramatic shift in terms of both business culture and working practices. Workers have had to adjust to these changes, adopting new systems and standards to go about their everyday jobs and communicate with their colleagues in a way that approaches normality, and IT departments have been called upon to enable this. Fortunately, there are a number of useful services, tools and tips available to help you and your employees to create virtual systems for managing workloads.
Conosco is a great example as it's a company that doesn't just support remote workers it lives and breathes the whole concept.
"We had a star employee in our London headquarters who was originally from Zimbabwe," Andres Reeves explained to IT Pro. "He wanted to return to South Africa with his wife so, rather than part company, the founders allowed him to spin off a similar operation there, and it turned out to be a brilliant operating model for the business."
More than half of Conosco's employees work remotely now, but Reeves claims they're fully integrated and supported as part of the business.
"We created OurCafe," Reeves said. "Every Wednesday, in both London and South Africa, we down tools, sit in our respective boardrooms and eat together. The webcams are open, and we've got this great banter and recognition, despite the fact that the teams are thousands of miles away. It's like being in the pub or coffee shop for an hour a week, and if a client comes in we can introduce them to the whole company, even though half of them are half a world away."
The secret of Conosco's success, at least in part, is finding a process that works for the people who work for it. In doing so, it's smashed the industry average for retention. London support firms typically retain staff for a couple of years. At Conosco, the average employee sticks around for eight.
Far from being niche, remote working is becoming the norm for an ever-greater proportion of employees, and even those who don't work away from base now, may want to do so in the future. The question is how you, as a business, support them.
A business in the cloud
A big factor in remote working is cloud computing, which enables an agile approach to work. Supplying your workforce with hardware such as laptops and monitors, maybe even mobile phones, and a suite of online services to work on is all that most businesses need to offer. Both Google and Microsoft have built huge businesses on flexible, cloud-based productivity platforms - most of which are simple to use.
Depending on the size of your business, you may not even need an IT team and could instead outsource that service. Company's like Conosco can manage your cloud servers and staff remotely, keeping your workforce running no matter where they are in the world.
Supporting remote workers, remotely
How do you support workers when you'll never be able to visit their desks? That's where remote support tools come into their own, and NetSupport's managing director, Al Kingsley, told us that NetSupport Manager is evolving to meet the growing demand for off-site working. "A lot of our evolution tends to be in response to our customers' changing needs," he told us.
A cornerstone of many IT departmental workflows for the past 30 years, NetSupport Manager has integrated new ways of connecting, growing from LAN-only to encompass first WAN, then the internet. With every change, it's reconsidered the security implications of pushing updates, viewing screens and controlling client machines over longer distances and across less predictable topologies.
"A couple of releases back, we integrated the PIN-connect server," Kingsley explained. "It's another secure and quick connection option within NetSupport Manager that from a company perspective saves IT teams a lot of time and money by reducing travel time to any of the multiple sites that the company has and its associated expenses. The work can be done remotely and on the go."
Similarly, SBS IT uses ConnectWise to remotely monitor and manage its clients' desktops. Like Conosco, highlights the potential cost savings of contracting out IT support at the same time as adopting remote working.
"We tend to price on a per- computer or per-user basis, with the latter covering the user for up to three devices," Short said. "The latter is a little more expensive because we have to install agents on three machines, but it includes unlimited remote support during business hours, patch management, maintenance windows outside working hours and antivirus. If we need to attend site we make an additional charge at a reduced hourly rate, but most of our work can be done remotely."
It's a similar story at Conosco, which prides itself on adding just two cost lines to clients' accounts, which remain within the client's control. "One is a support cost that scales as the business scales," said Reeves. "The other is a pool of money that we're allowed to draw down from every year from our client's IT budget, which we can allocate to infrastructure projects, high-end security audits and consultancy or anything from our digital transformation capability. If the fund's not enough, clients can dial it up but, equally, they can dial it right down."
RELATED RESOURCE
Seven strategies to securely enable remote workers
Sustain business operations during a crisis by following these strategies
The basics
Turn back the clock and remote working would be impossible for the vast majority of employees, but that's no longer the case. Universal (almost) fast and stable broadband connections have made central office locations less appealing, and agile companies are saving costs while accommodating their staff's changing expectations.
"The landscape has changed enormously over the last five years in terms of both stability and pricing," said Short. "A small business that uses an office suite and email as its main tools can have staff working remotely with far less need for IT support."
Rather than rolling out an Exchange server of their own, he recommends clients pay Microsoft's per-seat fees for mailboxes and storage, and save themselves a lot of cost, alongside the hassle of maintaining their own infrastructure.
Remote working is successful when it's built on trust, said Conosco's Reeves. "I've seen senior managers empower their staff, so that when they're not on site and they're working remotely they're trusted to get on with the job. A key part of building a strong business culture is trusting your employees."
Trust can still be an issue in businesses where presenteeism holds fast, but things are changing. Staff are increasingly tech-literate, and used to the idea of working whenever and wherever they choose. The question, then, may not be how you could ever support a remote workforce, but why you aren't doing it already.
Platforms such as Office 365 and Google's G Suite, along with remote management software and the support of outsourced IT providers, have changed the landscape faster than many boardrooms realise.
Get the ITPro. daily newsletter
Receive our latest news, industry updates, featured resources and more. Sign up today to receive our FREE report on AI cyber crime & security - newly updated for 2023.
Nik Rawlinson is a journalist with over 20 years of experience writing for and editing some of the UK's biggest technology magazines. He spent seven years as editor of MacUser magazine and has written for titles as diverse as Good Housekeeping, Men's Fitness, and PC Pro.
Over the years Nik has written numerous reviews and guides for ITPro, particularly on Linux distros, Windows, and other operating systems. His expertise also includes best practices for cloud apps, communications systems, and migrating between software and services.