CRM: don't just think of it as for the big players
CRM has been a major part of corporate software for some years now but it can offer much to small businesses too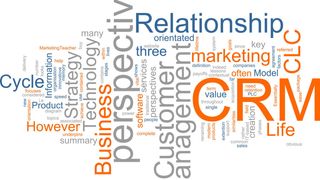 Customer relationship management (CRM) software used to be the preserve of big businesses and those with deep pockets. But cloud, the consumerisation of technology and the ubiquity of Salesforce.com have helped to make CRM accessible and affordable to even the smallest business.
As well as the many cloud CRMs you must pay to use, there are CRMs that are freely available (for individuals and small numbers of users) and most cloud CRMs offer a 'try before you buy' option, which makes it easier to find the CRM that best meets your needs and your budget.
Maximising information In theory, with a CRM to provide access to details on customers and contacts, you can make the most of this information from the moment it becomes data in your systems. But how do you know if your particular small or medium business (SMB) would benefit from using a CRM if it currently uses paper, database software, or spreadsheets? And if you are paying an external specialist to manage your marketing communications with customers and prospects, how do you decide if a CRM would enable you to do it more efficiently and economically yourself?
"If you could say 'Once a company has six and a half people it needs a CRM' it would be great. But the answer depends on each individual company," says David Beard, CRM principal with Sage CRM. The impetus could come from spreadsheets which have become too complex, wanting to get more from the data in your business systems, or many other reasons. Pete Childs, CRM product manager with software solutions provider Pinnacle suggests that the time for a CRM has come if people in your organisation are asking the sort of questions listed at the end of this article.
For members of the London Business School (LBS) Incubator, which houses high-tech alumni who have started their own business, CRM is fundamental to the process. "Sales and marketing is key, so it is essential that they have access to the latest tools and technology," says Jane Khedair, entrepreneurship, career services, at LBS, which has arranged for its incubator businesses to get free use of the Really Simple Systems CRM. "It's great," says Trond Haakenstad, CEO of Boozeye, a nightlife app. "We were up and running with the cloud CRM system after only three days."
Not everybody is as comfortable with technology – even when it comes free, as CRMs such as Insightly and Zoho do. "You can be an expert in your business without being a technology expert," observes Miranda Aldridge, a director with Hook Solutions, a CRM specialist. "Some people need help understanding what a CRM is, others need help understanding its potential," she says, "but when we show tradesmen and other small business people how to get the most from Zoho CRM they are blown away by how much they can do with it."
Features and functionality are important. A free version of a CRM may meet your needs; the paid for, all-singing, all-dancing version may be overkill. Some CRMs can be tricky to implement or too technical for some SMBs. One recent convert from a leading CRM system to something less well-known says: "I couldn't get to grips with the previous CRM. It was too advanced. I like things to be simple." Using free trials will help you to appreciate the differences between CRMs (phrases such as 'mobile access' and 'integrated' can have many meanings); so explore the possibilities.
Taor Morris, at print management company Leopard Print gained her insight into the possibilities of CRM at a networking event. "Somebody showed me how to use Capsule CRM and MailChimp. He didn't work for them, he was just enthusiastic about them," says Morris. Now she is too: "It's easy for me to use them to achieve what Leopard Print wants to do." This includes recording the details of clients, following them on social media, and setting up and sending newsletters and targeted marketing. So rather than an outsourced service that cost £150 a month, Leopard Print now uses Capsule CRM, at £8 per month, and MailChimp, at $30 per month.
For Morris, the integration between MailChimp and Capsule has been vital, but the CRM also integrates with the cloud accounting system Xero – and as small businesses grow so can the benefits of a single version of the customer data in your CRM and your accounting system. "This integration enables the transfer of data to increase efficiency throughout departments," says Childs. "This joined up approach improves customer experience and has a positive effect on customer satisfaction due to issues being resolved in a shorter time."
Embroiderer and printer The Signature Works relies on the integration between its Sage CRM and its Sage accounting system to track every customer interaction. "We can instantly respond to customer requirements and queries and give them the answers they need," says director Malcolm Ditty, and staff taking orders can see customer account problems without using the accounts system – which has helped to support growth. "Over 90 per cent of orders come from repeat customers and referrals and we know that small orders can turn into large orders further down the line, if handled well."
Of course, not all SMBs can benefit from using a CRM, but many can. So if you or any of your employees are asking the following types of questions, perhaps the time has come to consider the possibilities.
1.Why do we hold customer information in so many different locations?
2. Can we centralise the business and get better organised?
3. How can we maintain service quality for our growing customer base?
4. How much we are spending on marketing campaigns and how effective are they?
5. Do we know which stock item causes the most customer service issues?
6. Which is the latest version of the spreadsheet for business opportunities?
7. Can we better manage after sales processes?
8. Why do I need to ring accounts to check if customers have account problems?
9. Why can't I see a complete picture for each customer showing leads, opportunities, customer service issues and outstanding balances on account?
10. Who are our most profitable customers, what are their priorities, and how much does it cost us to sell to them and to keep them?
Stay up to date with the latest news and analysis from the world of cloud computing with our twice-weekly newsletter
Lesley Meall is a freelance journalist and editor. She has been writing about accountancy, business and technology for more years than she cares to remember, and before this, at some point in the dim and distant past, she used to be a software engineer.
Thank you for signing up to Cloud Pro. You will receive a verification email shortly.
There was a problem. Please refresh the page and try again.