Revealed: Nokia's plan to retake the enterprise
Nokia's back from the dead, and it means business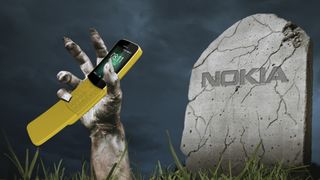 One of tech's biggest and most unexpected success stories of last year was Nokia. Following its acquisition by Microsoft in 2014, the brand went from bad to worse as years of poorly thought-out and underwhelming devices combined with the precipitously declining popularity of the Windows Phone platform to drive the brand into irrelevance and obscurity.
The Nokia branding was dropped by Microsoft shortly after the acquisition and the division was eventually quietly shuttered. To all appearances, this looked like the end for the once-proud mobile brand and many fans quietly mourned its departure. Rumours of its death, however, were greatly exaggerated.
Last year, out of nowhere, the Nokia brand rose from the ashes thanks to HMD Global, a company formed of die-hard Nokia mainstays. In fact, a large chunk of the organisation is made up of original Nokia employees, after HMD Global re-acquired the Nokia brand and assets originally purchased by Microsoft. With this done, the company then set about repairing Nokia's tarnished mobile legacy.
Perhaps even more shocking than Nokia's resurrection as a smartphone brand was the quality of its new output. The company released six phones last year, the highlight of which was the Nokia 8 an unassuming but capable flagship that matched the performance of the Samsung Galaxy S8 whilst maintaining a very affordable price point.
It's now becoming apparent that this was no mere fluke; the company has just released a slew of new devices at this year's Mobile World Congress in Barcelona and they're all really rather good. Along with an updated quasi-successor to the Nokia 8, there's also a relaunch of the classic 'banana phone' and a number of promising mid-range and budget handsets.
The market response to Nokia's revival has been swift and overwhelming. Less than a year after its return to the market, Nokia has risen to become the third most popular smartphone manufacturer in the UK, and the 11th most popular globally. It's clear that the old Nokia brand name still has some power behind it - and HMD is not planning to let it go to waste.
The company has some very ambitious plans, CEO Florian Seiche tells IT Pro, and it aims to achieve them by making a major push into the business market. Nokia was once among the top five smartphone manufacturers in the world, Seiche says, and he's confident that it will be again. Originally, the company's goal for 2018 was to become the number one feature phone manufacturer in the world, but it comfortably hit this target in 2017.
Nokia's new goal for this year is to muscle its way into the upper ranks of larger smartphone markets like India, which it plans to do through aggressive portfolio expansion. Devices at lower price points like the Nokia One and the Nokia 7 Plus are going to be key to achieving this, Seiche says.
One of the reborn Nokia's principles is that its phones are "pure, secure and up-to-date". They run stock Android, without any of the modifications or overlays added by manufacturers like Samsung or Huawei, which means updates are pushed out to devices faster. Nokia phones receive security fixes every thirty days - much more regularly than many manufacturers' devices. HMD also commits to supporting devices with patches and version updates for three years, and through two Android version cycles.
According to the general manager of HMD's enterprise business Andrej Sonkin, while this is popular with consumers because it means they'll always have the most up-to-date (and thus feature-rich) version of Google's operating system, it has been met with just as much, if not more, enthusiasm from businesses.
"We believe that 'pure, secure and up-to-date' is a key differentiator, because one of the key requirements that we've been hearing from enterprises - and especially the IT decision-makers - is that they want to have the thirty-day security patches because that gives them the best protection and best peace of mind for their organisations," he tells IT Pro.
Aside from the regular security patches, Sonkin says that HMD's use of stock Android allows corporate customers to quickly and conveniently validate Nokia devices for use in an enterprise setting. So efficient is this process, he says, that he has concluded deals with enterprise clients in less than two days including the entire validation process.
What's old is new
The business community also has a lot of fond memories of Nokia, Sonkin tells us, and that goodwill has extended to HMD's recent releases. "The Nokia brand, first and foremost, is very well-recognised, known and liked in the enterprise area, because Nokia has a long history there."
However, while the Nokia brand may be decades old, CEO Seiche presses home the point that HMD is still a young company. "We define our own journey very much as a start-up situation," he tells IT Pro. "We cherish the opportunity to have a fresh start."
"We all think we have a lot of experience in this segment of the market, but therefore we would now like to use these learnings to have a fresh approach," Seiche said. "For consumers, we love to see them see a continuation of the Nokia brand ... but from the way we run the business, we very much see it as a complete start-up situation."
This, Seiche says, is why HMD has opted to pursue a partnership-based business strategy, collaborating with companies like Google, Zeiss and others to help create its devices. This allows HMD to move much faster than a one-year-old company would typically be able to, he explains, and enables the rapid portfolio expansion that underpins the company's business strategy for 2018.
Feature phones like the Nokia 3310 and 8810 will also play a key part of this strategy, the HMD CEO told us. While Nokia's re-released classics may be dismissed by some as a throwback to a bygone era, Seiche believes the market for feature phones can thrive in the right circumstances.
"Feature phones have been and also will still be a key part of the business," he explains. "The predictions have been for many years that it's a declining market, but we have shown last year that with product renewal and refreshed investments, we can actually keep the market going."
This extends to business users as well, adds Sonkin, telling us that demand for the reliability, sturdiness and lengthy battery life offered by devices like the 3310 is still alive and well.
As for how HMD is planning to get its devices into the hands of business users, Sonkin says that it is primarily going to be going through the channel. "We're partnering with our sales channel partners and building channel programmes to have the best possible end-customer support through our channel partners," he says.
"We have tremendously positive feedback from the enterprise, but also from our channel partners because right now the market is starting to realise what 'pure, secure and up-to-date' Android devices can do in the enterprise, and they do see that there's a tremendous opportunity for everybody to go after this emerging market."
Tempting though it may be to dismiss Nokia's return as little more than a cheap 90s comeback tour, HMD isn't messing around. The company has its sights set on reclaiming its former throne and based on its performance over the last 12 months, it might just be in with a chance. Long live the king.
Get the ITPro. daily newsletter
Receive our latest news, industry updates, featured resources and more. Sign up today to receive our FREE report on AI cyber crime & security - newly updated for 2023.
Adam Shepherd has been a technology journalist since 2015, covering everything from cloud storage and security, to smartphones and servers. Over the course of his career, he's seen the spread of 5G, the growing ubiquity of wireless devices, and the start of the connected revolution. He's also been to more trade shows and technology conferences than he cares to count.
Adam is an avid follower of the latest hardware innovations, and he is never happier than when tinkering with complex network configurations, or exploring a new Linux distro. He was also previously a co-host on the ITPro Podcast, where he was often found ranting about his love of strange gadgets, his disdain for Windows Mobile, and everything in between.
You can find Adam tweeting about enterprise technology (or more often bad jokes) @AdamShepherUK.