BlackBerry gives Indian government "lawful" access to user data
Smartphone maker agrees to let government track who users are contacting over its networks.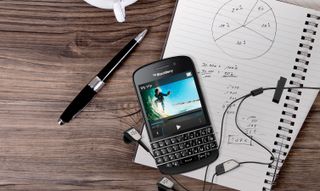 Blackberry has ended its long-running dispute with the Indian government by allowing the country's security services to track and intercept emails and messages sent over the company's networks.
According to a leaked document obtained by the Times Of India, the Indian government's Department of Telecommunications said: "Baring a few minor points for improvement of viewers, the lawful interception system for BlackBerry Services is ready for use."
The leaked document did not provide details of when the government would start intercepting messages.
But security agencies will not be able to access emails sent through Blackberry's corporate email service, but they will be provided with the identities of people using the service.
The document said nine networks in India that run BlackBerry services are in the process of activating the intercept system.
The Canadian firm will also sign an agreement with India to hand over its own Mumbai-based monitoring equipment and train government officials to use it. This facility was set up by the smartphone maker in 2012 to provide security agenices with access to BBM services.
"The lawful access capability now available to Blackberry's carrier partners meets the standard required by the government of India for all consumer messaging services offered in the Indian marketplace," Blackberry said in a statement.
"We also wish to underscore, once again, that this enablement of lawful access does not extend to Blackberry Enterprise Server."
The access to encrypted emails sent through Blackberry Enterprise Servers was one of the Indian government's key demands, however it appears that Blackberry won this point and the government has dropped the request.
Indian authorities threatened to shut down Blackberry's infrastructure in 2011 unless it agreed to comply with demands to intercept messages.
A daily dose of IT news, reviews, features and insights, straight to your inbox!
Rene Millman is a freelance writer and broadcaster who covers cybersecurity, AI, IoT, and the cloud. He also works as a contributing analyst at GigaOm and has previously worked as an analyst for Gartner covering the infrastructure market. He has made numerous television appearances to give his views and expertise on technology trends and companies that affect and shape our lives. You can follow Rene Millman on Twitter.
A daily dose of IT news, reviews, features and insights, straight to your inbox!
Thank you for signing up to ITPro. You will receive a verification email shortly.
There was a problem. Please refresh the page and try again.