Microsoft CEO admits making too many Surface RT tablets
Sequel being prepped and MS is also gunning after quality apps for its Store.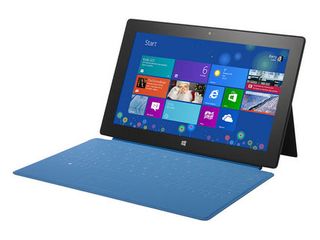 Microsoft CEO Steve Ballmer has admitted the firm committed to manufacturing too many Surface RT tablets, as he tried to explain the firm's recent $900 million write-down.
"We built a few more devices than we could sell," Ballmer is reported to have told employees at the Microsoft campus.
Taking into account the recent 30 per cent price cut per unit ($150) and the size of the write-down ($900 million), a rudimentary calculation suggested that Microsoft has around six million tablets sitting around unsold.
Ballmer also discussed the importance of bringing more popular applications into its Windows Store, with Instagram being named checked. He also confirmed that successors to the Surface range are being tested.
The CEO acknowledged Microsoft was "not selling as many Windows devices as we want to" across the board, despite the firm publically talking up sales of the latest OS.
The software giant post a revenue of $19.9 billion during the second quarter. This was $850 million short of Wall Street's expectations, and Microsoft blamed the increasing shifts from traditional PCs to other form factors such as tablets.
One of the reasons Microsoft may not have sold as many units as it would have liked is because the firm shunned the channel in favour of selling the tablet directly to customers through its website.
This is something Amy Hood, Microsoft's chief financial officer said would be addressed in the coming months.
"We [have] expanded the availability of Surface to our business and institutional...[and] commercial customers are able to purchase Surface devices from authorised resellers in the US," she told analysts during a recent earnings call.
"Over the next few months we will authorise commercial distributors and resellers in more countries [to do the same]."
A daily dose of IT news, reviews, features and insights, straight to your inbox!
Khidr Suleman is the Technical Editor at IT Pro, a role he has fulfilled since March 2012. He is responsible for the reviews section on the site - so get in touch if you have a product you think might be of interest to the business world. He also covers the hardware and operating systems beats. Prior to joining IT Pro, Khidr worked as a reporter at Incisive Media. He studied law at the University of Reading and completed a Postgraduate Diploma in Magazine Journalism and Online Writing at PMA Training.
A daily dose of IT news, reviews, features and insights, straight to your inbox!
Thank you for signing up to ITPro. You will receive a verification email shortly.
There was a problem. Please refresh the page and try again.