O2 reinvents ice-cream van with first ever 4G app-trackable fleet
Small businesses are encouraged to upgrade their systems with cloud-based tech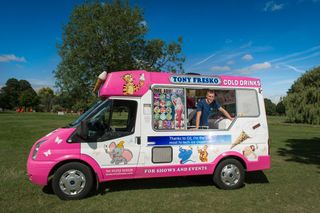 O2 has teamed up with Surrey-based Tony Fresko to launch the UK's first 4G fleet of smart, app-trackable ice-cream vans.
The downloadable app, dubbed Ice Cream Van Tracker, lets customers trace the vans on their smartphones using real-time GPS. If the initial, one-month trial proves successful, the app's availability will be expanded to cover fleets across the country.
"The ice cream van tracker is great for customers as they can now come to me rather than the other way around," said Andy Newland, managing director of Tony Fresko.
In addition to the app, O2 has installed all-new backing technology for the business including company finance and day-to-day operating, Newland added.
"O2 contacted me directly about upgrading our system. I showed them that the business we were operating was a completely paper-based system so they offered the chance to modernise and basically streamline the business," he said.
Each of the fleet's 19 vans have been installed with 4G enabled smartphones, tablets and cloud-based Microsoft Office 365 software.
The technology makeover enables drivers to digitally map routes, manage costs in the cloud and allows the company to plan weddings, ftes and other events outside the office.
This launch is part of an O2 initiative to prove how small businesses can benefit from a technology upgrade.
Paul Lawton, the general manager of SMB at O2 Business, said: "It's great to be able to give such an iconic British business like Tony Fresko a technology makeover so they can work smarter, faster and more efficiently."
"We're encouraging small businesses across the UK fulfil their potential by embracing the latest technology."
According to O2 Business, just over half (51 per cent) of small businesses have not upgraded their existing systems to take advantage of the benefits modern technologies can offer.
A daily dose of IT news, reviews, features and insights, straight to your inbox!
A daily dose of IT news, reviews, features and insights, straight to your inbox!
Thank you for signing up to ITPro. You will receive a verification email shortly.
There was a problem. Please refresh the page and try again.