Amazon Fire smartphone UK release date set for 30 September
Fire smartphone available to pre-order from O2 starting at £33 per month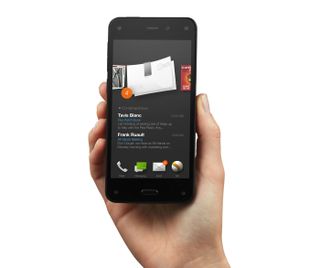 Amazon has teamed up with O2 to bring its Fire smartphone to the UK, three months after it was unveiled in Seattle.
The 32GB smartphone is available to pre-order now, starting at 33 per month (no upfront cost). This includes 2GB of data, unlimited minutes and 12-months of free membership to Amazon Prime (worth 79). The handsets will start shipping from 30 September and is exclusive to O2's website and stores at over 450 locations.
Amazon slashes US price
Amazon has slashed the price of the Fire phone to 99 cents in the US, when users sign up to a two-year contract.
Previously, the firm was charging $199 upfront, but as analysts predicted this was too high for a market entrant.
Three unique features of the device include Dynamic Perspective, MayDay and Firefly. Dynamic Perspective uses four cameras on the front of the handset to track your head position and allow you to initiate one-handed scrolling, navigation and tilting.
MayDay provides free video support and Firefly uses the rear camera to scan items and provide you with more information. For example, it can translate text, recognise numbers, emails, URLs, QR barcodes, 30 million songs and 90,000 products in the UK.
So, for example, if you're in the supermarket and you scan a bar of chocolate it can bring up calorie information. Or if you scan a CD, gig information is available via StubHub.
The Fire handset was announced in June after months of speculation and left industry watchers disappointed. Amazon was expected to disrupt the smartphone market by offering the hardware at cut-price. Instead, the Fire handset had the same price point as the iPhone and Galaxy S devices, leading it to be described as a "$650 shopping basket".
At a pre-brief, Amazon reps told IT Pro that it has taken on board feedback and felt the 33 per month starting price was "competitive". There are no plans to sell the device SIM-free in the UK at present.
It's unknown whether this strategy will help to boost adoption of the Fire. There are no confirmed figures available, but sales are reported to have been low. The Guardian recently extrapolated web browsing data to conclude around 35,000 Fire handsets have been sold to date.
This article was published on the 8/9/14 and updated on the 9/9/14 to reflect new information about US pricing.
A daily dose of IT news, reviews, features and insights, straight to your inbox!
Khidr Suleman is the Technical Editor at IT Pro, a role he has fulfilled since March 2012. He is responsible for the reviews section on the site - so get in touch if you have a product you think might be of interest to the business world. He also covers the hardware and operating systems beats. Prior to joining IT Pro, Khidr worked as a reporter at Incisive Media. He studied law at the University of Reading and completed a Postgraduate Diploma in Magazine Journalism and Online Writing at PMA Training.
A daily dose of IT news, reviews, features and insights, straight to your inbox!
Thank you for signing up to ITPro. You will receive a verification email shortly.
There was a problem. Please refresh the page and try again.