iPad Air 2 vs Nexus 9: Which is better value?
The Android Lollipop tablet looks to outshine its iOS 8 counterpart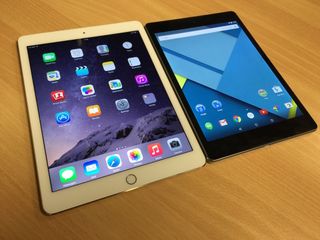 Apple and Google have unleashed their flagship tablets for 2014 - the iPad Air 2 and Nexus 9 - as they continue to battle for supremacy in the saturated market.
Manufactured by HTC, the Nexus 9 marks the debut of Android Lollipop 5.0 and introduces a 8.9in form factor. Meanwhile, the iPad Air 2 focuses on improving the display and now includes the Touch ID fingerprint scanner.
Problems?
Both devices are in their infancy and early adopters have reported issues.
iPad Air 2 - The main complaint seems to be regarding touch sensitivity. Some users are reporting that their device is not registering key presses as it should when typing emails or browsing, for example. It's unclear if this is a software issue or whether it is caused by the new lamination process Apple has used.
Nexus 9 -Reported issues include possible overheating, which is due to the power-hungry Nvidia K1 chip, dropped Wi-Fi connections and buggy software.
Display
We put the devices head-to-head in key areas including display, battery life, performance, ports/connectivity, software, repairability and price to find out which is better value for money.
On paper both devices have the same 2048 x 1356 resolution with a 264ppi pixel density and 4:3 aspect ratio. But there's a noticeable difference when it comes to usage.
The iPad Air 2 has the bigger screen measuring 9.7ins. Apple uses IPS technology with an LED backlight and brightness maxes out at 400 cd/m2 - not the highest we've seen from a tablet but more than adequate. It's also got a few other improvements.
There's now an anti-reflective coating on the display so it's easier to use outdoors and under bright lighting. Apple has also laminated the screen directly onto the glass, increasing the touch responsiveness.
Packing a smaller 8.9in IPS panel made from Gorilla Glass 3, the Nexus 9 is more compact. HTC has built in a nifty double tap to wake feature, which means you don't have to fiddle around with the lock button when you want to start using the device.
One area where the Android device bests the Air 2 is brightness. We measured a maximum of 466 cd/m2 for the Android device. But the Nexus 9 doesn't capitalise on this advantage as it suffers from backlight bleed. This may not bother most users, but to the trained eye seeing light leak out of the corners of the device could be distracting.
Winner: iPad Air 2 - It's not as bright as the Nexus 9, the screen on the iPad is more responsive and doesn't suffer from any backlight issues.
Battery Life
Battery life estimates for the manufacturers are conservative. Apple quotes 10 hours of Wi-Fi browsing or video playback for the iPad Air 2 and HTC estimates 9.5 hours for the same tasks.
In our video loop test with Wi-Fi off and brightness set to 75 per cent, both devices exceeded these estimated figures. However, the iPad Air 2 lasted almost two hours longer than its rival.
The Air 2 also compared favourably to existing tablets, whereas the Nexus 9 struggled to match devices with larger screen.
Design
The Nexus 9 is the narrower device (154mm) and with a weight of 436g, it's a touch lighter than the Air 2 (437g). However, it's noticeably thicker at7.95mm when placed side-by-side with the Air 2.
For a flagship product, we found build quality to be sub-par on the Nexus. Even though it has a soft matte plastic back, which is comfortable to hold, there's a worrying amount of flex in the body.
The front-facing dual speakers are a positive, and help elevate the performance of the Nexus 9 when it comes to playing back music and video at home. But they can't mask the build quality or display issues.
Apple has managed to pack all the components of the Air 2 into a stick-thin 6.1mm all-metallic chassis. Weight is distributed evenly, so even though the iOS tablet is bigger and heavier than its rival, it feels lighter.Touch ID now allows you to unlock the device using a fingerprint and pay for purchases in the iTunes/App Store or via Apple Pay.
Winner: iPad Air 2 - The solid metallic chassis is miles ahead when it comes to looks and build quality. Touch ID also makes it convenient to unlock and pay for purchases.
Hardware and storage
The Nexus 9 is powered by a 64-bit Nvidia Tegra K1 dual-core chip running at 2.3GHz, which is paired with 2GB of RAM. For a flagship Android tablet, it's not the highest specification - you'll find most premium tablets use quad-core chips along with 3GB of RAM.
HTC offers a choice between 16GB or 32GB or internal storage. There's also an 8-megapixel rear camera with support for autofocus and 1080p video recording.
Meanwhile, the iPad Air 2 uses Apple's custom-designed 64-bit A8X chipset to power the unit. This is supported by an M8 co-processor, designed to efficiently monitor data from the accelerometer, compass, gyroscope and barometer.
Despite using a triple core with a clock speed of 1.5GHz, the A8X is paired with 2GB of RAM. This is the first time Apple has used more than 1GB of RAM and so the device should be able to handle software updates up to and including iOS 10 without any problems.
Apple offers 16/64 or 128GB of internal storage - having axed the 32GB model from the lineup. The Air also has an 8-megapixel camera with autofocus, exposure control and panorama.
With neither device having a micro SD card slot, choosing the internal storage at the time of purchase iscritical.
Winner: Draw - With similar specifications it's hard too close to pick an outright winner.We found real-world performance of the devices to be smooth with both handling multimedia, web browsing and gaming comfortably.
Ports/Connectivity
The Android tablet packs a range of connectivity including Bluetooth 4.1, NFC and support for Wi-Fi: IEEE 802.11 ac (2x2 MIMO). A trusty micro USB connector is used to charge the device and connect it to a PC or Mac.
The iPad Air 2 supports Bluetooth 4.0 and dual-channel WiFi 802.11a/b/g/n/ac (HT80 with MIMO). Apple has its own proprietary Lightning connector to charge the device and connect it to PCs and Mac.
Winner: Nexus 9 - It's got more versatility in terms of wireless connectivity and the universal micro USB connection remains convenient.
Software
Nexus branded products always ship with the latest version of stock Android without any bloatware, which makes them popular with developers and power users. In this case, the Nexus 9 is preloaded with Lollipop 5.0, which introduces significant design changes.
Google debuts the Material Design' with Lollipop and everything from the notifications to the keyboard has been redesigned. Android Lollipop is also the most secure version of Android to-date with Samsung's Knox security container built into its core.
There's unfettered access to the Google Play Store, giving you access to books, movies, TV shows and 1.3 million apps.
The iPad Air 2 ships with iOS 8, which marks a change in strategy from Apple. The firm has decided to open up core APIs, which means it's now possible to do things like install third party keyboards.
Improvements have been made to core apps like Mail and Safari, there's more control over privacy settings and you can even start tasks on the iPad and continue them on a Mac or iPhone.
Content is available from the App Store or iTunes Store - and at the last count Apple offers up half a million dedicated iPad apps.
Winner: Draw - Android Lollipop and iOS 8 are excellent operating systems with large ecosystems.
Repairability
Apple's handheld devices are notoriously hard to repair as the firm glues major components like battery and the display into place.
Teardown specialists iFixit gave the Air 2 a repairability score of 2/10 citing the fused glass and large blobs of adhesive as barriers to repair.
The Nexus 9 doesn't fair much better. Despite the ability to access the rear without the need for tools, the HTC-made device has a repairability score of 3/10.This is because the interior is "a maze of tape and thin, delicate cables" and the glass is fused to the display.
Winner - Nexus 9 - Neither device is easy to repair, but the you'll have more chance of repairing the Nexus without professional help.
Value for money?
The Nexus is the cheaper tablet, with the entry level model costing 80 less than the Air 2. If you opt for the 32GB Wi-Fi Nexus, you're essentially getting double the storage of an iPad Air 2 for the same price.
Despite the lower cost, we're not convinced the Nexus 9 is better value. Android Lollipop deserved to debut on better hardware, and we're disappointed by the build quality and display issues.
The Air 2 has the superior display, battery life and storage options and we'd recommend opting for this over the Nexus.
This article was originally published on 13/11/14 and has been updated on the 24/11/14 to include information of problems which have been reported with both devices.
Get the ITPro. daily newsletter
Receive our latest news, industry updates, featured resources and more. Sign up today to receive our FREE report on AI cyber crime & security - newly updated for 2023.
Khidr Suleman is the Technical Editor at IT Pro, a role he has fulfilled since March 2012. He is responsible for the reviews section on the site - so get in touch if you have a product you think might be of interest to the business world. He also covers the hardware and operating systems beats. Prior to joining IT Pro, Khidr worked as a reporter at Incisive Media. He studied law at the University of Reading and completed a Postgraduate Diploma in Magazine Journalism and Online Writing at PMA Training.