iPhone 7 UK release date, specs and price: Apple and (RED) raise over $30 million to fight AIDS
Fundraising efforts help charity hit $500 million goal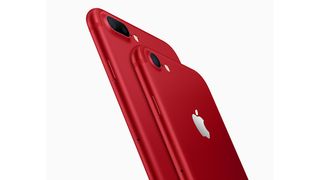 The iPhone 7 and iPhone 7 Plus arrived with much fanfare at the company's annual launch event in September 2016 and came out in the UK almost instantly.
The devices have proven to be quite a hit for the smartphone manufacturer, and helped it reclaim its position as the top smartphone manufacturer in the world.
We round up all the latest news about the iPhone 7 and iPhone 7 Plus so you can keep on top of everything happening in the Apple-verse.
You can find our iPhone 7 review here.
Apple iPhone 7: at a glance
iPhone 7 and 7 Plus UK release date was 16 September 2016
iPhone 7 UK price starts at 549
iPhone 7 Plus UK price starts at 669
Get both models in 32GB or 128GB
Available in a range of colours, including black, grey and red
iPhone 7: latest news
04/12/2017:Apple and (RED) raise over $30 million to fight AIDS
Apple has raised over $30 million this year for the Global Fund, a charity set upby U2 singer Bono and Bobby Shriver in 2006to fight AIDS.
The company made the announcement last Thursday, the day before World AIDS Day, and said over the past 11 years Apple customers have provided an equivalent of 475 million days of life-saving medication.
"Connecting through our products and services helps make it easy for our customers to join us in the effort to create the first AIDS-free generation," said Lisa Jackson, Apple's VP of environment, policy and social initiatives. "By working with (RED) to stop the transmission of HIV from mums to their unborn babies, we're already seeing a significant impact in areas where help is needed most. We're committed to continuing the fight and empowering future generations through these vital efforts."
(RED) has raised over $500 million since the company's inception.
"Apple's commitment to the AIDS fight is unparalleled. It's not just the staggering $160 million raised for the Global Fund that has impacted many millions of lives, it's their ability to bring heat, awareness, energy and eyeballs to keep this issue front and centre," said Deb Dugan, CEO at (RED). "Their unwavering support cannot be underestimated, and we thank every Apple employee for helping (RED) reach the milestone of half a billion dollars delivered to help end this disease."
To call attention to World AIDS Day 2017, more than 400 Apple stores featured a red Apple logo for the week. For every Apple Pay transaction made at a retail location, online or in-app, the company made a $1 donation to the Global Fund.
In March, Apple released a red version of the iPhone 7 and iPhone 7 Plus to raise money for HIV research efforts (see below).
22/03/2017: As predicted, Apple has released a red version of the iPhone 7 and iPhone 7 Plus, to help raise money for HIV research efforts.
Some of the profits from the new iPhone will be donated to the charity (RED), which was founded by U2 frontman Bono and activist Bobby Shriver in 2006, to help fund efforts to combat HIV and deliver an "AIDS free generation". Apple has previously released red products, including a red iPod and red Apple Watch fluoroelastomer strap, also in aid of (RED).
James Moar, an analyst at Juniper Research told the BBCApple is trying desperately hard to be associated with ethical matters for the greater good and launching a (RED) iPhone, with profits going towards the foundation, goes some way to doing this.
"It is a way of them kind of beefing up that side of their business," he said.
All the money (RED) receives is donated to the Global Fund, which provides grants for HIV/AIDS programmes, including education, testing and treatment in areas most affected by the disease.
At the same time as launching the (RED) iPhone 7, the company also announced a new video app that would take cues from Snapchat's instant media sharing app.
"Fun effects including comic book filters, speech bubbles, shapes and full-screen animated posters help bring out the personality in videos made with Clips,"Apple said.
Continue reading to find out the iPhone 7's release date and price
iPhone 7 release date
The iPhone 7 and 7 Plus launched at Apple'sSpecial Event on 7 September, and both went on sale in the UK on 16 September. Pre-orders were available from 9 September.
iPhone 7 UK price
The iPhone 7 costs upwards of 549, and the 7 Plus upwards of 669.
The prices are higher than the iPhone 6s and 6s Plus were when they launched (539 and 619 respectively), but Apple has doubled the phones' storage capacities from 16GB, 64GB, and 128GB to 32GB, 128GB and 256GB. Apple no longer sells the 256GB version so you will have to look elsewhere if you want to purchase it.
However, like-for-like prices jumped: the iPhone 6 128GB model was priced at 699 at launch, and the iPhone 7 128GB model price is the same. But while the 6s Plus launched at 789, the iPhone 7 Plus 128GB model is 30 more expensive, at 819. Apple hasn't given a reason, but it is thought Brexit may have pushed the price up, after the UK's decision to leave the EU caused sterling to plummet in value. OnePlus raised its phone price from 309 to 329 in response to Brexit.
Check out our pricing table below for iPhone 7 and iPhone 7 Plus UK prices.
Swipe to scroll horizontally
| | |
| --- | --- |
| iPhone 7 32GB | 549 |
| iPhone 7 128GB | 649 |
| iPhone 7 Plus 32GB | 669 |
| iPhone 7 Plus 128GB | 769 |
iPhone 7 best deals
If you're happy to sign up to a 24-month contract for your iPhone, networks are furiously competing with each other to offer the best deals available, with inclusive minutes and texts, a variety of different data options and extra perks such as free music subscriptions or inclusive roaming abroad.
Three
Although Three's tariffs are by no way the cheapest per month, they do offer more data, minutes and unlimited texts. For example, opt for a mammoth 4GB data for the 32GB iPhone 7 and you'll pay just 38 a month, although there is a 149 upfront cost.
For the 128GB version, this increases to 43 a month, with the same 149 upfront, while the 256GB version will only cost an extra 5 a month - for all that extra storage!
As is usually the case, the best prices are for two-year contracts, so although long-term, they're the most manageable on a monthly basis.
O2
If you'd rather pay a lot less upfront, but are happy paying a bigger monthly fee, O2's tariffs could be just the biscuit. Starting at just 39.99 upfront for the 32GB iPhone 7, this network's cheapest tariff is 60 a month. But that will give you an absolutely ridiculous 30GB a month data, meaning you can probably scrap your broadband too.
For a more sensible, everyday option, you can pay the slightly higher fee of 59.99 upfront and then 46.50 a month if you think you'll only use 3GB data a month
That same tariff for the 128GB version will add an extra fiver onto the monthly cost, while upping the capacity to 256GB will set you back 56.50 a month, with the handset costing a tenner cheaper at 49.99 upfront.
EE
EE's forte is 4G network coverage and as you'd expect, all of its iPhone 7 plans come with 4G support.
Like O2, EE is focussing on cutting the upfront cost of the iPhone 7 in order to attract those who'd rather pay for the majority of their device over a two-year period.
For example, 55.99 a month will get you the 32GB iPhone 7, 7GB data, unlimited calls and texts, plus you'll only need to pay 9.99 upfront. Upgrade to the 128GB iPhone 7 and you'll pay 49.99 upfront, with monthly repayments of 55.99. OK, maybe not as attractive as the smaller capacity iPhone 7, but not a bad proposition if you're after 5GB data.
The best deal for the 256GB iPhone 7 will increase that upfront payment to 99.99 a month, but it'll give you 10GB data for 60.99 a month.
Vodafone
Vodafone offers the most interesting added extras for anyone who likes a freebie. With the company's Red bundles, you can opt to add on a NOW TV Entertainment Pass, Spotify Premium or Sky Sports Mobile TV package when you sign up, but beware - these add-ons come with a cost because the contract prices are some of the highest out there.
The 32GB version is available from 32 a month, with a hefty 250 fee upfront, while the 128GB version ups this to 37 a month with 300 upfront. If you want to get your hands on the 256GB version, that'll cost 42 a month with 320 when you sign up. These lowest tariffs will get you a tiny 500MB data, 500 minutes to UK phones and unlimited texts, which probably won't even satisfy the average device user.
GiffGaff
If you want to buy the iPhone 7 upfront from Apple whether by paying the full 599-799 or its pay monthly plan, GiffGaff offers the best rolling, SIM-only contracts to save you money over the lifetime of the device.
The no-frills network is charging 20 a month for its tariff, which, if you add that onto the cost of the handset, turns out you're paying between 1,079 and 1,179 over a 12-month period.
iPhone 7 colours
The iPhone 7 is available in five colours - Jet black, regular black, silver, gold and rose gold.
The exclusive Jet black colour, which is a brand new colour for Apple, is only available in 128GB and 256GB iterations, presumably designed to exude luxury.
It's a high-gloss finish produced using a nine-step anodisation and polishing process and although its surface is equally as hard as other anodised Apple products, the company warns its high shine might show up scratches more than the other colourways. It therefore suggests you hide the shiny surface away by slipping it into a case to protect the fragility surface - a bit pointless if you want to show off you have the brand new colour.
In terms of pricing for the different coloured editions, they all enter the market at the same price, although it's possible retailers will reduce some of the more unpopular colours as the iPhone 8's appearance approaches in order to get rid of stock.
iPhone 7 features
iPhone 7 operating system
The iPhone 7 family runsiOS 10.
The advantage of iOS 10 is it will automatically protect against a recently discovered iPhone threat, dubbed Trident. Trident is particularly dangerous for companies with iPhone deployments, because once installed, it syphons off messages - encrypted or not - to the hacker who launched the attack. That means all data on a business device is at risk of being stolen. While Apple quickly addressed the vulnerability with a patch in iOS 9.3.5, not everyone will have downloaded it, but iOS 10 will include the patch too.
iPhone 7 camera and photos
The camera has become something of a flagship feature for Apple's smartphones and the iPhone 7 is no exception.
The iPhone 7 sports a 12-megapixel camera, the same as the iPhone 6s, and offers three times longer exposure than its predecessor. It also lets 50% more light onto the sensor, which is 60% faster than the 6s's, too.
Apple's image signal processor, which is the brains of the camera, uses machine learning to identify people and objects in photos and to set white balance. The processor is also capable of recognising a greater variety of colours, as well.
While the iPhone 7's camera is a clear improvement on the last, it's the iPhone 7s camera that really catches the eye. For a start, it has two cameras - a wide-angle lens and a telephoto lens, allowing it to zoom up to 10x on a shot without compromising image quality.
iPhone 7 display
Compared to the iPhone 6s's screen, the iPhone 7 is 25% brighter, utilising a feature called Wide Color for the first time. Wide Color is Apple's term forDCI-P3, a range of colours that became a standard for digital movie projection in the US film industry.
While both the iPhone 7 and 7 Plus have Wide Color, they lack True Tone (which the 9.7in iPad Pro does have).
One of the biggest changes on the iPhone 6s was the 3D Touch screen - an advancement on the Force Touch technology seen on the Apple Watch and most recent MacBook. You'll be glad to know that 3D Touch has now made it to the iPhone 7 and 7 Plus.
3D Touch allows sensors below the screen to detect whether the user has applied a tap, a press, or a deep press. It is this deep press recognition that is used for Live Photos, as well as 'Peeks' which let you see previews of emails, websites and photos, and 'Pops', which let you open the full email, site or photo simply by pressing down harder.
Siri
Siri has been part of iPhone since 2010, but its appearance in iOS 10 brings a whole heap of updates to the six-year-old voice assistant, so it's cleverer than ever before.
It alreadysits at the heart not just of iPhone, but also iPads, Apple TV and the company's burgeoning smart home ecosystem.
But with iOS 10, Siri becomes a bigger part of many of your go-to apps. On stage, Craig Federighi showed how wider Siri support works: You can instruct it to "Send aWeChattoNancysayingI'll be five minutes late", for instance. By opening up Siri to third-party developers, Apple has made it more useful - it'll soon be present in WhatsApp, Uber, Lyft, Slack, Map My Run, Pinterest and more.
Continue reading for iPhone 7 specs
Current page: iPhone 7 UK release date, specs and price: Apple and (RED) raise over $30 million to fight AIDS
Next Page
Get the ITPro. daily newsletter
Receive our latest news, industry updates, featured resources and more. Sign up today to receive our FREE report on AI cyber crime & security - newly updated for 2023.
Zach Marzouk is a former ITPro, CloudPro, and ChannelPro staff writer, covering topics like security, privacy, worker rights, and startups, primarily in the Asia Pacific and the US regions. Zach joined ITPro in 2017 where he was introduced to the world of B2B technology as a junior staff writer, before he returned to Argentina in 2018, working in communications and as a copywriter. In 2021, he made his way back to ITPro as a staff writer during the pandemic, before joining the world of freelance in 2022.