Huawei wants to be the next Apple
Company hopes high-end P9 will put it on an even footing with the world's largest device makers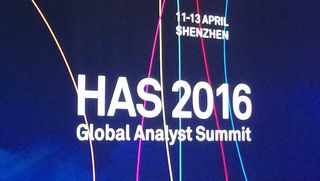 Huawei wants its consumer devices to compete with the likes of Samsung and Apple on the global stage.
Speaking at the company's annual analyst conference in Shenzhen, rotating CEO Eric Xu said Hauwei intends to "leverage its technical expertise to build a premium, high end brand [of smartphones]."
"We are committed to building an ecosystem with customers at the centre to build our reputation and loved brand," he said.
Xu's comments come less than one week after the launch of the Huawei P9 smartphone, a device that is intended to penetrate the premium market and which the company compared directly with the iPhone 6s Plus.
In February, at MWC, Richard Yu, the CEO of Huawei's Consumer Business Group, was reported as saying the company wanted to become the biggest smartphone vendor in the world, leapfrogging Apple and Samsung, within two-to-three years.
However, during a Q&A session at this week's conference, Xu clarified that Yu's comments referred to the Chinese market alone, claiming his colleague had been misquoted.
However, Xu added: "Having said that, it's definitely a firm strategic choice we have made to put Huawei device as a high-end device across the world. Up until today, China has not produced a high-end brand yet, therefore one can see that's a target we're reaching and in the next five-to-ten years we can possibly [overtake Samsung and Apple], but we are not sure whether that can be achieved."
Huawei Analyst Conference is taking place in Shenzhen from 11 to 12 April. IT Pro's Senior Writer, Jane McCallion, will be reporting live across both days of the conference.
A daily dose of IT news, reviews, features and insights, straight to your inbox!
Jane McCallion is ITPro's Deputy Editor, primarily covering security, storage and networking for ITPro, CloudPro and ChannelPro.
Jane joined ITPro and CloudPro in July 2012, having previously written freelance for a number of business and finance magazines. She has also covered current affairs, including the student, public sector workers and TUC protests and strikes in central London while studying a Masters in Journalism at Goldsmiths, University of London.
Prior to becoming a journalist, Jane studied Applied Languages at the University of Portsmouth.
A daily dose of IT news, reviews, features and insights, straight to your inbox!
Thank you for signing up to ITPro. You will receive a verification email shortly.
There was a problem. Please refresh the page and try again.