The best wearable devices for business
The best lightweight devices to help you stay productive during a busy workday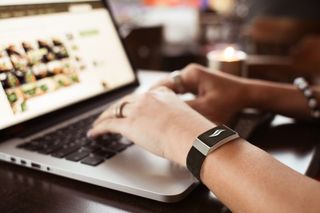 Wearables featured heavily at this year's CES, and technology companies are continually evolving the ways in which lightweight devices can improve not only our personal lives, but also productivity at work.
We've highlighted some of the best wearable devices for making your hectic workday that much easier.
Smartwatches
There is no denying that the buzz around smartwatches has begun to subside, but to write them off completely would be a mistake. Whether it's for productivity, navigation, organisation, or fitness, watches provide a discrete tool for business users.
Apple Watch 2
Apple remains the biggest name on the smart watch market, and with its latest iteration of the Apple Watch it continues to improve on a solid design. Built in GPS and a wider range of style and size options make the watch an even more attractive option for a companion device.
It also features a host of supported productivity apps, including a remote version of PowerPoint, Evernote, Salesforce, and travel essentials such as App in the Air and Uber. It's also less obnoxious on your wrist, and will only 'light up' when the device registers that your arm is rotating to view the screen.
While battery life remains fairly mediocre, lasting up to 18 hours between charges, this is certainly enough to survive a working day.
Apple Watch 2 specs:
Swipe to scroll horizontally
| | |
| --- | --- |
| Price | 269-1049 (depending on styles) |
| Weight | 28.2g - 52.4g |
| Who is it for? | Wide range of users, iPhone only |
| Key features | Built in GPS, large app library, water resistant |
Samsung Gear S3
Changing consumer tastes in the smartwatch market are being reflected in a recent move away from devices that look alien on the wrist, toward a design that's more akin to a traditional timepiece.
The Gear S3's rotating bezel is far more intuitive for navigation than the touchscreen it also features, and gives it that outdoor sports vibe. Built on the lightweight Tizen OS, battery life can last up to four days between charges; but the software has a relatively small app library compared to the amount available on WatchOS and Android Wear. If you're after something more like a traditional watch, with some added smart features, the Gear S3 is for you.
Samsung Gear S3 specs
Swipe to scroll horizontally
| | |
| --- | --- |
| Price | 349 |
| Weight | 59g |
| Who is it for? | Samsung users, traditional watch fans |
| Key features | Built in GPS, high quality display, long battery life |
Fitness trackers
While the smartwatch market begins to slow, wearables in general continue to gain momentum, led primarily by the popularity of fitness trackers.
Fitbit Charge 2
By no means the only choice when it comes to Fitbit, the Charge 2 is simply the best of the bunch. It sports a large OLED screen, a five-day battery life, interchangeable straps, superb accuracy and a solid build quality. The device relies on connecting to your phone for GPS connectivity, which may be a gripe for some users. Otherwise, at 129 it's a solid pick.
Swipe to scroll horizontally
| | |
| --- | --- |
| Price | 129-149 |
| Who is it for? | Active users looking for accuracy |
| Key features | Accurate, long battery life, connected GPS, easy to use app |
Microsoft Band 2
If you're looking for something a little more powerful, the Microsoft Band 2 is one of the most robust fitness trackers on the market. It packs a whopping 11 sensors, including built in GPS, a barometer for measuring altitude, and UV and skin temperature sensors. Although a full charge will only last you two days, it is great for most activities and provides a comprehensive built in health dashboard. Naturally the price is at the top end, so expect to pay over 160 for the pleasure.
Swipe to scroll horizontally
| | |
| --- | --- |
| Price | 200 |
| Who is it for? | Data fanatics after a feature rich device |
| Key features | Touchscreen, 11 types of sensor |
VR/AR
The most compelling applications of virtual and augment reality devices have been within industry, and continue to transform the way we visualise projects and perform tasks.
Hololens
Although first demoed alongside an AR version of Minecraft at 2015's E3, Hololens is first and foremost a business tool. Based on our own experiences of the product, it is safe to say that the Hololens is set to shake up the computing industry. Its apps are already compelling: for example SketchUp allows for the visualisation of fully customisable 3D buildings on a blank space. This space can even be arranged as a second screen to a monitor, with the ability to drag and drop objects as you would normally. It is tech like this that makes its business use immediately apparent, as any designer will be able to recreate their projects in the real world as they work.
Although it is still in development, there are some niggling problems; chief among these is its tiny field of view. It is also a high end product with a premium price tag, and if you plan to pre-order it will set you back 2,700.
Swipe to scroll horizontally
| | |
| --- | --- |
| Price | 2,719 |
| Weight | 579g |
| Who is it for? | Designers / Users needing to visualise projects |
| Key features | First real AR headset, untethered, lightweight, Win 10 ready |
HTC Vive Business Edition
In an attempt to expand its user base beyond the consumer market, HTC announced it would be releasing an enterprise-focused edition of its VR headset. The Vive BE provides a bespoke VR package for businesses wishing to incorporate the technology into the workplace, offering dedicated support lines, commercial licensing opportunities, and the option to bulk buy. HP has already demonstrated the power of the tech, by helping the Bank of England recreate an iconic former site that was demolished in 1925. Using the HTC Vive, centuries old architecture has been brought back to life through virtual guided tours. Still in its relative infancy, businesses are only beginning to realise the potential applications of the technology.
Swipe to scroll horizontally
| | |
| --- | --- |
| Price | 920 |
| Weight | 555g |
| Who is it for? | Architects / businesses looking for VR solutions |
| Key features | First VR headset to offer a business package |
Stress Relief
Unlike health devices that are focused on strenuous activity, some products are encouraging you to do less, all in the name of reducing stress.
WellBe bracelet
The WellBe band uses a mobile app to analyse your heart rate alongside your calendar entries, and is able to tell you at what point of the day you were most stressed. It is a simple tool to help you identify when your stress levels are most elevated, and suggest ways in which they can be brought down. This includes a series of plans for meditation and breathing exercises, and general tips for living a more relaxed lifestyle. There is even a model made from cork that is lightweight and soft against your arm, although at $149 it's a little pricey.
Swipe to scroll horizontally
| | |
| --- | --- |
| Price | $149 |
| Who is it for? | Users is stressful work environments |
| Key features | 24/7 monitoring, analysis app, made of soft cork |
Bellabeat Leaf Urban
The Bellabeat Leaf Urban is the perfect device for women who dislike wearing wristbands but want to keep track of their health. Although it can be placed on the wrist with a strap, its biggest selling point is that it can be worn around the neck like a piece of jewelry or affixed to a bra or belt. The pebble shaped sensor is able to learn your habits and provide insights into your daily routine, by tracking breathing, sleeping and activity.
Swipe to scroll horizontally
| | |
| --- | --- |
| Price | 110 |
| Weight | 16.5g |
| Who is it for? | Stress management designed for women |
| Key features | Sleep & activity tracker, meditation guides, 6 month battery life |
Get the ITPro. daily newsletter
Receive our latest news, industry updates, featured resources and more. Sign up today to receive our FREE report on AI cyber crime & security - newly updated for 2023.
Dale Walker is the Managing Editor of ITPro, and its sibling sites CloudPro and ChannelPro. Dale has a keen interest in IT regulations, data protection, and cyber security. He spent a number of years reporting for ITPro from numerous domestic and international events, including IBM, Red Hat, Google, and has been a regular reporter for Microsoft's various yearly showcases, including Ignite.