Apple watchOS 3 release date and features: watchOS 3 update available on 13 September
watchOS 3 can be downloaded from Tuesday next week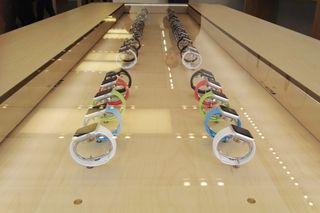 Apple's watchOS software is the operating system that sits of the core of the Apple Watch. While it's similar to the iOS mobile and tablet software, it's specially adapted for wearable use, running modified versions of iOS apps.
At WWDC 2016, Apple launched the third and latest version of the watchOS software, which brings with it performance boosts, new features and a series of cosmetic tweaks and upgrades. Here's everything you need to know about watchOS 3.
Apple watchOS 3 at a glance
Apple Watch apps now launch instantly
Improved navigation through app dock and Control Centre
New SOS function enables quick emergency alerts
Apple watchOS 3 latest news
07/09/2016: watchOS 3 will launch on 13 September, Apple has announced.
While the features of the new OS were largely already known, the company did reveal several new apps, including Pokemon Go, which will integrate the features Pokmon Go with the Watch's fitness focus.
10/08/2016:Apple has seeded watchOS 3 Developer Beta 5 one week ahead of schedule. The beta allows developers to get their heads around the updated operating system for Apple's wearable and develop new apps for it, or work on their existing ones.
This beta releasejustcontains bug fixes, rather than new features. It solves a problem in Siri,where the virtual assistant "may not provide the intended response" when a user makes a request involving a deleted app.
Alongside that, it eliminates a bug in Xcode that caused the debugging console to sometimes print out excessive amounts of logging indicating WCSessionState changes when using Watch Connectivity in watchOS Simulator.
watchOS Developer Beta 5 is one of four fifth-iteration developer betas released simultaneously, the other three being for iOS 10, tvOS 10 and macOS Sierra. Unlike iOS 10 and macOS Sierra, however, there is no public beta for Apple Watch.
The completed version of watchOS 3 is due to launch this autumn, potentially at Apple's anticipated September Special Event, where the Apple Watch 2 could also make an appearance.
13/06/2016:Apple has announced watchOS 3, the latest version of the Apple Watch's operating system, along with a host of new features.
One of the most important new features is that the Apple Watch's performance has been vastly improved, with apps launching seven times faster than in watchOS 2.
Watch apps now launch instantly, thanks to the fact that they can now update in the background. The watch will also store your favourite apps in memory, meaning it can access them even quicker.
Navigation settings have been overhauled too. Pressing the side button will launch a customizable dock of your favourite apps, similar to the one found in macOS. All apps in the dock are viewed live, allowing you to preview apps without fully launching them.
WatchOS 3 now includes a Control Centre tab to give you instant access to your settings - just swipe up from the bottom of the face. Watch faces can quickly be changed by swiping from left to right, and they now support more complications.
For those who felt the selection of faces was getting a little stale, Apple is introducing some new options; a Minnie Mouse watch face to compliment the Mickey Mouse offering, one based on the Apple Watch's activity rings, and a more elegant option dubbed 'Numerals'.
Reply settings have been spruced up too. In addition to making message replies more streamlined, watchOS 3 now includes a handwriting input feature, which Apple has dubbed Scribble. It may be familiar to Android fans waiting for the Android Wear 2.0 update.
One of the most important additions to the Apple Watch, however, comes in the form of the SOS app. By pressing and holding on the side button, users can initiate a call with emergency services.
At the conclusion of the call, it will share your location and an emergency message with both the emergency services and with an ICE contact, followed by the users' medical information. This feature will work internationally.
Elsewhere, the activity app has been updated with new sharing tools to compare and compete against friends and family, and has been overhauled for wheelchair users.
'Time to stand' has been replaced with 'time to roll', and the activity rings have been adapted to take advantage of wheelchair users' different physical movements.
Apple Pay can now be used from within apps, allowing developers to include the feature directly on websites. A host of new developer tools were also unvailed, designed to allow the creation of more watch apps, including watch-specific games.
The developer preview is available today, and will roll out for all Apple Watch owners in Autumn 2016.
13/06/2016:A significant update to watchOS 2, or perhaps even the next version of the operating system, watchOS 3, could appear at WWDC this evening during Tim Cook's keynote.
WWDC (Worldwide Developer Conference) has traditionally been focused on software updates, with OS X 10.12 and iOS 10 both expected to launch as well. It's therefore not unreasonable to think a new version of watchOS could appear, although it's only been nine months, rather than a year, since the launch of watchOS.
Other rumours for tonight's keynote include an update to tvOS, a new Apple Watch, the iPhone 7, the iPad Air 3, new AI capabilities for Siri and a push into home automation with updates to HomeKit.
Find out all about what to expect from WWDC and follow the coverage as it happens on our dedicated page.
17/05/2016: Apple has released the latest update for watchOS 2, which includes minor bug and performance fixes.
This update comes almost two months after the public release of watchOS 2.2, which introduced multi-watch support for iPhone, Apple Maps improvements and other tweaks.
Apple seeded two betas of watchOS 2.2.1 to developers, before releasing its publically. It contains a number of security and performances patches that are partly described on the Apple security log.
This is the fourth update Apple has released for the second version of its watch operating system.
More details on the Apple Watch 2 and the next iteration of watchOS are expected at WWDC 2016 in June.
More information on this watchOS update can be found on Apple's support page.
09/09/15 - Apple's much-hyped WWDC event back in June confirmed that Apple Watch users wouldn't have to wait too long to upgrade to an updated OS on their device.
Today, at a special Apple event - which also saw the iPhone 6s and iPad Pro, among other things, unveiled - the tech giant confirmed Apple Watch OS 2 will roll out on 16 September.
Apple said the next-gen OS would ensure apps operated much more quickly and with greater fluidity by running natively through the Watch's software. What's more, the firm will enable third-party developers to display information as 'complications'.
"Our customers love Apple Watch and tell us its incredible health and fitness features are having a huge impact on their lives," said Jeff Williams, Apple's senior vice president of operations.
"We're excited to expand Apple Watch's functionality with watchOS 2 and offer even more personal choice with beautiful new styles and colors."
Apple watchOS 3: release date and pricing
Apple launched WatchOS 3 at its WWDC developer conference on 13 June. The developer preview is currently available, with a full public rollout of the software coming in Autumn 2016. Just like other OS releases from Apple, this update will be free to users.
Apple watchOS 3: specs and features
While Apple has not released an updated version of the Apple Watch - as many were expecting - the company has instead made significant improvements to the device's core operating system.
For many users, this is likely to make their Apple Watch feel like a new device, as in addition to new features and functions, watchOS 3 is also slated to bring in some impressive performance benefits.
Instant apps
Apple Watch apps can now be launched instantly, with boot times up to seven times faster than watchOS 2. This is thanks to the fact that favourite apps are now saved in memory, and apps can retrieve data in the background.
Improved navigation
WatchOS 3 includes a Control Centre feature for quick access to all your device settings, which can be found by swiping up from the watch face. Also introduced in the new OS is a dock system similar toMacs, which allows users to store their favourite apps for easy access.
SOS app
Apple has intorduced the SOS app with watchOS 3. This allows users to press and hold the side button to start a call with the emergency services. Once the call has finished, it will send the relevant authorities - as well as your ICE contact - your location and a message. The app will also display your medical info.
Social activity tools
New features integrated into the Apple Watch Activity app allow you to directly compare your fitness results with your friends and family. You can send them encouragement (or trash talk) and see detailed metrics on how your performance stacks up.
Wheelchair activity optimisation
Apple has taken the needs of wheelchair users into consideration, and retooled the Apple Watch's Activity app to better accomodate them. For example, the 'time to stand' reminder has now been changed to 'time to roll', and the app includes two dedicated workouts for wheelchair users.
The activity tracking algorithm has also been optimised to take into account the different physical movements of wheelchair users.
New developer tools
Apple Watch apps can now use ApplePay from directly within apps, opening up more opportunities for developers to introduce the technology. Apple also announced a bunch of new features, including SpriteKit and SceneKit support, to make it easier for developers to create great Apple Watch apps.
Thinking about buying an Apple Watch? Don't until you've read our Apple Watch review to help make an informed decision...
This article was originally published on 09/09/2015. It was updated on 13/06/2016 to reflect current news.
A daily dose of IT news, reviews, features and insights, straight to your inbox!
Maggie has been a journalist since 1999. She started her career as an editorial assistant on then-weekly magazine Computing, before working her way up to senior reporter level. After several years on the magazine, she moved to 'the other side of the fence' to work as a copywriter for a marketing agency, writing case studies and working on ad and website copy for companies such as eBay, Dell, Microsoft and more. In 2006, just weeks before IT Pro was launched, Maggie joined Dennis Publishing as a reporter. Having worked her way up to editor of IT Pro, she was appointed group editor of Cloud Pro and IT Pro in April 2012. She became the editorial director and took responsibility for Channel Pro, in 2016. Her areas of particular interest, aside from cloud, include management and C-level issues, the business value of technology, green and environmental issues and careers to name but a few.
A daily dose of IT news, reviews, features and insights, straight to your inbox!
Thank you for signing up to ITPro. You will receive a verification email shortly.
There was a problem. Please refresh the page and try again.