Smartphone sales suffer 'biggest ever fall' due to coronavirus pandemic
Strategy Analytics predicts market is unlikely to recover any time soon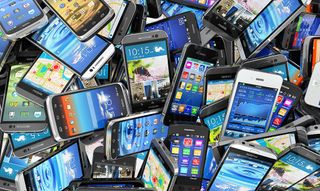 Smartphone sales slumped 38% in February 2020, marking the "biggest fall ever in the history of the worldwide smartphone market".
Sales of mobile devices fell from 99.2 million in February 2019 to an all-time low of 61.8 million last month, according to research conducted by analyst house Strategy Analytics
This drastic fall in sales has unsurprisingly been blamed squarely on the global coronavirus pandemic, with "many consumers unable or unwilling to visit retail stores and buy new devices" due to the fact they were self-isolating or under an order to stay at home.
COVID-19 has also disrupted the supply chain; factories in Asia have been unable to manufacture devices as normal due to mandatory government shutdowns and issues securing key components.
"Smartphone demand collapsed in Asia last month, due to the Covid-19 outbreak, and this dragged down shipments across the world," explained Linda Sui, director at Strategy Analytics. "Some Asian factories were unable to manufacture smartphones, while many consumers were unable or unwilling to visit retail stores and buy new devices."
Things are unlikely to get better anytime soon, either. While sales are likely to see a slight increase in China, where lockdown restrictions are slowly being lifted, Strategy Analytics expects global demand to remain low during March.
"Despite tentative signs of recovery in China, we expect global smartphone shipments overall to remain weak throughout March 2020," said Yiwen Wu, senior analyst at Strategy Analytics.
"The coronavirus scare has spread to Europe, North America and elsewhere, and hundreds of millions of affluent consumers are in lockdown, unable or unwilling to shop for new devices," she added. "The smartphone industry will have to work harder than ever to lift sales in the coming weeks, such as online flash sales or generous discounts on bundling with hot products like smartwatches."
February was expected to be a strong month for the smartphone industry, with the Mobile World Congress (MWC) originally scheduled to start on 24 February, before organisers were forced to cancel the annual smartphone showcase due to the rapidly-growing coronavirus outbreak.
Since then, two of the biggest names in the smartphone industry - Samsung and Apple - have warned of a sales slowdown; the latter admitted that it would miss its profit forecasts and that worldwide iPhone supply would be "constrained". Due to these constraints, Apple was forced to limit iPhone sales over fears inventory would quickly sell out, but it earlier this week limited these restrictions.
It's not just the smartphone industry that's suffering from the coronavirus crisis as IT spending is also predicted to slump this year, though an increase in working from home could help bolster cloud software sales.
A daily dose of IT news, reviews, features and insights, straight to your inbox!
Carly Page is a freelance technology journalist, editor and copywriter specialising in cyber security, B2B, and consumer technology. She has more than a decade of experience in the industry and has written for a range of publications including Forbes, IT Pro, the Metro, TechRadar, TechCrunch, TES, and WIRED, as well as offering copywriting and consultancy services.
Prior to entering the weird and wonderful world of freelance journalism, Carly served as editor of tech tabloid The INQUIRER from 2012 and 2019. She is also a graduate of the University of Lincoln, where she earned a degree in journalism.
You can check out Carly's ramblings (and her dog) on Twitter, or email her at hello@carlypagewrites.co.uk.
A daily dose of IT news, reviews, features and insights, straight to your inbox!
Thank you for signing up to ITPro. You will receive a verification email shortly.
There was a problem. Please refresh the page and try again.