Apple buoyant amid sinking smartphone market
Global device shipments fall 20.4% during the second quarter following a similar decline in the first three months of 2020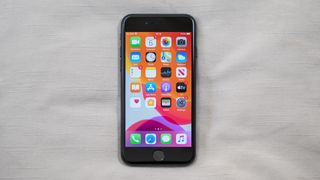 Apple has largely withstood an extremely sharp decline in global smartphone shipments for a second quarter in a row after sales fell by 20.4% year-on-year over the last three months.
The volume of iPhones shipped globally fell just 0.4% during a tough second quarter, with Apple shipping roughly 38 million units.
Conversely, Apple's closet rival Samsung has been one of the hardest hit, with shipments from the South Korean manufacturer collapsing by 27.1% when compared to the same period in 2019, amounting to almost 55 million devices shipped.
The smartphone market is just one of a number of sectors hit by the continued economic effects of the COVID-19 pandemic, according to Gartner's senior research director Anshul Gupta.
Travel restrictions, retail closures, and more prudent spending on non-essential products have all contributed to an overall decline in demand for smartphones. Samsung, in particular, felt the effects harshly, despite demand for its flagship S series smartphones.
Apple's second quarter performance is largely a testament to improving economic conditions in China, according to analysts.
Its resilience can also, in part, be attributed to the launch of the iPhone SE, according to Gartner's research vice president Anette Zimmermann, who argued that its launch encouraged users of older iPhones to upgrade their devices.
The news will come as another boost to Apple executives and investors only days after the company was declared the first US-based firm to reach a $2 trillion valuation.
Based on Garter's figures, Samsung has almost ceded its crown as holding the largest market share, which fell from 20.3% in Q2 2019 to 18.6% in the last quarter.
While other manufacturers collectively saw a year-on-year decline of 28.8% in shipments, Huawei sales proved relatively robust despite, even with US-led trade restrictions that have otherwise disrupted the firm's software and hardware supply chain.
With shipments of approximately 54 million and a market share of 18.4%, versus 15.7% during the same period in 2019, Huawei has now come within spitting distance of holding the largest market share.
Other Chinese manufacturers, including Xiaomi and Oppo, fared less harshly quarter-over-quarter due to the aforementioned improved situation in China.
Xiaomi sales were still grim, with shipments falling 21.5%, a stark retreat against the 1.4% rise year-on-year during the first quarter of 2020. In addition, although Oppo's shipments declined 15.9% year-on-year, it benefited from poor performance among rivals, increasing its market share marginally from 7.6% to 8%.
The overall picture continues to be one of decline, with device shipments falling from 370 million to under 295 million units year-on-year. This is a continued decline from the roughly 299 million units shipped during the first quarter of 2020, itself a 20.2% year-on-year fall. This, at the time, was described as the worst ever quarterly decline registered.
A daily dose of IT news, reviews, features and insights, straight to your inbox!
Keumars Afifi-Sabet is the Features Editor for ITPro, CloudPro and ChannelPro. He oversees the commissioning and publication of in-depth and long-form features across all three sites, including opinion articles and case studies. He also occasionally contributes his thoughts to the IT Pro Podcast, and writes content for the Business Briefing. Keumars joined IT Pro as a staff writer in April 2018. He specialises in the public sector but writes across a breadth of core topics including cyber security and cloud computing.
A daily dose of IT news, reviews, features and insights, straight to your inbox!
Thank you for signing up to ITPro. You will receive a verification email shortly.
There was a problem. Please refresh the page and try again.