The five most secure smartphones
These secure smartphones ensure your data and privacy are protected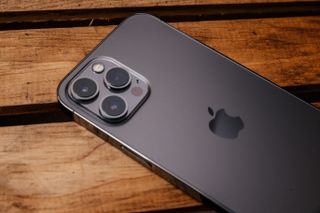 In this day and age, when privacy in the digital space is just as much of a priority as it is in the real world, your choice of smartphone can reflect the degree to which you value your privacy.
However, there's no escaping the convenience, and oftentimes the business need, owning a smartphone offers - although most of us have probably wished to be freed of the devices at some point in time.
Indeed, the pocket-sized computers most people now own go hand-in-hand with normal work and play in 2022. It's important to remember that smartphones are computers, and should be treated with the same caution as you would a work PC with client data stored on it. Though, there is also an added consideration that the data belonging to your family and friends also resides in your hands, not to mention your own.
If you can't totally give up a smartphone but want to ensure you've got the most robustly protected device on your person, just in case a cyber attacker did decide to target you, then here are the best options for the year ahead.
1. Purism Librem 5
The Purism Librem 5 is designed with security in mind and has privacy protection by default. It uses PureOS, a free, ethical, and open-source operating system (OS) that is not based on Android or iOS. The phone doesn't lock you into using this OS either — users can opt to install their own compatible GNU/Linux OS as an alternative. PureOS is based on the Debian OS.
It also has three hardware-based kill switches that disable the camera and microphone, switch off power from Wi-Fi and Bluetooth adapters, and stop all network connectivity, including GPS.
It sports a 3,500mAh removable battery, a 13MP primary camera, and 32GB of onboard storage. Users can expand the storage to 2TB via microSD.
2. Apple iPhone 13 Pro Max
Apple's products have long been considered highly secure, though in recent years the likes of NSO Group and its Pegasus spyware have highlighted even the seemingly impenetrable hardware has its weaknesses if you probe it hard enough.
Aside from nation-state-grade spyware tools, Apple's iPhone lineup is generally very secure and the latest iOS 15 operating system brings with it a broad selection of security and privacy features users can enjoy. Such features include Apple's iCloud Private Relay, which helps users browse the web without being tracked by websites. It also imposed App Tracking Transparency rules in iOS 14 to limit the amount of data app-makers can collect on users - a measure that will cost Facebook $10 billion by its own estimates.
Users can also make use of Face ID technology, something that's become expected from smartphone devices these days, especially the ones at Apple's price point. It also has the iCloud-enabled Find My feature, allowing users to track their phone if lost or stolen, minimising the risk of data falling into the wrong hands for too long.
3. Google Pixel 6
Android is consistently attracting headlines relating to malware and shoddy security, but if it's a case of 'Android or bust' in your businesses, then the latest smartphone from Google is the best way to go.
First and foremost, the maker of Android naturally ensures its own smartphones are among the first to receive its security updates, as well as other features that take longer to reach other Android devices. Google also said it will offer updates for five years on the Pixel 6 and Pixel 6 Pro, heeding calls from the community, and regularly updates Android to include news security and privacy features too.
Google operates a multi-layered approach to security on its Pixel 6, equipped with the Google Tensor system on a chip (SoC). The Arm-based processors use TrustZone technology, which essentially stores sensitive data in a more heavily secured area of the phone. Researchers recently showed how the TrustZone can actually be accessed by an attacker in Samsung phones, but the exploit is quite sophisticated and now patched on affected devices.
4. Bittium Tough Mobile 2C
The Bittium Tough Mobile 2C is a rugged and secure smartphone that boasts two operating systems for complete data separation. One OS is a hardened version of Android 9, and the other is the company's Secure OS. Users can switch between the two with the device's dual boot functionality.
It also comes with a free YubiKey 5 NFC security key to support two-factor authentication. There is also an always-on VPN and the company's mobile device management software.
The rugged phone has an IP67 rating and MIL-STD-810G, meaning it is waterproof to a degree and resists breakage.
5. Sirin Labs Finney
Sirin Labs is well known for making luxury smartphones with security at their very core. The Finney is a uniquely designed phone with large bezels and a notched display, an unlikely combination that comes together to hide its 'Safe Screen' - a retractable display that tucks into the back of the phone to reveal a cold storage wallet for cryptocurrency.
Marketed as a blockchain smartphone with cyber security provisions, such as a 24/7 intrusion prevention system and a multi-layered cyber security suite, Finney runs on Sirin OS, which is based on Android and has access to the Google Play Store. Users can also make use of the device's end-to-end encrypted peer-to-peer calls and email functionality too.
A daily dose of IT news, reviews, features and insights, straight to your inbox!
Rene Millman is a freelance writer and broadcaster who covers cybersecurity, AI, IoT, and the cloud. He also works as a contributing analyst at GigaOm and has previously worked as an analyst for Gartner covering the infrastructure market. He has made numerous television appearances to give his views and expertise on technology trends and companies that affect and shape our lives. You can follow Rene Millman on Twitter.
A daily dose of IT news, reviews, features and insights, straight to your inbox!
Thank you for signing up to ITPro. You will receive a verification email shortly.
There was a problem. Please refresh the page and try again.