The best secure smartphones
Finding the most secure phone for your business helps keep your data and privacy protected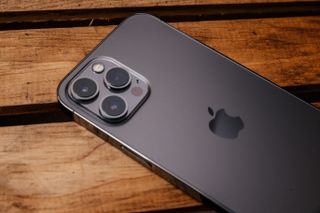 Finding the most secure phone can be beneficial for any individual, but it's especially useful for businesses looking to equip their employees with the safest devices they can.
Because phones are inherently connected devices, it can be all too easy to expose data. Personally identifiable information such as financial details, or sensitive work documents can be stolen unless you take precautions in your device choices.
The best secure smartphones
Purism Librem 5
Swipe to scroll horizontally
| Pros | Cons |
| --- | --- |
| Open source OS | Not the most energy efficient |
| Unique level of repairability | $999 is expensive for an obscure brand |
While the Purism Librem 5 is fairly old, having launched in 2020, it's a great example of a secure smartphone that doesn't lose itself in other fancy features. It runs an open source operating system grounded in Linux called PureOS, which frees it from the update cycle and legacy bugs of Android. Based on the Debian OS – a popular mix of GNU Linux – the source code for PureOS can be fully audited for security purposes. What's more, if you don't have to use PureOS, the phone allows for other operating systems to be involved, which just requires some technical knowledge.
The team behind PureOS, known as the "free desktop" community according to Purism's website, has put technical excellence before quick profits. Developers claim they took their time to make sure everything worked and was safe to use before putting it on the market. One of the most effective security tools on the Librem 5 is its 'kill switches', three of which are built into the hardware to disable the camera, microphone, Wi-Fi, Bluetooth, and all network connectivity – including GPS – instantly.
While other phones on this list have combined SoC solutions, the Librem 5 has six distinct chips to improve manufacturing freedom and is an attempt by its creators to prevent planned obsolescence.
Apple iPhone 15 Pro Max
Swipe to scroll horizontally
| Pros | Cons |
| --- | --- |
| Fantastic all-rounder | Relatively expensive at $1,199 |
| Lockdown Mode fights the toughest threats | Closed iOS ecosystem |
The iPhone 15 Pro Max takes all of the best features from previous models and adds to them with more powerful software security. Apple's products get a seal of approval for a reason, but in recent years the device designer has had to live up to its reputation against the likes of the Pegasus spyware. In response, the company introduced Lockdown Mode with iOS 16 which offers "optional, extreme protection" for users who are targeted by threat actors.
Once activated, Lockdown Mode blocks the majority of attachment filetypes, and rejects non-secure Wi-Fi networks, and certain web technologies that could be exploited by attackers to compromise the device.
In addition to Lockdown Mode, iOS comes with a slew of security features that work to keep the device and all of a user's data safe. The 15 Pro Max comes with Apple's Face ID technology, which allows users to unlock their phones with facial recognition. The A17 Pro chip creates a depth map of the user's face and translates this into a mathematical representation of their likeness which is encrypted and stored in the Secure Enclave subsystem.
On a physical level, the 15 Pro range is the first from Apple to come with a titanium chassis, which could provide extra protection from accidental damage.
Google Pixel 8 Pro
Swipe to scroll horizontally
| Pros | Cons |
| --- | --- |
| Seven years of support | Quite poor battery life |
| Built-in VPN | No Lockdown Mode equivalent |
Android often draws headlines about malware, but there is such a range of devices that actual usage will vary. If your business is set on Android devices, the Pixel 8 Pro could be the right choice.
As the maker of Android, Google is in a prime position to provide its own devices with the latest security updates. On top of first-dibs treatment on vulnerability patches, the firm has promised seven years of software support for both the Pixel 8 and Pixel 8 Pro, a commitment that very few companies can match.
First and foremost, the maker of Android naturally ensures its own smartphones are among the first to receive its security updates, as well as other features that take longer to reach other Android devices.
Google has equipped the Pixel 8 Pro, with its latest in-house system on a chip (SoC), the Tensor G3. The Arm-based processors use TrustZone technology, which stores sensitive data in a more heavily secured area of the phone, and Google also included a dedicated security chip in the Titan M2. This means that encrypted data such as fingerprint or face unlock information is stored in its own dedicated area, reducing the risk of memory overflow leaking data to hackers.
The Pixel 8 Pro also comes with VPN for Google One, Google's own virtual private network (VPN). This can shield a user's data when they're on a public Wi-Fi network, such as when one is working on-the-go, while hiding their IP address.
Bittium Tough Mobile 2C
Swipe to scroll horizontally
| Pros | Cons |
| --- | --- |
| Physically rugged | Hard to purchase |
| Always-on VPN | No biometric login |
The Bittium Tough Mobile 2C is a rugged and secure smartphone that boasts two operating systems for complete data separation. One OS is a hardened version of Android 9, and the other is the company's Secure OS. Users can switch between the two with the device's dual boot functionality.
It also comes with a free YubiKey 5 NFC security key to support two-factor authentication. There is also an always-on VPN and the company's mobile device management software.
The rugged phone has an IP67 rating and MIL-STD-810G, meaning it is waterproof to a degree and resists breakage.
Silent Circle Blackphone 2
Swipe to scroll horizontally
| Pros | Cons |
| --- | --- |
| Unparalleled encryption | No longer supported by manufacturer |
| Strong privacy controls | Difficult to purchase |
For those who are seeking ultimate encryption for their phone, the Blackphone 2 from Silent Circle isn't a bad option.
This device has been custom-built for security, with a modded version of Android titled Silent OS in which all app permissions are editable. Its flagship feature is its integrated AES encryption, which keeps phone calls, messages, and shared files secure. Like some other phones on the list, it also comes with its own VPN.
Silent Circle acknowledges the usefulness of secure phones for enterprises with built-in compatibility for mobile device management (MDM) solutions and Android for Work. Users can also create multiple user profiles on the phone.
The downside to the Blackphone 2, which launched in 2015, is that it is no longer supported by Silent Circle. It is now only available from registered partners.
Get the ITPro. daily newsletter
Receive our latest news, industry updates, featured resources and more. Sign up today to receive our FREE report on AI cyber crime & security - newly updated for 2023.
Rene Millman is a freelance writer and broadcaster who covers cybersecurity, AI, IoT, and the cloud. He also works as a contributing analyst at GigaOm and has previously worked as an analyst for Gartner covering the infrastructure market. He has made numerous television appearances to give his views and expertise on technology trends and companies that affect and shape our lives. You can follow Rene Millman on Twitter.