Apple will let businesses accept payments on iPhones without the need for extra hardware
The feature is likely to arrive as a software update later this year and will remove the need for third-party payment terminals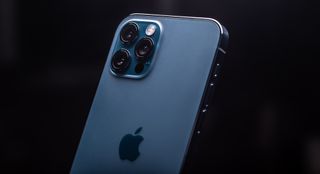 (Image credit: Shutterstock)
Apple is reportedly planning a new service that will allow businesses to accept payments using an iPhone without the need for extra hardware.
The new feature has been in development since 2020, following Apple's acquisition of Canadian startup Mobeewave for around $100 million, according to a report from Bloomberg. Mobeewave previously developed technology for smartphones to accept payments with a tap of a credit card.
The system is likely to use the iPhone's near field communications (NFC) chip that it currently uses for Apple Pay. This is seen as a boost for small businesses as currently to accept an order on an iPhone, merchants must use third-party payment terminals that plug into the device or communicate with it via Bluetooth.
The new feature, however, will effectively create a payment terminal inside the device and remove the need for additional hardware. Users will be able to accept payments with a tap of a credit card or another iPhone onto the back of their device.
This could be bad news for payment providers that use the iPhone to facilitate sales, like Block's Square. If Apple requires merchants to use Apple Pay or its own payment processing system to use the technology, this would shut out other providers.
RELATED RESOURCE
Establishing a strong foundation for DataOps
How to gain a competitive advantage with your available data
For now, it's unclear whether the new payment functionality will be part of Apple Pay, although Bloomberg has reported that the team building the feature have been working with Apple's payment division since the Mobeewave acquisition.
Apple could potentially start introducing the feature in a software update in the coming months. It's expected to release its first beta version of iOS 15.4 soon, with a potential final release for consumers in the spring.
IT Pro has contacted Apple and Square for comment.
The technology is yet another example of Apple's attempt to dig further into the small business space. The company recently launched a new package of support services designed to help SMB IT teams manage their employee devices in November last year. The package includes 24/7 phone support for IT managers and end-users, business iCloud storage, device management capabilities, and on-site repairs for businesses of 500 employees or fewer.
A daily dose of IT news, reviews, features and insights, straight to your inbox!
Zach Marzouk is a staff writer for IT Pro, Cloud Pro, and Channel Pro where he writes news articles and in-depth feature pieces primarily focused on Asia Pacific and the US. Aside from covering topics like security, privacy, worker rights, and startups, he also contributes to the IT Pro podcast and IT Pro 20/20.
After studying an undergraduate degree in Arabic and Spanish at the University of Leeds, Zach completed a journalism internship at The Argentina Independent in Buenos Aires where he wrote about the country's history, politics, and technology.
He then joined IT Pro in 2017 where he was introduced to the world of B2B technology as a junior staff writer, before he returned to Argentina in 2018, working in communications and as a copywriter. In 2021, he made his way back to IT Pro as a staff writer during the pandemic.
Contact him at zach.marzouk@futurenet.com or find Zach's thoughts (and more) on Twitter @ZachMarzouk
A daily dose of IT news, reviews, features and insights, straight to your inbox!
Thank you for signing up to ITPro. You will receive a verification email shortly.
There was a problem. Please refresh the page and try again.