Visa card holders using Apple Pay warned of payment exploit that bypasses user authentication
Commuters are being urged to disable Apple Pay express transit mode for Visa cards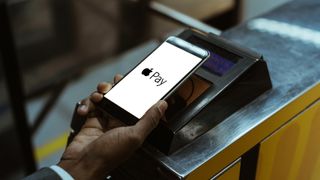 (Image credit: Shutterstock)
Apple Pay users who have a Visa card tied to their account are vulnerable to a flaw that could let hackers secretly steal cash without their knowledge.
Research funded by the National Cyber Security Centre (NCSC) found that a combination of flaws in the Apple Pay and Visa systems make it possible for a Visa payment card to be charged without the owner's consent if it's set to Apple's express transit mode.
The feature, which was introduced to iPhones in May 2019, allows users to pay for travel at ticketing barriers without having to unlock the phone, in order to make the payment as fast as possible and avoid creating queues.
However, an experiment conducted by the Universities of Birmingham and Surrey found threat actors are able to exploit a flaw to bypass the Apple Pay lock screen and charge the connected card, in some cases up to £1,000 per transaction, without user authorisation. The owner doesn't have to leave the device unattended or have it stolen – thieves can also exploit the flaw through a bag or coat, thanks to contactless payment technology.
In a demonstration of the exploit, researchers used an iPhone, an NFC-enabled Android phone, a standard EMV reader payment terminal, and a laptop connected to a Proxmark radio-frequency identification (RFID) scanner.
The Android phone is used as a card emulator to communicate with a payment terminal. Meanwhile, the Proxmark device, connected to a laptop, acts as a reader emulator to communicate with the potential victim's iPhone, which is led to act as if the transaction is happening with a legitimate transport EMV reader.
Researchers first set up a payment for £1,000 on the payment terminal and ran a script on the laptop to alert the Proxmark RFID scanner to receive the transaction, which then passes it to the payment terminal. Meanwhile, the flaw also manipulates the payment terminal to believe that the victim had authorised the transaction by biometric or PIN verification, enabling the transaction to take place.
The lead researcher behind the experiment, Dr Andreea Radu from the School of Computer Science at the University of Birmingham, said that the flaw can have "serious financial consequences for users".
Although Visa and Apple had been notified of the issue, neither have taken responsibility for the flaw, meaning that it remains exploitable. The researchers state that both Apple and Visa have the capability to mitigate this attack on their own.
"Our discussions with Apple and Visa revealed that when two industry parties each have partial blame, neither are willing to accept responsibility and implement a fix, leaving users vulnerable indefinitely," said Radu.
Co-author Dr Ioana Boureanu, from the University of Surrey's Centre for Cyber Security, said that Apple Pay users "should not have to trade-off security for usability, but – at the moment – some of them do".
"We show how a usability feature in contactless mobile payments can lower security. But, we also uncovered contactless mobile-payment designs, such as Samsung Pay, which is both usable and secure," she added.
RELATED RESOURCE
The next biggest shopping destination is the cloud
Know why retail businesses must move to the cloud
The attack is only possible due to the unique combination of flaws across both Apple Pay and Visa's systems, which means that those using Mastercard on Apple Pay, or Visa on Samsung Pay, are not at risk.
Dr Tom Chothia, from the School of Computer Science at the University of Birmingham and co-author of the report, advised iPhone owners to "check if they have a Visa card set up for transit payments, and if so they should disable it".
"There is no need for Apple Pay users to be in danger but until Apple or Visa fix this they are," he warned.
Videos showing the exploit in action can be found here.
Get the ITPro. daily newsletter
Receive our latest news, industry updates, featured resources and more. Sign up today to receive our FREE report on AI cyber crime & security - newly updated for 2023.
Having only graduated from City University in 2019, Sabina has already demonstrated her abilities as a keen writer and effective journalist. Currently a content writer for Drapers, Sabina spent a number of years writing for ITPro, specialising in networking and telecommunications, as well as charting the efforts of technology companies to improve their inclusion and diversity strategies, a topic close to her heart.
Sabina has also held a number of editorial roles at Harper's Bazaar, Cube Collective, and HighClouds.