EU agrees "last piece of puzzle" on free roaming
Wholesale charges must still be confirmed by European Parliament before end of roaming charges in June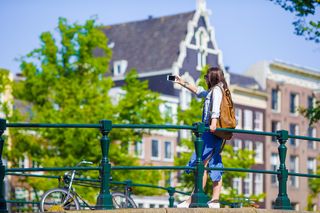 The EU has leapt one last hurdle towards removing roaming mobile costs, agreeing a deal on wholesale prices for operators to charge each other when their customers use each others networks.
The deal must still be confirmed by the European Parliament and EU member states, but if they agree, as of June operators fees for calls will fall to 3.2 cents per minute from 5 cents for voice calls and from 2 cents to 1 cent per text, while data costs will start at 7.7/GB this summer and fall each year until it reaches 2.5/GB in 2022.
The fees will be reviewed every two years, and aim to allow roaming without additional charges while still giving operators enough funding to keep investing in infrastructure.
"This was the last piece of the puzzle," said Mr Andrus Ansip, Vice-President for the Digital Single Market. "As of 15 June, Europeans will be able to travel in the EU without roaming charges. We have also made sure that operators can continue competing to provide the most attractive offers to their home markets. Today we deliver on our promise."
The free roaming will kick in from 15 June of this year, after a decade of efforts from EU politicians working to remove the charges.
21/09/2016: EU drops limits on free roaming
The European Commission has confirmed it will take a "new approach" to roaming charges, after its latest draft was heavily criticised.
Laid out last week, the plan saw all roaming charges dropped across the EU - but that free roaming was limited to only 90 days. While the average European traveller is only on the road for 12 days at a time, critics said the cap would prove troubling for people spending winters in warmer regions.
On the other hand, no limit at all could mean Europeans buy a cheaper plan from a neighbouring country, which could prove costly for mobile operators.
European regulators today said there would be no limits in terms of timing or usage volume imposed on consumers. However, there would be controls placed to protect operators from abuse.
The Commissioners have discussed draft rules that would mean users have a SIM card from the member state that they reside in or have a stable link to, giving operators the ability to check usage patterns of their customers. If they have an "insignficant domestic traffic compared to roaming traffic," or long periods of inactivity on a SIM that's only used for travel, their account may be flagged and could be charged extra.
"Examples of 'stable links' include work commuters, expats who are frequently present in their home country or Erasmus students," the statement explained.
The changes are expected to come into effect in June 2017. For Brits, that's likely ahead of Brexit, meaning UK operators will have to stop charging for roaming too, until we leave the EU. What happens then is a matter of some debate, but many operators already offer "roam like home" plans across many European countries, so any change could prove limited.
12/09/2016: EU rips up its own roaming charge revamp
Plans to scrap mobile roaming charges across the EU are being rewritten after complaints over a 90-day cap.
The EU agreed last year to scrap mobile roaming charges for European travellers, but further plans announced last week suggested the free access would be capped at 90 days, or one month straight.
That could have been problematic for anyone travelling for longer periods, particularly retired people spending the winter in warmer climates.
While the European Commission pointed out that most people only travel for 12 days on average, president Jean-Claude Juncker has asked the 90-day cap proposal to be withdrawn, in order to come up with a new plan. "We have been listening and now we are going back to the drawing board," a commission spokesman told the BBC.
In a statement, two of the commissioners running the roaming project defended the 90-day cap, saying 99% of travellers would be covered regardless of the limit and claiming the cap protects mobile operators from locals using other country's networks.
"We have to strike the right balance," said Andrus Ansip, Commission VP in charge of the Digital Single Market, and Gnther H. Oettinger, commissioner for the Digital Economy and Society. "We want to abolish roaming charges for people who travel."
They added: "Without a few safeguards to avoid abuses - safeguards that the European Parliament and Council have asked the Commission to specify - network quality and investments in new capacity in some countries may suffer as people could opt for different territorial operators, and the domestic mobile prices might go up as operators would try to compensate losses."
Despite the changes, the EU still plans to have free mobile data roaming by June 2017, as originally planned.
03/05/2016: EU cuts roaming charges further, dropping price to 4p per MB
The EU has introduced tighter caps on the roaming charges mobile operators can levy for calls, text and data services abroad, ahead of scrapping these fees altogether next year.
Surcharges on top of domestic prices for using mobile phones abroad in Europe have been commonplace for a decade, but the EU is determined to make it cheaper for people.
To achieve this, caps came in place on 30 April to limit mobile operators' roaming charges to 4 pence (0.05) per minute on top of domestic prices for calls, down from 15 pence (0.19).
A 5 pence (0.06) surcharge on text messages has fallen to a 2 pence (0.02) surcharge, while a 16 pence (0.20) surcharge on each MB of data used has dropped to 4 pence (0.05).
MEP Pilar del Castillo Vera, who was responsible for steering the new rules through Parliament, said: "[Consumers] will benefit from reduced roaming charges, of up to four times, on voice, data and text messages when travelling in the EU.
"It's the final step before the total abolition of roaming charges in June 2017."
Mobile operators have nearly 14 months until 15 June 2017, when the EU will get rid of all mobile roaming fees under plans approved last summer.
The EU had previously supported keeping roaming charges until at least 2018.
Net neutrality
New net neutrality rules also came into force over the weekend, allowing internet service providers to block sites related to cyber crime, but not allowing them to speed up or slow traffic in general.
However, ISPs will be able to make deals with content providers to deliver better quality services in some cases, if these deals do not impact on the open nature of the web.
The rules have been criticised by respected industry figures including Sir Tim Berners-Lee, the creator of the World Wide Web, who claimed they are "weak and confusing".
Get the ITPro. daily newsletter
Receive our latest news, industry updates, featured resources and more. Sign up today to receive our FREE report on AI cyber crime & security - newly updated for 2023.