BT ordered to spin off Openreach
Ofcom rules BT has failed to address competition concerns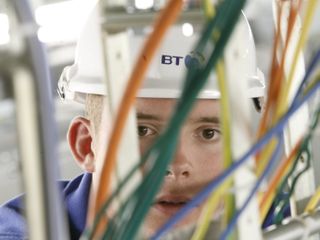 Ofcom, the UK telecoms regulator, is preparing to formally require BT to spin off its network infrastructure arm, Openreach.
The oversight body has repeatedly raised concerns BT is acting in an anti-competitive manner and had already ruled in July that Openreach should be run as a separate company. However, at that time it wasn't recommended that the organisations should be split up completely.
The issue arises from the fact that, although Openreach is part of BT, it's responsible for providing the majority of telecoms network infrastructure to competitors like TalkTalk, Sky and Vodafone, as well as BT's retail arm.
"Ofcom is pressing ahead with its plans to improve broadband and telephone services for people across the country, pursuing better service quality and encouraging greater investment in networks. Creating a more independent Openreach which works in the interest of all providers, not just BT is an important part of achieving this," said Ofcom in a statement.
"We are disappointed that BT has not yet come forward with proposals that meet our competition concerns. Some progress has been made, but this has not been enough, and action is required now to deliver better outcomes for phone and broadband users," it added.
Consequently, Ofcom will be submitting an official notification to the European Commission to start the process of separation, as is required by law.
"We remain open to further voluntary proposals from BT that address these outstanding concerns. However, we are now preparing a notification to the European Commission to require the changes to increase Openreach's independence," Ofcom continued.
A public consultation with the EC is expected in early 2017. If Ofcom is given the go-ahead, the process of separating the companies will take place "as soon as possible".
In response to the ruling, a BT spokesman told IT Pro: "We note Ofcom's announcement this morning, updating on the next steps of the Digital Communications Review.
"We put forward proposals in July that we believe are fair and sustainable, and that meet Ofcom's objectives without disproportionate costs. We are implementing these proposals, and have just appointed Mike McTighe to be the first chairman of Openreach. We are in discussions with Ofcom on two outstanding issues, the reporting line of the Openreach CEO and the form of legal incorporation.
"We will continue to work with Ofcom to reach a voluntary settlement that is good for customers, shareholders, employees, pensioners and investment in the UK's digital future"
Dan Howdle, consumer telecoms expert at telecoms comparison provider Cable.co.uk said: "It's tough to read whether BT's heel-dragging is as a result of a tactic with the intention to deliberately delay and undermine the process, or whether, rather like Brexit, the process of separating Openreach is simply too vast and complex to be fully planned out in such a short period of time.
"That Ofcom has had to speak out of its 'frustration' suggests to me there is more to this delay than bureaucracy and red tape that unwillingness to comply is also playing some part."
A daily dose of IT news, reviews, features and insights, straight to your inbox!
Jane McCallion is ITPro's Deputy Editor, primarily covering security, storage and networking for ITPro, CloudPro and ChannelPro.
Jane joined ITPro and CloudPro in July 2012, having previously written freelance for a number of business and finance magazines. She has also covered current affairs, including the student, public sector workers and TUC protests and strikes in central London while studying a Masters in Journalism at Goldsmiths, University of London.
Prior to becoming a journalist, Jane studied Applied Languages at the University of Portsmouth.
A daily dose of IT news, reviews, features and insights, straight to your inbox!
Thank you for signing up to ITPro. You will receive a verification email shortly.
There was a problem. Please refresh the page and try again.