What does a Microsoft buyout mean for GitHub developers?
Those that use GitHub for a living share their predictions for the platform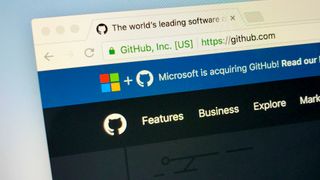 With Microsoft's $7.5 billion takeover of code repository site Github complete, many technology professionals are now questioning the impact it will have on the industry and their working lives.
Boasting around 31 million users and 57 million repositories, Github is the largest open source software platform on the internet. By nature, it's a highly collaborative environment - with developers working together to review code, solve projects, and manage and build applications. They are at the heart of the business.
Microsoft is mindful of this, confirming that GitHub will continue operating as an independent business and that it will uphold the firm's values. And Github's new CEO, Nat Friedman, has pledged that the company will "serve every developer on the planet, by being the best place to build software".
However, the acquisition also comes as Microsoft is shifting towards a more open source product strategy, having recently joined the Open Innovation Network. Clearly, this was a sensible decision for the tech giant. So what does the future likely hold for the site and its community?
A new era for Microsoft
It's clear that Microsoft is looking for new opportunities. Geoff Parkhurst, chief technology officer at Vouchercloud, believes that the firm is no longer seen as the "bad guys of closed source" and that its acquisition of GitHub is "encouraging". He says the firm is empowering developers to create great applications for customers.
"With their growth into cloud, Microsoft's stance on open source looks like it's changed greatly - likely due to a change of personnel. When you look at things like the Linux subsystem, they've open sourced .NET Core. Now, developers can actually build applications on an Apple device and host on Linux - something unheard of a decade ago.
"These things give a better view of Microsoft's direction - they're embracing other communities actively," he adds. "I'm encouraged by Microsoft themselves using Git - eating their own dogfood, as it were. They use it for their own internal development now and have made significant contributions to Git itself.
However, Parkhurst admits that some people are concerned that the tech giant may backtrack on its recent open source developments, but is optimistic this won't happen.
"There is a definite wariness in the open source community about what might happen should the big bad Microsoft of days past make a comeback," he tells us. "Actions speak louder than words... GitHub isn't the only player in this game. If Microsoft does make a u-turn, developers can vote with their feet and go to a competitor."
Conflicting services
For years, Microsoft has advocated and supported GitHub, so its decision to purchase the platform was hardly a surprise. Jacob Myner, a SharePoint consultant at Chalkline, believes it will have a positive impact on developers.
"When a large tech company such as Microsoft acquires GitHub, naturally there will be certain conflicts of interest. Hopefully, Microsoft will be able to resist the temptation of exploiting GitHub to benefit its own company and instead further its growth to the advantage the development community as a whole.
Microsoft's Visual Studio Team Services (VSTS) rivals GitHub Enterprise
"They have open source repositories which I use in my day to day work, so they will no doubt understand the benefits of GitHub being independent and why so many developers currently use the platform," he adds.
One particular area that will be closely watched is Microsoft's Visual Studio Team Services (VSTS), a proprietary system that rivals GitHub Enterprise (GHE). It could be that Microsoft will introduce continuous cloud functions to GHE in the same way as VSTS, or it could start to move users away from GHE using an upgrade path to VSTS. It's conflicts like these that created uncertainty at the time of the deal.
Ellie Ford, a software developer and co-founder of tech start-up DashHound, describes the acquisition as a great strategic move for Microsoft but hopes that GitHub remains independent and community-focused.
"They now have access to a very interesting and powerful dataset on developers and the tech industry employment sector," she says. "But, in terms of what this means for GitHub users like myself, who use the platform on a daily basis as a fundamental part in the development lifecycle, there is some concern.
"As long as GitHub's attitude towards the open source community doesn't change and the platform continues to evolve, I'm going to keep using it, and remain to collaborate and share my projects with others."
Reputational assault
When Microsoft first announced its intentions to acquire GitHub, it explained that GitHub would remain an independent company. Steven Jones, principal consultant at Amido, says the takeover should be invisible for all intents and purposes.
"Microsoft were undoubtedly attracted to GitHub due to its independence, ubiquity and community-focus - Microsoft wants some of this developer credibility to rub off on itself, and so it would not make sense to mess with the proposition, at least not for now," he explains.
But he argues that much of the development community remains wary of Microsoft and views the deal as an opportunity for Microsoft to improve its reputation. "The company has only demonstrated a commitment to the principles of OSS in the past few years as .Net Core has emerged and Microsoft has dived in to containerisation and Linux platforms. Linux is clearly the dominant operating system for IoT, so Microsoft had to get involved to secure their position in the ever-growing connected device markets."
Jones says Microsoft wants Azure to be the cloud platform of choice for any workload, rather than the pre-conception that Java workloads are a natural fit for AWS or GCP. He believes that to achieve this, Microsoft is likely to offer Azure DevOps as "a one-stop shop for all cloud dev, testing, deployment and management, regardless of the language chosen".
"Getting more people paying more money for Azure resources, and securing the monthly license fees for Azure DevOps is the goal," says Jones. "Retaining GitHub's open and independent status is key to achieving this."
Get the ITPro. daily newsletter
Receive our latest news, industry updates, featured resources and more. Sign up today to receive our FREE report on AI cyber crime & security - newly updated for 2023.
Nicholas Fearn is a freelance technology journalist and copywriter from the Welsh valleys. His work has appeared in publications such as the FT, the Independent, the Daily Telegraph, the Next Web, T3, Android Central, Computer Weekly, and many others. He also happens to be a diehard Mariah Carey fan. You can follow Nicholas on Twitter.