Microsoft intervention needed to make Windows 8 a hit, claim analysts
IDC figures blame Windows 8 for slump in PC sales, but analysts claim Microsoft can still save the day.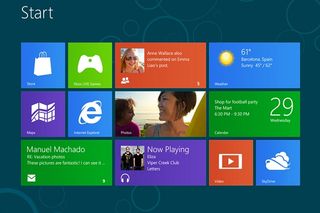 Microsoft needs to take urgent action to bolster Windows 8's appeal to PC buyers and end industry speculation about the latest version of its flagship operating system being a flop.
Since the product's release in October 2012, speculation about how users would take to the operating system's revamped interface has been rife.
Especially as the release saw Microsoft replace the Start Menu with a new touch- and tile-centric Start Screen, known as Modern UI, and introduce a gesture-based navigation style.
To date there have been numerous reports about how the product has fared in the market, with analyst Context recently reporting a lack of interest in Windows 8 from business users, while Microsoft claims its sales are on a par with Windows 7.
IDC's latest market tracker data tells a different story, with the analyst claiming Windows 8 has actually deterred would-be buyers from purchasing new PCs during the first quarter of 2013.
The operating system was also cited by the market watcher as major contributor to the massive year-on-year drop in worldwide PC sales recorded during Q1, which has been described by the analyst as the steepest it has ever seen.
Part of the problem with Windows 8 is that users fear they need a touchscreen PC to make the most of the operating system's features, but the high price of devices puts them off, IDC said.
"People think they have to have touch, and they go look at the price points for these touch machines, and they are above where they want to be and they say, I guess I'll wait', " said IDC analyst Bob O'Donnell in a Reuters report.
The new-look interface is also off-putting for users, added Jay Chou, senior research analyst at IDC.
"Users are finding Windows 8 to offer a compromised experience that doesn't excel either as a new mobile interface or in a classic desktop interface," he said.
"As a result, many users find a decline in the traditional PC experience without gaining much from new features like touch."
Window of opportunityThe release of a new Windows operating system has traditionally given the PC market a boost, so Windows 8's affect on the market is bound to fuel opinions the product is on course to become a flop.
A little intervention on Microsoft's part could put paid to that, said Clive Longbottom, service director at market watcher Quocirca, but the software giant will need to move fast.
"Unlike [the era of] Windows Vista, where Microsoft still had a stranglehold on a growing PC market and so could afford to have another go, Windows 8 is now fighting in a multi-fronted war on tablets and smartphones," Longbottom told IT Pro.
"Microsoft will retain its stranglehold on the PC market, but the PC market is shrinking and it has to rethink its strategy and quick."
To regain some of this lost ground, Microsoft needs to make Windows 8 a more appealing proposition for business users as a matter of priority, suggested Longbottom.
"Getting businesses to deploy Windows 8 as a direct functional replacement for Windows 7 would be a great start...but this would mean providing the means for businesses to go straight through to the traditional desktop [and bypass the Modern UI], but Microsoft seems to be against this on principle," he said.
"The problem is Windows 8 Modern UI is not a business front end, and with the vast majority of apps that businesses want to run still operating in the traditional desktop, Microsoft really has messed up by not allowing users to bypass it," he said.
Meanwhile, Richard Holway, chairman of UK analyst house TechMarketView, said Microsoft should have followed Apple's lead and offered users a choice of operating system styles depending on the type of device they are using.
"This is where Microsoft has made a big mistake by insisting you have the same interface on both [a tablet and a traditional PC]," he told IT Pro.
"I think you should have horses for courses and the standard Windows interface is fine for everything I want to do of a serious [corporate nature on a laptop] and then I'll have a different interface for everything else...which is precisely what Apple has done."
Therefore, he thinks Microsoft should consider introducing a feature that gives Windows 8 users a choice of interfaces when they start their machines.
"They should have done that from the start... and I understand that you can reconfigure the laptop to look like a Windows 7 machine, but you need a bit of knowledge to do that and not many people can be bothered," he said.
However, he warned people against seizing on comments made by the likes of IDC to "forecast the demise" of Microsoft, but said he doubts Windows 8 will be enough to regain the ground it's already lost to its rivals.
"Windows 8 will do, but it's not going to be the rocket that fires Microsoft up there overtaking the Androids and the Apples of this world," he said
"I honestly believe, and I'm not forecasting their demise, but there is nothing I see in Microsoft at the moment that suggests they're going to be reborn and regain their past glories," Holway concluded.
IT Pro contacted Microsoft for comment on this story, but had not received a response by the time of publication.
A daily dose of IT news, reviews, features and insights, straight to your inbox!
Caroline Donnelly is the news and analysis editor of IT Pro and its sister site Cloud Pro, and covers general news, as well as the storage, security, public sector, cloud and Microsoft beats. Caroline has been a member of the IT Pro/Cloud Pro team since March 2012, and has previously worked as a reporter at several B2B publications, including UK channel magazine CRN, and as features writer for local weekly newspaper, The Slough and Windsor Observer. She studied Medical Biochemistry at the University of Leicester and completed a Postgraduate Diploma in Magazine Journalism at PMA Training in 2006.
A daily dose of IT news, reviews, features and insights, straight to your inbox!
Thank you for signing up to ITPro. You will receive a verification email shortly.
There was a problem. Please refresh the page and try again.