Windows 10 release: First take
Windows 10 has just been announced (we're still reeling from the fact it's not Windows 9). Simon Bisson was there and has the details...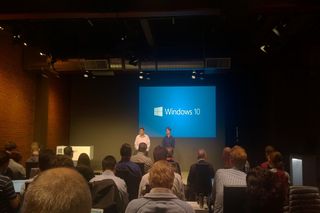 Windows "9" is Windows 10. That's the biggest surprise from Microsoft's San Francisco launch event.
With its enterprise customers firmly in mind, that's a good thing for the company as it eyes the 100 million or so Windows 7 users and considers how to encourage them to upgrade.
Even so, despite the familiar Windows look and feel, there's a lot more to Windows 10 than meets the eye. Under its returned Start Menu it's continuing the evolution that started with Windows 8. Windows Store apps now coexist with familiar desktop apps, and Microsoft is encouraging developers to work with the new Universal app model it introduced with Windows 8.1 Update earlier this year.
We've seen a lot of Windows 10 already, thanks to a series of leaked videos. Even with the many leaks, there's much to like here. Using the new snap features is simple, and the virtual desktop tools are built into the familiar task switcher we've used since the XP days. It's also possible to keep the Windows 8-style start menu, and command line aficionados won't be disappointed by the new translucent console and (finally!) the ability to use familiar keyboard shortcuts.
IT Pros will want to try out one of Windows 10's key features: the ability to separate the personal and the corporate a low level; by identifying corporate apps and giving only them access to corporate files with no way to copy and paste, upload, or save corporate data to personal space. A new class of "enlightened" apps will be able to work in both worlds, with Word being able to switch from writing a letter to a company document.
Windows lead Terry Myerson told us that the Preview programme that launches tomorrow was ambitious. "We have never done this before. We'll be using a variety of tools: like survey tools on features. There'll be forums for insiders and engineering will take part in these. We're going to learn too how to run a programme like this. We're jumping off before we have all the answers."
Windows 8 may have been a revolution, but Windows 10 is far from being a counter-revolution. It's familiar to the 100 million Windows 7 users, yes, but it also brings Windows 8's touch features along for the ride. New tools will help handle the transition from laptop to tablet in two-in-one devices like the Surface Pro, though these won't be in the Preview.
With an open preview programme starting tomorrow, it's an opportunity for IT professionals to explore the new OS well in advance of a 2015 launch and to use the feedback tooling to influence the development of their desktop OS.
Microsoft is opening the Windows earlier and wider than ever before. It's going to be an interesting ride; for them and for us.
A daily dose of IT news, reviews, features and insights, straight to your inbox!
A daily dose of IT news, reviews, features and insights, straight to your inbox!
Thank you for signing up to ITPro. You will receive a verification email shortly.
There was a problem. Please refresh the page and try again.