Nick Clegg: Stop throwing rocks at Facebook
Former Lib Dem leader says governments should sit down with tech firms to solve issues and stop attacking the platform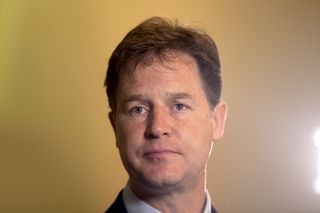 (Image credit: Shutterstock)
Nick Clegg has said its time to "move beyond the phase of throwing rocks at tech companies" and, also, for tech to stop throwing them back.
In his first TV interview since becoming the social network's head of global affairs and communications, the UK's former deputy prime minister admitted that Facebook needed to do more, but reiterated that the breaking up the company wouldn't solve its issues.
These issues, such as its data privacy policies, ad targeting business and its troubles controlling the spread of misinformation on the platform were highlighted in a recent New York Times opinion piece, written by one of Facebook's co-founders, Chris Hughes.
Although Clegg said that the issues were "quite rightly highlighted" by Hughes, he reiterated the company's stance that dismantling it, all together, is "not a way to deal with the complex issues".
"Data use, privacy, the attempt from folk elsewhere to try an interfere with our elections, I don't want to any way diminish the importance of those and the heavy responsibility that Facebook bares to play a prominent role in solving those problems, but chopping a great American success story into bits is not going to suddenly make those problems go away - they won't suddenly evaporate," he said on CNN.
He added that Facebook needed to do more and as an example of what it's doing, Clegg said that it was confident that it is going to be considerably better prepared for the 2020 US elections than it was for 2016. Adding that a group of independent academics from a network of universities, Princeton, Michigan and elsewhere, has said that misinformation on the platforms had plummeted by about 75% compared to 2016.
However, this was just one of the problems Facebook needs to tackle, and according to Clegg if it is to deal with the rest politicians will need to stop attacking the platform and look at suitable solutions together.
"This is not something that any company can do on its own, we are dealing with some very profound and ethical issues, we do also need regulators, politicians and legislators to move beyond the phase of just throwing rocks at each other, or where politicians throw rocks at tech and tech throws rocks back and actually try and sit down and come up with new rules of the internet," he said.
"The internet is a relatively recent phenomenon, companies like Facebook are still very young, its only 15-year-old and experienced explosive growth around the world. Yes, they've encountered a number of challenges, problems and issues, have made mistakes in the past, which are self-inflicted, but I don't think anyone could reasonably expect that any single company could come up with all the answers on its own."
10/05/2019: Facebook rejects calls for it to be broken up
Facebook has hit back at calls for it to be broken up by saying that such actions wouldn't "enforce accountability".
The company's VP of global affairs and communications, Nick Clegg, released a statement in response to a New York Times opinion piece written by one of the company's original members Chris Hughes.
In his article, Hughes called on the US government to split Facebook from Instagram and WhatsApp and also said it should create a regulator to oversee the social network.
But Facebook rejected that immediately, with the former Lib Dem leader reiterating previous statements from his boss Mark Zuckerberg that only changes to the web would solve the issue.
"Facebook accepts that with success comes accountability," Clegg said in a statement. "But you don't enforce accountability by calling for the breakup of a successful American company.
"Accountability of tech companies can only be achieved through the painstaking introduction of new rules for the internet. That is exactly what Mark Zuckerberg has called for. Indeed, he is meeting Government leaders this week to further that work."
While in some sense, Clegg is correct, accountability of tech companies is proving to be painstaking, but if the US government were to break up Facebook, it wouldn't be the first time it had done so with a tech company.
In 1984, the US government broke up the Bell System, better known as American Telephone and Telegraph, or AT&T for short. It was the dominant telephone provider in America for most of the 20th century but after multiple complaints of antitrust practices, the company was split into eight different firms.
Fast forward 34-years later and all those smaller companies are back under the same AT&T, but in the time they were apart, competition actually improved and AT&T didn't really suffer - it's still the biggest provider in the US.
Part of the problem with Facebook is that it's a multi-billion dollar operation, with global influence, under the control of one man, Mark Zuckerberg. In his opinion piece, Hughes said that Zuckerberg's influence was "staggering", saying that it was far beyond that of anyone else in the private sector or in government.
"He controls three core communications platforms - Facebook, Instagram and WhatsApp - that billions of people use every day," he said. "Facebook's board works more like an advisory committee than an overseer because Mark controls around 60% of voting shares."
"Mark alone can decide how to configure Facebook's algorithms to determine what people see in their News Feeds, what privacy settings they can use and even which messages get delivered. He sets the rules for how to distinguish violent and incendiary speech from the merely offensive and he can choose to shut down a competitor by acquiring, blocking or copying it."
While it's not the first time that it's been suggested that Facebook be broken up from WhatsApp and Instagram, Hughes is arguably the most informed to do so having worked on the platform in its infancy. Since leaving the company, he also worked on Barack Obama's 2008 presidential campaign.
Get the ITPro. daily newsletter
Receive our latest news, industry updates, featured resources and more. Sign up today to receive our FREE report on AI cyber crime & security - newly updated for 2023.
Bobby Hellard is ITPro's Reviews Editor and has worked on CloudPro and ChannelPro since 2018. In his time at ITPro, Bobby has covered stories for all the major technology companies, such as Apple, Microsoft, Amazon and Facebook, and regularly attends industry-leading events such as AWS Re:Invent and Google Cloud Next.
Bobby mainly covers hardware reviews, but you will also recognise him as the face of many of our video reviews of laptops and smartphones.
He has been a journalist for ten years, originally covering sports, before moving into business technology with ITPro. He has bylines in The Independent, Vice and The Business Briefing. Contact him at bobby.hellard@futurenet.com or find him on Twitter: @bobbyhellard
Get the ITPro. daily newsletter
Receive our latest news, industry updates, featured resources and more. Sign up today to receive our FREE report on AI cyber crime & security - newly updated for 2023.
Thank you for signing up to ITPro.. You will receive a verification email shortly.
There was a problem. Please refresh the page and try again.