3D printing health risks flagged
Poor ventilation could lead to serious health issues, even death, claim researchers.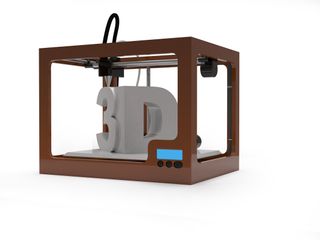 3D printing has been hailed as a breakthrough technology for the design, development, and production of new products.
It has even been posited that 3D printing could be used to build a permanent base on the surface of the moon.
However, researchers from the Illinois Institute of Technology in Chicago (Illinois Tech) and the Institut National des Sciences Appliques in Lyon (INSA de Lyon) have warned that the use of commercial 3D printers in the home and office, rather than in an industrial setting, could present serious health problems for those around them.
The key problem is the use of heated plastic in the majority of commercially available desktop 3D printers, the researchers claim.
Most desktop 3D printers use either acrylonitrile butadiene styrene (ABS) or polylactic acid (PLA) as a thermoplastic feedstock.
The paper cites previous research which has shown that when used in industry, heating these plastics and using them in a nozzle produces particles and toxic gasses, including carbon monoxide (CO) and hydrogen cyanide (cyanide).
Other, less commonly used plastics, such as PVA, PC and HDPE have also been shown to produce toxic emissions.
"Many desktop 3D printers rely on heated thermoplastic extrusion and deposition, which is a process that has been shown to have significant aerosol emissions in industrial environments," the report says.
The researchers warn that several recent studies have shown the type of emissions given off by the plastics used in desktop 3D printers are linked to higher levels of cardio-respiratory mortality, increased hospital admissions for stroke and a greater number of asthma symptoms.
"Because most of these devices are currently sold as standalone devices without any exhaust ventilation or filtration accessories, results herein suggest caution should be used when operating in inadequately ventilated or unfiltered indoor environments," the researchers add.
A daily dose of IT news, reviews, features and insights, straight to your inbox!
Jane McCallion is ITPro's Deputy Editor, primarily covering security, storage and networking for ITPro, CloudPro and ChannelPro.
Jane joined ITPro and CloudPro in July 2012, having previously written freelance for a number of business and finance magazines. She has also covered current affairs, including the student, public sector workers and TUC protests and strikes in central London while studying a Masters in Journalism at Goldsmiths, University of London.
Prior to becoming a journalist, Jane studied Applied Languages at the University of Portsmouth.
A daily dose of IT news, reviews, features and insights, straight to your inbox!
Thank you for signing up to ITPro. You will receive a verification email shortly.
There was a problem. Please refresh the page and try again.