Wozniak: Uber doesn't pay its drivers enough money
Apple-co-founder prefers to use rival service Lyft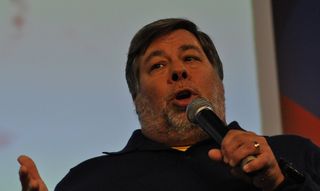 Uber is not looking out for the wellbeing of its drivers, according to Steve Wozniak.
The Apple co-founder told press at the Future Transport Summit in Sydney today that he harbours concerns about the tech company's treatment of its workforce, as reported by Mashable.
"Like a lot of people, I have some distrust of Uber and how their drivers don't really realise at first that they aren't making much money maybe losing money on the wear and tear of their cars," said Wozniak.
Wozniak claimed that Uber's freelancer drivers who effectively run its taxi-hailing business may have it particularly rough.
"Uber will push their workforce down to the absolute lowest minimum wage that they can get away with," he said.
"That's how I think of Uber - not very nice thoughts," he explained. "I want to use Lyft instead of Uber when I can now."
Lyft is a competing ridesharing service currently available in major US cities including New York, Austin and Washington DC, but it is not yet available in Australia or the UK.
Greater competition in the taxi-hailing and ridesharing space is something Wozniak said he would like to see. "I would rather there be a lot of competitive forces. I'd like there to be four or five choices that are like Uber anywhere you go," he said. "It's a little disappointing to me and sad that we don't have that."
David Rohrsheim, general manager of Uber in Australia, contested Wozniak's claims, saying: "More than 20,000 [driver-partners in Australia] monthly are putting money in the bank account using Uber, and they've got complete flexibility to log on as much or as little as they want to. That's the number one thing drivers come to the platform for.
"It has to be a good deal for partners or otherwise they won't use the platform."
Uber has become the best-known service of its kind in developed countries. However, services such as Lyft in the US, and taxi hailing app Hailo in the UK, are offering alternatives. Meanwhile, German company Car2Go is the largest car sharing company in Europe.
Meanwhile, Uber has faced troubles in its expansion plans, some of them related to Wozniak's criticisms.
It closed its ridesharing franchise, UberPop, in Brussels last year following heavy criticism. Meanwhile two of its former employees have faced charges of allegedly operating its ridesharing business in France illegally.
A daily dose of IT news, reviews, features and insights, straight to your inbox!
A daily dose of IT news, reviews, features and insights, straight to your inbox!
Thank you for signing up to ITPro. You will receive a verification email shortly.
There was a problem. Please refresh the page and try again.