Oracle staffer quits over Trump support
Tech upheaval over Trump's looming president continues with Oracle resignation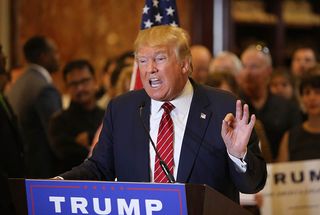 A long-time Oracle employee has stepped down in protest of the company's support of US president-elect Donald Trump.
George Polisner, a senior manager at the company's cloud services department, posted an open letter to co-CEO Safra Catz on LinkedIn, saying he "must resign from this once great company" following its support of Trump.
Last week, Catz was one of several tech leaders to meet with the president-elect. Moments before the meeting, she said: "I plan to tell the president-elect that we are with him and will help in any way we can." She has since joined Trump's transition team, with Elon Musk and Uber CEO Travis Kalanick also opting to work directly with the divisive politician as economic advisors.
A Democrat who was a member of an anti-Trump group, Polisner listed the many reasons why he views support for Trump as problematic, citing the president-elect's pledges to dismantle Medicare, his disrespect for Gold Star military families, and his tax and economic policies, among other reasons. "Trump stokes fear, hatred and violence toward people of color, Muslims and immigrants," Polisner added in the open letter. "It is well-known that hate crimes are surging as he has provided license for this ignorance-based expression of malice."
Faced with working for a company backing such a president, Polisner said he would resign after more than two decades at Oracle.
"I began with Oracle in 1993 and was proud to work among some of the best software development and operations engineers in the world," he wrote. "I've made significant contributions to Oracle along the way in my various roles ranging from consulting, product development, customer advocacy, program management and now in Cloud."
He added: "I am not with President-elect Trump and I am not here to help him in any way. In fact when his policies border on the unconstitutional, the criminal and the morally unjust I am here to oppose him in every possible and legal way. Therefore I must resign from this once great company."
Polisner has started an online petition for other Oracle to share their disagreement with Catz's involvement in the Trump administration without having to quit their jobs. At the time of writing, it had reached 100 signatures.
Oracle has yet to respond to a request for comment.
Not the first resignation
Polisner isn't the first tech staffer to jump ship after their employer showed a willingness to work with Trump. Elizabeth Wood, senior content strategist, quit IBM earlier this month after a letter from the company's CEO Ginni Rometty offer support to the president-elect.
"I know that you are committed to help America's economy grow in ways that are good for all its people," Rometty wrote, though she later added: "In the years ahead there will be issues on which we agree, and issues on which we do not."
Wood wrote her own open letter, explaining her resignation. "[Rometty's] letter offered the backing of IBM's global workforce in support of his agenda that preys on marginalised people and threatens my well-being as a woman, a Latina and a concerned citizen," Wood said. "The company's hurry to do this was a tacit endorsement of his position, and has signaled to me something very important about IBM's values: a willingness to legitimise threats to our country for financial gain."
Tech and Trump
In the days since then, journalists have polled tech companies to see if they would work with the president-elect, particularly on a register of people of the Muslim faith. The Intercept contacted nine tech firms to ask if they'd assist to build such a register -- Facebook, Apple, Microsoft, Google and Twitter have all said they would not. Of course, if the government wants data from US-based tech firms to start such a registry, it may well not need to ask their permission first.
The Electronic Frontier Foundation (EFF) has called for the tech company to do more than engaging, calling for them to secure their networks against the incoming administration. "We've battled privacy invasions, censorship attempts, and power grabs from Democrats and Republicans alike," said EFF Executive Director Cindy Cohn. "Now, president-elect Trump has promised to increase surveillance, undermine security, and suppress the freedom of the press. But he needs your servers to do this. Join us in securing civil liberties in the digital world, before it's too late."
Whether tech firms listen to such warnings remains to be seen, but those that aren't jumping on the Trump bandwagon appear to be taking a wait-and-see approach.
Apple CEO Tim Cook told employees in response to a question about Trump that sitting on the sidelines wasn't the right place for a company, that change comes by engaging with the other side. "I think it's very important to do that because you don't change things by just yelling," he said. "You change things by showing everyone why your way is the best."
A daily dose of IT news, reviews, features and insights, straight to your inbox!
A daily dose of IT news, reviews, features and insights, straight to your inbox!
Thank you for signing up to ITPro. You will receive a verification email shortly.
There was a problem. Please refresh the page and try again.