CA World 2013: CA launches SaaS-based iPad app
iPad-friendly Clarity Playbook is unveiled to help business and tech workers speak the same language, according to CA.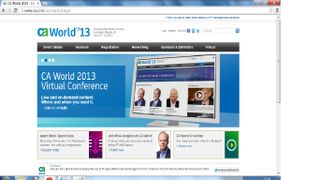 CA Technologies has taken the wraps off its Clarity Playbook an iPad app designed to unite the strategic and operational functions of a business and aid better-informed decision making.
Although the mobile dashboard will work on other tablets and devices supporting HTML5, Lokesh Jindal, general manager of the company's service and portfolio management division, said it was designed for "the iPad first, web second" as he addressed a press conference at its CA World conference in Las Vegas this week.
"For any business initiative you always start with a goal. If you look at today's world, strategic planning for our customers is an annual process. But the changes in the market are not annual. We need to move from annual to perpetual," he said, adding the SaaS-based Clarity Playbook integrates with CA's existing project and portfolio management (PPM) solutions to aid business agility and communication.
More specifically, CA touted the Clarity Playbook as offering executives the ability to:
Define business and strategic goals, initiatives and objectives;
Collaborate with key stakeholders once those plans have been agreed;
Take advantage of real information from in-situ operational systems;
Assess how technology investments are supporting/detracting from business needs;
Visualise the impact of decisions, including the financial impact, in real time;
Evaluate how changing priorities and focus areas will impact existing plans/results.
The app will enable decision makers to see at-a-glance, in real-time the state of their business so they can prioritise and re-prioritise based on accurate insight rather than being drip-fed information from other departments, including IT.
"To successfully cope with today's intense time-to-market pressures, business leaders need the same kind of real-time, multi-dimensional visibility into IT as they have into sales pipelines and supply chains," said Jeffrey Kaplan, managing director of THINKstrategies and founder of the Cloud Computing Showplace, in a statement. "It has simply become impractical for them to continue depending on periodic second-hand IT reporting that can't be dynamically queried and is often out-of-date by the time it arrives on their desks."
Eveline Oehrlich, vice president and research director at analyst firm Forrester Research, welcomed the new Clarity Playbook application, suggesting it will help bridge the device between what the business and technology functions want and ensure everyone is aligned and speaking the same language.
"As an analyst I sometimes feel like a psychologist where I help people get better at communicating and connecting. Tools like this make people connect. It is still people to people," she said. "It's really beautiful that you can drill [information] from top to bottom or inside out, or bottom up. It's really important to have that 360 view."
She said the cloud world was making it easier for business people to do their jobs without the help of an IT department. In fact, she said nowadays many of us simply bypass IT and buy what we want when we need. If this continues and the IT and business functions don't align and get on the same page, it's bad news for firms. "Our business people don't need us anymore. We become dinosaurs if we don't change. We have to get out of mode of talking servers and availability and performance," Oehrlich warned.
A daily dose of IT news, reviews, features and insights, straight to your inbox!
Maggie has been a journalist since 1999. She started her career as an editorial assistant on then-weekly magazine Computing, before working her way up to senior reporter level. After several years on the magazine, she moved to 'the other side of the fence' to work as a copywriter for a marketing agency, writing case studies and working on ad and website copy for companies such as eBay, Dell, Microsoft and more. In 2006, just weeks before IT Pro was launched, Maggie joined Dennis Publishing as a reporter. Having worked her way up to editor of IT Pro, she was appointed group editor of Cloud Pro and IT Pro in April 2012. She became the editorial director and took responsibility for Channel Pro, in 2016. Her areas of particular interest, aside from cloud, include management and C-level issues, the business value of technology, green and environmental issues and careers to name but a few.
A daily dose of IT news, reviews, features and insights, straight to your inbox!
Thank you for signing up to ITPro. You will receive a verification email shortly.
There was a problem. Please refresh the page and try again.