Never mind fake news, it's the fake invoices and spurious emails that need to stop
While some email scams may not be particularly convincing, that doesn't mean they can't cause disruption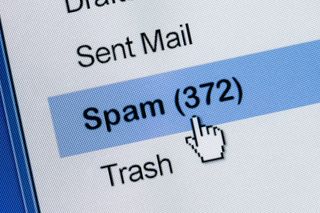 As the old saying goes, you are nobody without a name. It isn't enough for Arsenal to have a stadium, it has to be the Emirates Stadium. Apparently the marketing people believe that we will look more kindly on their brand of airline if we believe they are supporting football. For myself, I'm minded to think less critically about a neighbouring country that finally allows women to drive. But what do I know about marketing?
So, when bringing a new brand to market a few years ago, we had to give consideration to the URL that people would use to get to our site. This matters financially because there is an e-shop on there where you can buy the products. And every sale counts towards the bottom line.
Unfortunately, at the time, the domain name "manfood.com" wasn't available. I won't say what it pointed to, but let's just say it wasn't something one would want to associate with a range of delicious, award-winning pickles, condiments and sauces. Since we needed a URL, we settled on welovemanfood.com which, although awkward, has done us well for the past four years.
Recently, I googled "manfood.com" and found that it now pointed to a domain name holding page and appeared to be up for sale. My first reaction was to wonder just how wide the calculator would have be to get all the zeros onto the price tag, but there was no harm in asking.
I emailed the address given and made my enquiry. The prompt reply told me that the domain was indeed up for sale, and that it could be mine for $1,800. Not the sort of small change you might find down the back of the sofa, but not a price that demanded the arms and legs of my nephews either.
The vendor then told me he wanted to use escrow.com to do the transfer. This was all new to me, having never bought a domain name from a third party before. But I looked into the site, and it seemed legitimate. It appeared to have a fully automatic process by which the money could be deposited, transfer made, and then when both sides were happy, the ownership title would be released along with the funds.
I dropped the money in, registered and waited for the reply. As part of the paperwork, I put in my joker.com domain name hosting registration details where I host all my other domains. Was this going to be some huge online scam? Unlikely, given that "escrow.com" itself would be a somewhat expensive domain name. Or at least that's what I persuaded myself.
A few days later, a miracle occurred: the domain name was under my control and the vendor had been paid. It couldn't have been smoother. A few tweaks later, and the domain name manfood.com pointed to our existing server.
If only things were as simple when it comes to registering a new domain. Yesterday, I registered a couple of domain names for a new project: "mydigitalhealthavatar.com" and "mydigitalperson.com" seemed like useful domain names to have, despite their long names. So I registered them with Joker in the usual way, using its facilities for the registration information to be held at joker.com itself.
Today, I have received a barrage of emails from website development firms offering their services. It must be over 100 and it's only 1pm. I've also had the pleasure of two international phone calls from Indian call centres and a bunch of companies trying to send me invoices for SEO services that I neither requested nor wanted. One company even pretended to be GoDaddy, sending an invoice for $24.99 for a business logo and website to be delivered in 24 hours. And I have lost count of the number of web design "experts" who have Gmail email addresses. You'd think that a professional web designer would at least have their own domain.
Does anyone fall for this nonsense? Or is it the case that it only requires a micro-percentage to click "yes" to make it worthwhile? This ties in with the worrying rise of sending an invoice for fictitious services in the hope it will be paid. Last month, a UK company sent me an invoice for support for 2018 for a product we had bought a year ago. In the original sale, there was no mention of ongoing support. It just sent it in the hope that it would slide through accounts and get paid. Naturally, there is no way I would do business with this company ever again and have reported it to Trading Standards.
At least the website pimps are easy to spot. If they were just a little cleverer, they'd send an invoice pertaining to be from Microsoft explaining that I'd gone over my hundred "free" clicks of the Junk button in Outlook and I now owe them $24.99.
Get the ITPro. daily newsletter
Receive our latest news, industry updates, featured resources and more. Sign up today to receive our FREE report on AI cyber crime & security - newly updated for 2023.