Julian Assange unlikely to be charged by US government
No way to prosecute Assange without also taking legal action against journalists.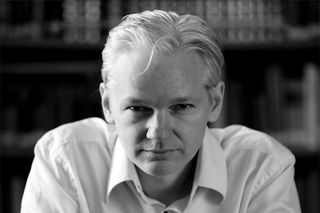 The US Justice Department is unlikely to charge Julian Assange with any offence despite his WikiLeaks website publishing classified documents.
If the decision to prosecute Assange is taken, authorities will also have to take legal action against news organisations that have published top secret data.
"The problem the department has always had in investigating Julian Assange is there is no way to prosecute him for publishing information without the same theory being applied to journalists," former Justice Department spokesman Matthew Miller told The Washington Post.
"And if you are not going to prosecute journalists for publishing classified information, which the department is not, then there is no way to prosecute Assange."
A formal decision on whether to bring charges has not been made, but there is little possibility of Assange having a case to answer unless he is implicated in other criminal activity.
Assange is currently holed up in the Ecuadorian embassy in London. The Supreme Court in the UK ruled he should be extradited to Sweden, where he is wanted for questioning in relation to sexual offences.
The plight of Assange is different from former US government employees including Edward Snowden and Bradley Manning from a legal standpoint. The intelligence analysts have both been charged under the Espionage Act - and sentenced in the case of Manning - because they provided confidential information to news outlets.
However, until the US confirms it will not pursue charges against Assange, it is likely he will remain in the Ecuadorian embassy.
A daily dose of IT news, reviews, features and insights, straight to your inbox!
Khidr Suleman is the Technical Editor at IT Pro, a role he has fulfilled since March 2012. He is responsible for the reviews section on the site - so get in touch if you have a product you think might be of interest to the business world. He also covers the hardware and operating systems beats. Prior to joining IT Pro, Khidr worked as a reporter at Incisive Media. He studied law at the University of Reading and completed a Postgraduate Diploma in Magazine Journalism and Online Writing at PMA Training.
A daily dose of IT news, reviews, features and insights, straight to your inbox!
Thank you for signing up to ITPro. You will receive a verification email shortly.
There was a problem. Please refresh the page and try again.